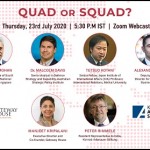 On July 23, Gateway House co-hosted a webinar with Konrad-Adenauer-Stiftung on QUAD or QUAD.
The panel included: Dr. C Raja Mohan, Director, Institute of South Asian Studies, National University of Singapore; Dr. Malcolm Davis, Senior Analyst in Defence Strategy and Capability, Australian Strategic Policy Institute; Tetsuo Kotani, Senior Fellow, Japan Institute of International Affairs (JIIA) and Alexander Slater, Deputy Managing Director for India, U.S.-India Business Council.
In the Webinar, which was recorded earlier this week (July 23), the speakers highlight five main points:
a) In the last three months, Quad has grown in importance and shifted rom a group of like-minded democracies that believed in an  'inclusive' Indo-Pacific a year ago to a serious mini-lateral focused on being an alternative to China's regional aggression. However, before the Quad broadens into a formalised 'Quad Plus', it must build institutional cooperation amongst itself.
b) The potential addition of Australia to the Malabar naval exercises later this year is a step towards a consolidated Quad. In addition, an economic and technological cooperation among the Quad partners will strengthen their competitiveness areas like 5G/6G telecom, Internet of Things (IoT), industry 4.0, cybersecurity, space exploration and rare earths. There is no trade agreement within Quad, therefore it can begin to work on common agendas like WTO reform and comprehensive new rules for digital and data standards.
c) U.S. allies both Quad and non-Quad, have low defense Spending – under 2% of their GDP. This makes it difficult for them to participate in the Indo Pacific military arrangement, even though they want to play a strategic role in the region. The agenda of the Quad will find resonance in other groupings working for a reformed multilateralism such as expanding the G7 to a G10/11.
d) Germany is slowly abandoning its Change Through Rapprochement policy with China and increasing support for a free, open and "balanced" Indo-Pacific – interests that align with the Quad.
e) India can contribute better to the Quad primarily by economic growth, attained by accelerating internal reforms and "rearrangements" especially in the commerce and defence sectors. This will help India to benefit from the on-going global decoupling from China. India can also conclude reciprocal logistics agreements with Japan, and leverage the islands of the Indo-Pacific for a geo-strategic advantage by building infrastructure in the Andaman and Nicobar Islands in support of Quad military and maritime missions.