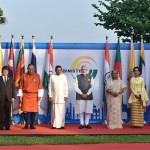 The Bay of Bengal Initiative for Multi-Sectoral Technical and Economic Cooperation (BIMSTEC), which has served as an alternative to a deadlocked South Asian Association for Regional Cooperation (SAARC), has won the most recognition only in the course of the last one year of its 20-year existence. It holds out hope for regional cooperation: SAARC remains an important body even now, but it has been in limbo.
The Doklam crisis consumed a big chunk of New Delhi's time and energy this year, but the Ministry of External Affairs continued to keep up initiatives that strengthened and showcased BIMSTEC. They were:
– the Leaders' Retreat and the BRICS-BIMSTEC Outreach Summit, both of which were held on 16 October 2016 in Goa, setting the stage for the emergence of BIMSTEC as the premier regional grouping;
– the first ever meeting of the National Security Advisers, hosted by India in March this year, gave a strong fillip to the perception of the Bay of Bengal as a "common security space"[1];
– the Ministerial Meeting this August in Kathmandu witnessed the finalisation of a purposeful action plan, covering key sectors of economic and other cooperation;
– the first annual BIMSTEC Disaster Management Exercise which India hosted in Delhi in early October. It succeeded in creating a foundation for institutional synergy, regional cooperation and inter-governmental coordination for disaster management and humanitarian relief.
Now, as the year 2017 ends, some testing times lie ahead. If member-states are serious about delivering on their promises, they need to look closely at some issues before them. First, the problem of the Rohingyas: between August and October 2017, a total of at least 580,000 Rohingya Muslims were forced to flee the Rakhine state of Myanmar and seek refuge in Bangladesh. This was a massive exodus and human tragedy, occurring in a short time. The Rohingyas were driven out by the Myanmar army amidst incidents of violence that generated widespread panic among the populace.
After a visit to Bangladesh and many conversations with the political and intellectual cognoscenti, one could gauge the extent of concern there is about the repercussions of this disaster. The slow pace of negotiations between Bangladesh and Myanmar regarding the return of the refugees is causing the host country great anxiety. It is evident that unless a mutually acceptable solution to this is devised, neither country is interested in focusing its attention on the proposed rejuvenation of BIMSTEC.
Then there are other challenges, such as the hosting of the conference. While no formal announcement has been made, the next BIMSTEC summit was likely to take place in the last quarter of this year. Nepal, which was to play host, cited its own upcoming election – whose dates are not yet known – as a reason to not be able to take up the responsibility. Were domestic compulsions alone governing this decision? Geopolitical ones may have played a role too. According to sources, the summit has been postponed to "some time in 2018". This is disappointing – and a reminder of the travails that member-states faced in scheduling the third summit in 2014 when they contended with an absence of consensus all round.[2]
Agreement on a Free Trade Area (FTA) in goods, services and investment is still elusive despite the BIMSTEC leaders re-committing themselves to concluding protracted negotiations in October 2016. The impasse, caused by their protracted inability to agree, continues to erode their credibility.
Pakistan has been lobbying for convening the next SAARC summit on home territory. This has been gaining some support – and is disconcerting for the advocates of BIMSTEC. Ideally, BIMSTEC should fly on its own strength. SAARC was set up in 1985, BIMSTEC in 1997, the assumption being that both have roles to play and will shine in their own ways. The political realities in the region today are such that BIMSTEC can be an effective institution if SAARC remains inactive.
Such challenges notwithstanding, governments are striving to add content and impart momentum to BIMSTEC. Corporate India and the nation's thought leaders must advise the government so that these issues, which are largely neglected, enter the national discourse. They need to reflect on the trajectory of regional cooperation in South Asia and Southeast Asia, China's 'intrusions' into the South Asian space, and specifically on how BIMSTEC can develop a practical roadmap to reinvent itself. India's leadership remains crucial, but the style needs to be benign, one that is consistently inclusive and collaborative. New Delhi should be talking more to capitals like Dhaka and Naypyitaw, Bangkok and Colombo. These conversations will give enhanced energy to BIMSTEC.
External Affairs Minister Sushma Swaraj's comments[3] on the vexed Rakhine issue, made earlier this week in Dhaka, were both apt and calibrated. She should now consider visiting Myanmar as soon as possible.
Rajiv Bhatia is Distinguished Fellow, Foreign Policy Studies Programme, Gateway House. He has extensive experience of diplomatic work and study in Southeast Asia.
You can read exclusive content from Gateway House: Indian Council on Global Relations, here.
For interview requests with the author, or for permission to republish, please contact outreach@gatewayhouse.in.
© Copyright 2017 Gateway House: Indian Council on Global Relations. All rights reserved. Any unauthorized copying or reproduction is strictly prohibited
References
[1] Ministry of External Affairs, Government of India, First meeting of the BIMSTEC National Security Chiefs (March 21, 2017), (New Delhi: Ministry of External Affairs, 2017), <http://www.mea.gov.in/press-releases.htm?dtl/28193/First_meeting_of_the_BIMSTEC_National_Security_Chiefs_March_21_2017>
[2] It took them nearly two years to find mutually acceptable dates then
[3] "It is clear that normalcy will only be restored with the return of the displaced persons to Rakhine state. In our view, the only long term solution to the situation in Rakhine State is rapid socio-economic and infrastructure development that would have a positive impact on all the communities living in the State. India, for its part, has committed to provide financial and technical assistance for identified projects to be undertaken in Rakhine State in conjunction with the local authorities. We have also supported implementation of the recommendations contained in the Kofi Annan led Special Advisory Commission report."
Ministry of External Affairs, Government of India, Press Statement by External Affairs Minister during her visit to Bangladesh (October 22, 2017), (New Delhi: Ministry of External Affairs, 2017), <http://www.mea.gov.in/Speeches-Statements.htm?dtl/29039/Press_Statement_by_External_Affairs_Minister_during_her_visit_to_Bangladesh_October_22_2017>