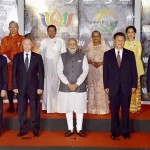 The 8th BRICS summit, the most prominent event on India's diplomatic calendar for the year, has ended. Now is the apt moment to take stock of the success it achieved – both for the five-nation grouping and for India.
Some experts have rated the outcome as a success, picturing BRICS as a steady ship, while others have spoken of "the falling BRICS", the institution's "diminishing returns" for India, and of an opportunity lost. Indian officials have, of course, expressed satisfaction over the summit's results, pointing to the weighty outcome documents, key initiatives taken during India's chairmanship and the inspired decision to redefine India's neighbourhood by excluding Pakistan from Goa.
To take an objective view, first of all, the 110 paragraph-long Goa Declaration was the longest joint statement produced by any BRICS summit since its inception in 2006. In the past, the average size of this has been 47 paragraphs. Indian diplomats, known for their drafting skills, tend to favour shorter documents so that they get read. Perhaps this time they and their colleagues forfeited restraint, believing that the longer a document, the stronger the organisation would seem to be.
What was a statement making achievement in itself was the holding of 112 meetings in under a year. Critics have questioned their sustainability and long-term value: given their number, they were, inevitably, of uneven quality, but one that stood out was a meeting of parliamentarians that created strong bonds among the member countries, whereas one of young diplomats may have achieved little. A more selective approach would have helped make India's chairmanship of the event an effective one and the grouping a more productive time of coming together.
Yet, what the two-day summit achieved in the economic and financial domain was not negligible by any standards. In a short period of three or four years, two new institutions of international significance were created, namely the New Development Bank (NDB) and the Contingent Reserve Arrangement (CRA), which are coming into their own actively. It is only a matter of time before the third one – a new Credit Rating Agency – is established. These gains came through, thanks to a clear convergence of interests among the member-states.
Not surprisingly, the summit was dominated by the complex geopolitical dynamics that are proving to be a drag on the grouping's evolution. Marked tensions in India-China relations, stress in India-Russia ties, the growing affinity between Moscow and Beijing, and the preoccupation of Brazil and South Africa with their internal challenges, have all combined to slow down the BRICS' development. And this comes at a time when the world economy is traversing a fragile phase.
New Delhi's laser-like focus on "cross-border terrorism" from Pakistan as a central issue at the Goa summit was noted and came in for comment all around. Perhaps South Block did not gain as much as it had hoped to, but the gulf in perception with other member-states, especially China, will need to be factored in to determine the Indian government's next steps.
The outreach summit between BRICS and the Bay of Bengal Initiative for Multi-Sectoral Technical and Economic Cooperation (BIMSTEC) attracted widespread attention. What it actually achieved may not be fully clear yet; however, it was a laudable decision to arrange live telecast of the first segment of the outreach summit that had participating leaders articulating their vision on global and regional issues.
In the summer of 2016, the government had reached the conclusion that Pakistan's presence in Goa would be undesirable. The Uri attack and its aftermath demonstrated the wisdom of this decision. The choice of BIMSTEC over SAARC was inevitable also because India had to follow the precedent set by South Africa: the host country arranges the BRICS outreach to its immediate neighbourhood.
A truly heartwarming sight was the retreat of BIMSTEC leaders, held just prior to the BRICS-BIMSTEC outreach summit. Among the seven leaders present were two women – Sheikh Hasina of Bangladesh and Aung San Suu Kyi of Myanmar. These two countries are of exceptional importance to India in the changing environment in South Asia and Southeast Asia. The success of our Act East Policy is critically dependent on our relations with the two eastern neighbours.
The BIMSTEC retreat produced a long wish list of areas where member countries spoke of wanting to increase mutual cooperation. The focus would be on counter-terrorism, energy, transport, disaster management and a Free Trade Agreement. They reiterated their "deep commitment" to BIMSTEC as an organisation, promoting regional cooperation and integration in the Bay of Bengal region, but to achieve even some of this, they said that they would need new financial resources, excellence in implementation, strong political will, and leadership by India.  The year 2017 will reveal if these goals will be realised. It was, however, comforting to hear a senior Indian official stating clearly that India was prepared to take on "asymmetric responsibilities".
Those who interpret the Goa event as a mixed bag for India, with the positives surpassing the negatives, have it right. It produced a few takeaways for policy-making and diplomacy, one of these definitely having to do with recalibrating the balance between the security establishment and the economic development-oriented policy community. High-decibel and purposeful messaging through media has its uses, but it is time now for some quiet diplomacy.
Rajiv Bhatia is Distinguished Fellow, Foreign Policy Studies Programme, Gateway House, and former high commissioner to South Africa.
This article was exclusively written for Gateway House: Indian Council on Global Relations. You can read more exclusive content here.
For interview requests with the author, or for permission to republish, please contact outreach@gatewayhouse.in.
© Copyright 2016 Gateway House: Indian Council on Global Relations. All rights reserved. Any unauthorized copying or reproduction is strictly prohibited