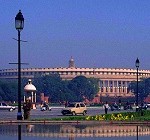 It is being called the most "defining" election of India – one that could dramatically shift the traditional power balance and bring in a prime minister who has as many supporters as he has detractors.
Polls consistently show the country leaning toward Narendra Modi and his Bharatiya Janata Party (BJP) as voting begins on Monday and continues in phases until May 12.
Major countries, including the United States, have already adjusted their stance for a possible Modi victory, moving smoothly away from treating him like a pariah.
Nancy Powell, the U.S. Ambassador to India, resigned unexpectedly last week following reports that she had resisted meeting Modi and for her role in the Khobragade affair. The Indian establishment largely blamed her for allowing a relatively minor wage dispute to spiral out of control and damage relations.
Washington – if it is serious about this partnership – should appoint someone who can put the relationship back on track. That means a person with political vision and weight who can move the various U.S. bureaucracies to act positively. The right choice would go a long way to reset relations with the new prime minister.
Whatever the ultimate composition of the new government, Washington would be happy to see the back of UPA II as would most Indians. The Congress Party – rightly or wrongly – acquired a negative reputation among U.S. officials and analysts over the last two years as it gave out confused economic signals.
The American establishment – to the extent it is focused on India – would welcome a change, especially if it means reinvigorating the Indian economy.
But whether India with a new prime minister would jump up on the White House radar screen and prompt the political managers awake is altogether a different and difficult question. President Barack Obama and his top advisers have left the relationship in the hands of bureaucrats and refused to salvage it even as it hit its lowest point in a decade with the Khobragade affair.
There is no indication that Washington is ready to put a lid on the sorry mess given that she has been indicted again.
India too allowed this most important relationship to drift or left it to envoys who were more busy promoting themselves than the country.
With a new government in New Delhi, there would be an opportunity to start with a clean slate. India has already sent one of its most able ambassadors to Washington who is working hard to change the tenor and tone of the dialogue lately mired only in negativity.
Given Washington's indifference and accumulation of disputes, it is unlikely that India's new prime minister would rush to the U.S., especially if it is Modi. Obama, who is surrounded by liberal advisers such as Samantha Power and Susan Rice, will find it hard to warm up to Modi who remains burdened by the weight of 2002.
The vehement anti-Modi lobby is already at work, littering the ground with questions about his past. Modi arouses extreme passions not only in India but also in the United States – most starkly manifested in the denial of a U.S. visa in 2005 following a vigorous campaign against him.
A group of Christian and Muslim activists banded together with left-leaning Indian Americans to create a pressure group that continues to actively work against Modi. Pro-Modi groups are equally vocal but they are often bested by the more experienced and sophisticated people on the other side, including many academics.
Since timing is an essential part of messaging, the coalition against Modi managed to organize a hearing on Capitol Hill last Friday on the "plight of religious minorities" in India. The idea was to highlight Modi's dubious record in Gujarat where anti-Muslim violence in 2002 claimed more than 1,000 lives on his watch.
It must be noted that the hearing was organized by the Tom Lantos Human Rights Commission, a caucus of concerned members of the U.S. House of Representatives but lacking in real legislative power to force policy changes.
Testimonies from various U.S. experts and an Indian representative, John Dayal of the All India Christian Council, stressed that a Modi-led government in India would be harmful to the rights of minorities. Modi's close association with Hindu nationalist groups, they said, would adversely affect religious freedom.
Equally vehemently, a few Congressmen took issue with the idea of holding a hearing on the eve of India's election, saying it amounted to interference in the process. Tulsi Gabbard, the first Hindu American member of Congress, said the timing of the hearing was not a "coincidence."
All four witnesses were essentially critics of India's record. The Hindu American Foundation, a group of Indian Americans promoting Hindu cultural values, was rejected when it asked to speak at the hearing.
Activism for and against Modi will likely be a perennial feature of bilateral relations, especially on Capitol Hill where American voters can exercise influence through their Congressmen and senators.
The noise will consume vast amounts of Indian diplomatic energy just as it did during the 80s and 90s when the Indian Embassy had to battle Khalistanis on Capitol Hill and later Pakistan-funded Kashmiri activists who tried to influence U.S. policy against New Delhi.
The inclinations of the U.S. bureaucracy towards Modi would also be interesting to watch.
All this would become instantly secondary if the Indian economy takes off and once again registers high growth rates. No one would be considered untouchable then.
Seema Sirohi is a Washington-based analyst and a frequent contributor to Gateway House: Indian Council on Global Relations. Seema is also on Twitter, and her handle is @seemasirohi
This article was exclusively written for Gateway House: Indian Council on Global Relations. You can read more exclusive content here.
For interview requests with the author, or for permission to republish, please contact outreach@gatewayhouse.in.
© Copyright 2014 Gateway House: Indian Council on Global Relations. All rights reserved. Any unauthorized copying or reproduction is strictly prohibited