In the closing month of 2019, India joined the now long list of countries whose citizens took to the streets to protest last year. The passing of the Citizenship Amendment Act by Parliament's upper house, the Rajya Sabha, on 11 December 2019, set off nationwide protests with many questioning its constitutionality and also its commitment to secularism.
The government's decision to suspend internet services in several areas, including New Delhi, to control violence, has exacerbated matters. Instead of giving up, the protesters have looked to bypass the shutdown by using offline messaging applications, such as Bridgefy, just like their global counterparts. The Bridgefy app links phones via Bluetooth and creates mesh networks that are self-sustained by the devices rather than by a central network: communication can thus continue, unaffected and unmonitored.
The surge in the usage of offline apps, such as FireChat or Bridgefy, in protests has closed a decade of public demonstrations that began with Facebook and Twitter as the chosen tools for protesters in the Arab upheavals of 2011. Their use was radical and permitted millions to communicate, coordinate and execute their protest plans.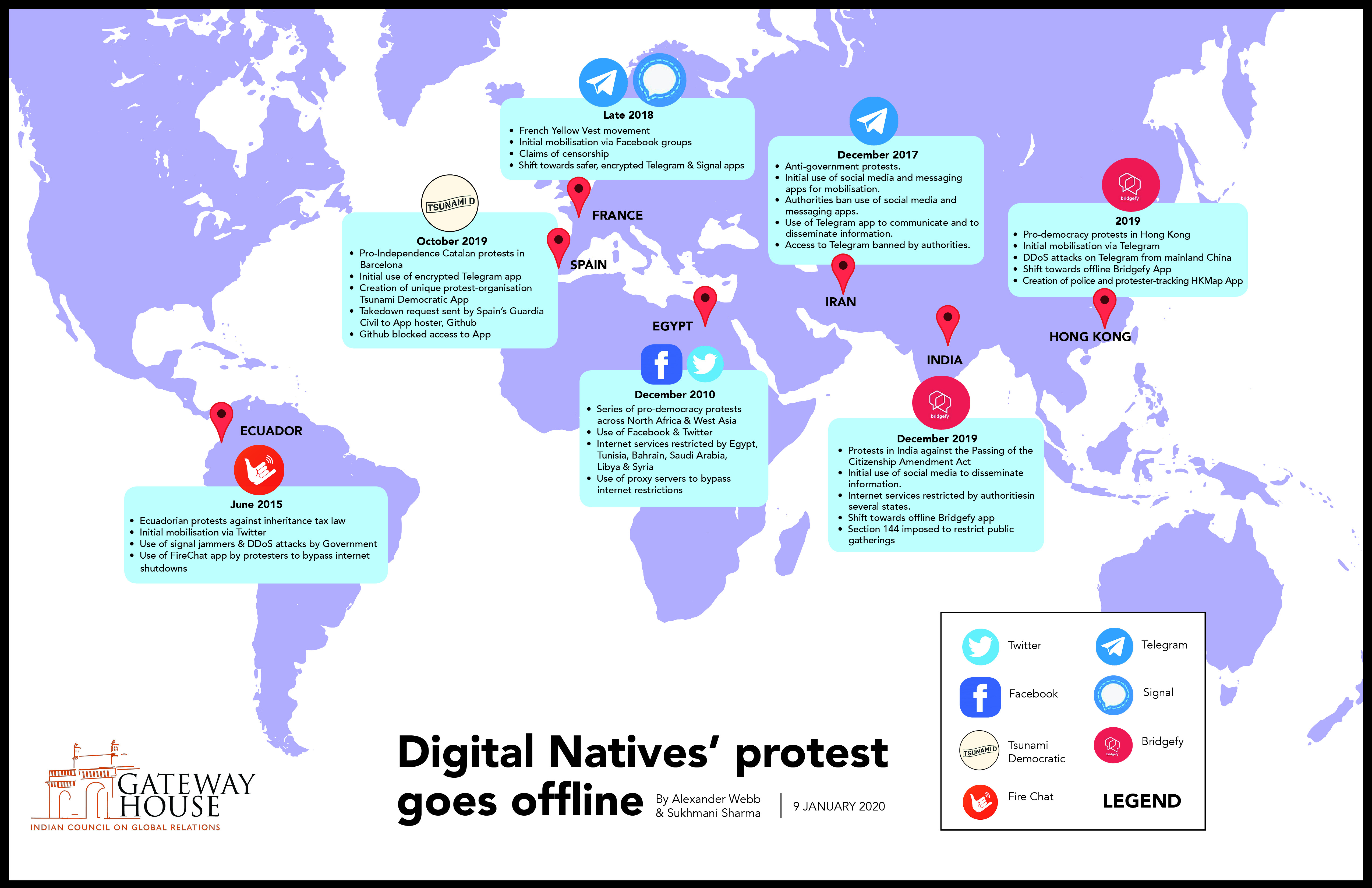 Authorities were soon closely monitoring Facebook and Twitter, the comparatively more open social networks. The use of Telegram in the 2014 Hong Kong Umbrella Revolution showed that people had now made encryption and privacy their priorities to evade government surveillance. (Encryption converts information into data or code so that only authorised personnel have access to it.)
By 2019, encryption was no longer the principal issue. Authorities that had previously limited their methods to surveillance, were now enforcing application bans. In Hong Kong and Spain, protesters who had developed their own apps, such as HKMap and Tsunami Democratic, soon faced censorship from the authorities, who had them taken down. In India, internet shutdowns became more frequent and led to protesters, still looking to communicate and organise demonstrations, switching to offline methods.
In the ascendant now are Bridgefy and FireChat, apps that have been downloaded an estimated 30,200 and 30,400 times respectively, in December 2019, in India alone. Digital Natives have found a way to continue communicating while demonstrating against their states. With Facebook and Twitter under the scanner, Telegram's security – and in some places, availability too – compromised, and the forceful taking down of indigenous apps, it is surely only a matter of time before the mesh networks are also infiltrated – and before yet another new modus communique for the continuing protests is created.
Sukhmani Sharma is Website Associate at Gateway House.
Alexander Webb is an Intern at Gateway House.
Designed by Daniella Singh.
This infographic was exclusively created for Gateway House: Indian Council on Global Relations. You can read more exclusive content here.
For interview requests with the author, or for permission to republish, please contact outreach@gatewayhouse.in.
© Copyright 2020 Gateway House: Indian Council on Global Relations. All rights reserved. Any unauthorized copying or reproduction is strictly prohibited.