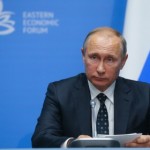 The Second Eastern Economic Forum held in Vladivostok, Russia on 3-5 September 2016 saw some important opportunities for Asian cross-regional cooperation, but only lacklustre participation from India.
According to Far East development minister Alexander Galushka, more than 3,000 people from 60 countries took part in the forum, resulting in over 200 agreements worth at least $26 billion. The First Eastern Economic Forum last year had brought in over 100 agreements, totalling approximately $15 billion.
This increasingly important event has been marketed and understood as Russia's attempt to attract investment into its economically backward and under-populated Far East region, which has already shown economic growth of 5% in the past year, much higher than that of Russia overall.
Another significant motivation behind the high-level encouragement given to the Eastern Economic Forum has been Russia's pivot east after its relationship with, most notably, the United States, its largest trading partner, grew acrimonious over Western sanctions and criticism about the war in Ukraine.
At the First Eastern Economic Forum, the Russia-China bilateral relationship was touted as having the greatest significance to the proceedings. The Chinese delegation, with its numerous members, accounted for a number of deals, most notably the founding of the Russia-China Agricultural Development Fund with a capital of $10 billion. However, by early last year, media reports with such booming headlines as "China and Russia: The New Superpower Axis?"[1] could already be seen as premature. Trade turnover between the two plummeted last year amid falling world prices of oil—Russia's top export to China—gas, coal, and timber, and economic slowdown for both countries. The growing Russia-China relationship, though still viewed as inevitable by most regional experts given their geopolitical orientation, is now seen by Russia's leadership as needing more time to mature, especially vis-à-vis trade.
This year's Eastern Economic Forum has, therefore, featured a different approach. Notably, the largest delegation was from Japan, followed by China and South Korea, with Vietnam in fourth place and looking to increase its involvement. Russian authorities made overtures to all participants, with President Vladimir Putin stating at the beginning of the Forum that he envisioned "joint projects that will bind together" Russia and its multiple Asian partners.
Alexei D. Voskressenski, dean of political affairs at the Moscow State Institute of International Relations, explains, "The [Eastern Economic Forum] is planned on a pluralistic basis that enables businesses from a range of countries to participate." Yet, according to him, "It is clear that at least some of the Eastern countries—India, for example—are under-represented in this geographical segment of the Russian market."
While geographically more distant from Russia's Far East than the current top four participants, India could significantly up its involvement and position itself as an active player at a juncture when the China-Russia bilateral relationship has taken a backseat to a more pluralistic regional strategy on Russia's part. Reportedly, a "large delegation of Indian businessmen" from the Confederation of Indian Industry travelled to the Second Eastern Economic Forum, and the consul general of India in Vladivostok, Rakesh Pandey, especially visited Yakutia, the large mineral- and timber-rich region in Russia's northeast; yet, no deals have been reported so far.
A similar meeting last year resulted in nothing but a planned joint film festival and children's sports competition. India is missing a rich opportunity to increase its cooperation with Russia in Yakutia's diamond industry, rough diamonds historically being one of the top Russian exports here.
More broadly, although India has joined the Shanghai Cooperation Organisation, of which Russia is a member, this partnership has not yet resulted in significant mutual economic deals. We hear little of the joint investment fund, set up between India's and Russia's hi-tech industries in early 2016, and supposedly also involving Chinese investors.
Meanwhile, bilateral trade between Russia and India stood at $6.18 billion in 2015-16, down from $12 billion in 2012. The goal that the two countries have set of increasing trade to $30 billion and mutual investment to $15 billion by 2025 remains well out of reach.
The problem seems to be a lack of government-level initiative and, more broadly, of imagination regarding how India can partner with Russia to advance new and existing multiregional projects. More impetus can be given to the development of the North-South Transport Corridor linking India, Central Asia, Russia and Iran.  Plans for cooperation between the Eurasian Economic Community and ASEAN in the areas of energy and technology are being set up; India, which has an FTA with ASEAN, could join in on the game.
Investors from both countries need to receive greater governmental support to facilitate the signing and execution of new contracts: Russia has an unpropitious business climate, which was a topic of conversation at this year's Forum, and Indian businessmen are unsurprisingly wary of getting involved. The recent announcement that Russia and India are trying to put in place a "Green Corridor" to give impetus to trade is reassuring, although it remains to be seen whether this plan will come to fruition. Much can be done on India's side if more concerted effort—working groups, state-level meetings—is expended on the relationship.
As Gateway House has argued in the past, Indian stakeholders need to think more creatively about ways to assert leadership as multiregional players.[2] The missed opportunity, as the Second Eastern Economic Forum has come and gone, marks India's failure to increase its involvement and make its regional presence felt.
Dr. Katherine Foshko Tsan was formerly the Russia Studies Fellow at Gateway House.
This article was exclusively written for Gateway House: Indian Council on Global Relations. You can read more exclusive content here.
For interview requests with the author, or for permission to republish, please contact outreach@gatewayhouse.in.
© Copyright 2016 Gateway House: Indian Council on Global Relations. All rights reserved. Any unauthorized copying or reproduction is strictly prohibited.
References
[1] Emma Graham-Harrison, Alex Luhn, Shaun Walker, Ami Sedghi, and Mark Rice-Oxley, 'China and Russia: The New Superpower Axis?', The Guardian, July 7, 2015, <https://www.theguardian.com/world/2015/jul/07/china-russia-superpower-axis>.
[2] Akshay Mathur, 'India: shaping economic multilateralism', Gateway House, February 18, 2016, <https://www.gatewayhouse.in/india-shaping-economic-multilateralism/>.