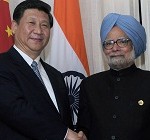 A day after BRICS – Brazil, Russia, India, China and South Africa – agreed to launch a development bank and $100-billion contingency fund, the state-run media in Beijing reported the news as a coming-out party for the bloc of emerging economies.
BRICS "is poised to play a bigger role on the world stage," an editorial in the largest English-language newspaper in Beijing, China Daily, said on Thursday.For China, the biggest economic power and largest trade partner of each member in the grouping, a greater global role through BRICS is a certainty. But New Delhi has yet to address what the ramifications of Chinese economic dominance in BRICS means for India. Nor have we really attempted to balance the scales by matching Chinese bilateral and multilateral engagements within the group to ensure that the BRICS vision of a new international order for emerging economies does work in their favour.
Within the bloc, India has the most politically charged relationship with China, one in which economic and strategic ties are inextricably linked. Both sides are trying to improve economic ties despite being in a deadlock over their disputed Himalayan boundary; however their mutual cross-border investments and trade are often impacted by bilateral politics.
Given that India has pioneered the idea of a BRICS development bank as an alternative to Western financial institutions, it should have taken into account the likelihood of China becoming the bloc's biggest banker and most significant voter. It is in India's interest to undertake the tricky task of formulating the bank's blueprint, seed capital and governance policies to ensure a genuine balance of power in executing the BRICS vision of a new international order.
China alone notches about 40% of BRICS' GDP. Beijing also holds the world's largest stockpile of foreign exchange reserves worth over $3.3 trillion and can easily give its estimated contribution of $41 billion for the BRICS Contingency Reserve Arrangement (CRA). India, Brazil and Russia each are to contribute $18 billion. South Africa, the last entrant in the group which came on board the bloc in 2011 at Beijing's invitation may pitch in with $5 billion.
China's future economic clout will be most visible in Africa where both Beijing and BRICS plan to ramp up investment for infrastructure. India's trade with Africa is worth about $70 billion, compared with China's much larger $200 billion. In Africa, China is good on both symbolism and substance. New President Xi Jinping went to the Durban summit via Dar es Salaam in Tanzania in which China has invested over a billion dollars in sectors including agriculture, manufacturing, energy, minerals and infrastructure. Xi declared that Beijing's Africa policy is unchanged and will continue as usual with 'no political strings attached'. China and Africa are as close as family, he said, linking his Party's slogan for a great revival of the 'Chinese dream' with the 'African dream of self-development through unity and growth'.
China has leveraged the multilateral forum to influence its bilateral relations within the bloc. In the run-up to the summit, Beijing sealed tens of billions of dollars worth of deals with Brazil, Russia and South Africa. These include a $30 billion currency swap line with Brazil, a $5 billion loan to South Africa's port and rail operator, a $20 billion credit line to African countries, and oil and gas agreements with Russia. The Chinese pre-summit overture toward India came in the form of a repackaged five-point formula promising to improve economic relations.
In contrast, India was more of a BRICS bystander in Durban.
China is acutely aware that its new global 'assertiveness' over the last decade has pushed Asian countries closer to the U.S. and to India as well. But BRICS is critical to China and its vision of the world. Beijing understands it needs to play its cards right. So at this stage, China is self-conscious about being a stand-out in the BRICS grouping and alienating an already wary India and Brazil. BRICS is still, as one high-level Chinese official said in Mumbai this week: 'a tiger without teeth.' Does China envisage taking the leadership of BRICS? No, said the official instantly, "if China takes the leadership role in BRICS, it kills itself.'' Certainly the Chinese leadership has often admitted in the media that BRICS is like an ad-hoc political club struggling to transform summitry into policy and action. Until the issue of voting rights and contributions is resolved equitably, BRICS will seem like an unequal game.
Meanwhile though, Beijing is wasting no time fitting BRICS into its foreign policy goal of using multilateral forums and economic diplomacy with developing nations to shore up international support for its policies and its ambition to rise as the world's second most powerful nation.
Not long ago in the early nineties, Chinese diplomats lacked the confidence to speak English and were bashful on the global stage compared to their bolder Indian counterparts. In contrast, in Durban 2013, as at the climate change talks in Copenhagen in 2009, China has now reversed the roles and become the voice of the emerging world.
Reshma Patil is Associate Fellow, East Asia Studies, Gateway House: Indian Council on Global Relations. Follow her on Twitter @reshmapatil11
This article was exclusively written for Gateway House: Indian Council on Global Relations. You can read more exclusive content here.
For interview requests with the author, or for permission to republish, please contact outreach@gatewayhouse.in.
© Copyright 2013 Gateway House: Indian Council on Global Relations. All rights reserved. Any unauthorized copying or reproduction is strictly prohibited.