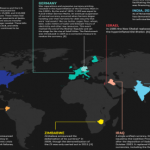 A version of demonetisation has recently been implemented by the Venezuelan President Nicolás Maduro. In order to render transnationally hoarded 100 bolivar notes useless, these notes have been scrapped from circulation and the borders have been closed off. This policy provides 10 days to the Venezuelan population to exchange the currency currently in circulation for the new 500 and 20,000 bolivar notes and at the same time prevents the hoarded notes from entering into the country.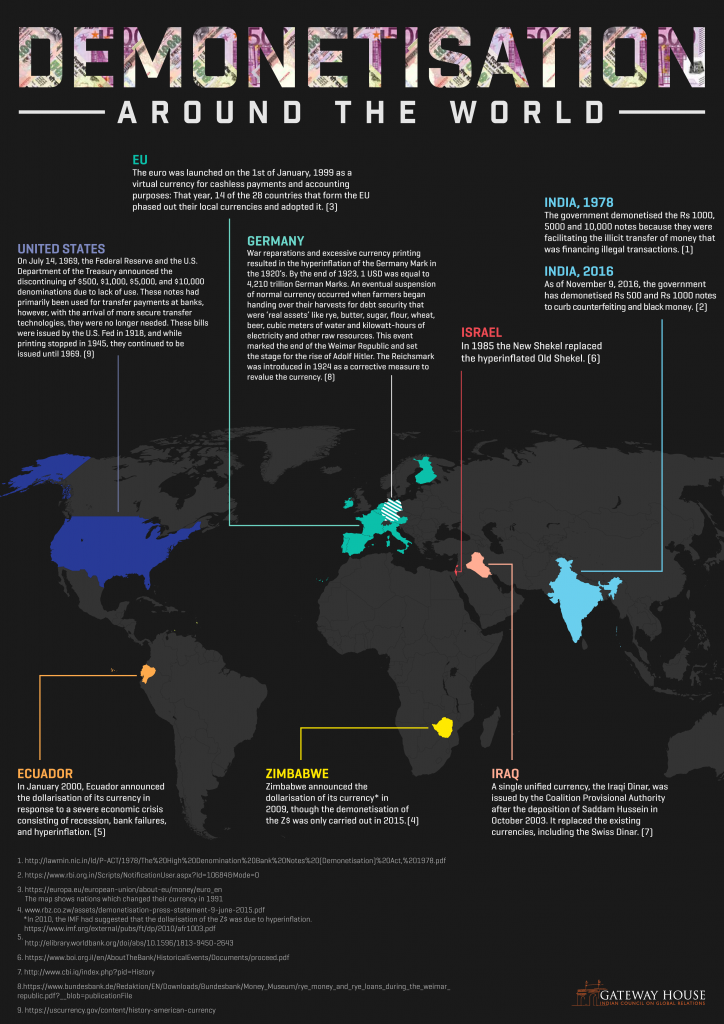 Prime Minister Narendra Modi's announcement on November 8 to demonetise notes of the denomination of Rs 500 and Rs 1000 has a precedent. It was in 1978 that then prime minister Morarji Desai had demonetised notes of Rs 1000, Rs 5000 and Rs 10,000 to clamp down on illegal money transfers and black marketing.
This infographic traces some interesting demonetisation initiatives around the world. They range from discontinuation of high denomination notes due to lack of circulation to the use of beer and water as 'real assets' in place of hyper-inflated currency and the euro replacing the currencies of 19 countries.
Aditya Phatak is Senior Researcher at Gateway House.
Devanshi Jain is Social Media Manager at Gateway House.
Designed by Debarpan Das
This infographic was exclusively created for Gateway House: Indian Council on Global Relations. You can read more exclusive content here.
For interview requests with the author, or for permission to republish, please contact outreach@gatewayhouse.in.
© Copyright 2016 Gateway House: Indian Council on Global Relations. All rights reserved. Any unauthorized copying or reproduction is strictly prohibited.