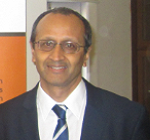 India has forged good relations with a number of countries over the last decade. The Look East Policy in particular has helped strengthen economic as well as strategic relations with Southeast Asia. However, the much-talked about India-U.S. bilateral seems to have lost traction. Gateway House's Marisha Singh talks to Dr. Kanti Bajpai about the recent strides taken in deepening India-Japan ties, the perception among Southeast Asian nations vis-à-vis India's capability to balance China and the new government's priorities in East Asia.
Q. Looking back at the last ten years of the UPA government, what in your opinion are the missed opportunities in the foreign policy domain?
On the whole, the UPA government's record on foreign policy is good, except on two counts – Pakistan and the U.S. The relationship with Pakistan started off on a strong footing but India did not take it forward smartly, particularly on the Kashmir issue. As far as the U.S. is concerned, it has been pretty much downhill since the 2008 nuclear deal.
Q. Could you expand on the causes for the lack of traction in the India-U.S. bilateral?
One was over the treatment some Indian diplomats were subjected to in the U.S. Devyani Khobragade was just one episode, but we know that there was discomfort over the searches that other diplomats were put through in U.S. airports, like former UN envoy Hardeep Puri, and former Indian Ambassador to the U.S. Meera Shankar.
Secondly, the nuclear deal ran into limits. The Americans were wary of India's insistence on nuclear reprocessing, and were very unhappy with the Nuclear Liability Bill. India, on the other hand, thought that the Americans were not delivering in terms of investments in industry and the entry into the Nuclear Suppliers Group (NSG).
The latest issues to plague the bilateral relate to trade – from Intellectual Property Rights (IPR), to the judgements of Indian courts on pharmaceuticals, and investment-related problems in India.
Q. Has India's Look East Policy made any perceptible difference in its relationship with ASEAN nations?
The Look East Policy has helped India engage with neighbours in both Southeast and East Asia. India is buying and selling technologies to these countries. We have forged defence relations with almost all the major countries in these regions, especially Singapore. Recently, you have seen a much happier relationship developing with Japan, partly because of some missteps on China's part. India has a presence in all the organisations in East Asia, the ASEAN related entities and the East Asia Summit. A series of bilateral dialogues are going on as well.
Q. What is the perception among nations in Southeast Asia vis-à-vis India's capability to balance China?
China is just too big and there is even a doubt over whether America can match China in the long run. But in terms of what political scientists call soft-balancing, India might have an advantage. India is a very capable, diplomatic country – its diplomats are very smart and experienced. India's military presence also throws the Chinese off a little bit – perhaps makes them think twice about the moves they may or may not make. The countries in Southeast Asia are aware of the power disparity between India and China, and of India's own difficulties vis-a-vis China. They don't want to push India into a very overt role. They don't want a confrontation with China or a polarised region.
Q. How do you look at the potential of the deepening the economic and security engagement between India and Japan to effectively counter China?
It's a good development that India and Japan have begun to exchange notes on China. We should engage with Japan far more than we did in the past.  But there are limits. We know that the Japanese are problematic for China and South Korea given the troubled World War II history that they share. Hence, engaging with the Japanese beyond a point will mean alienating others, including the Chinese.
The Japanese too have their worries. They don't think we are as trade and investment- friendly as we should be, and they think that, to some extent, we were the cause of Pakistan becoming a nuclear country. In spite of all this, I believe that we can expand our relationship and it would be a wise thing to do.
Q. With respect to East Asia, which are the areas that the next government in New Delhi should focus on?
Barring APEC, India is now firmly a part of the diplomatic institutions that are involved in the Southeast-Asian region. We will see an increasing involvement from India's as well. The next government has to build on this very base. The recent change in the Indian tourism policy is very good. We need these societies to learn about each other and establish a flow similar to the one that exists between East and South Asia today. Unfortunately, Indians are not part of this circulation. The problems lie in the visa regulations and tourism infrastructure.  These need to be made a priority. People to people engagement at various levels including businessmen, artists and cultural ambassadors need to be organised more frequently.
Q. Economically, what does the new government need to focus on?
India has to start becoming an economic player in East Asia. India is a dialogue partner in the Regional Comprehensive Economic Partnership (RCEP) – a regional trade agreement that is being pushed by the Southeast Asian countries and China.   We have to take forward the discussions at the RCEP more smartly. India should not become a stumbling block in a new regional trade agreement which has a huge potential.  India cannot become a member of the Trans Pacific Partnership (TPP) led by the U.S. because the social regulations around its membership are too onerous for India. Hence, RCEP is a better bet. The next government has to move more smartly there.
This interview was exclusively conducted for Gateway House: Indian Council on Global Relations. You can read more exclusive content here.
For interview requests with the author, or for permission to republish, please contact outreach@gatewayhouse.in.
© Copyright 2014 Gateway House: Indian Council on Global Relations. All rights reserved. Any unauthorized copying or reproduction is strictly prohibited.