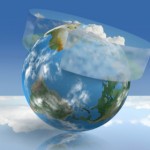 The United Nations' Paris Agreement of 2015 had nations committing to reduce emissions of greenhouse gases to slow the rise in global temperatures, but they also acknowledged that emissions-reduction alone is inadequate as a solution.  Using "carbon capture" technologies and developing carbon sinks to remove gases already in the atmosphere – a form of terrestrial geoengineering – can help achieve the Paris pact's goal of keeping the global average surface temperature from rising more than the 1.5 degrees Celsius. In contrast, atmospheric climate engineering seeks to slow global warming by altering local weather patterns. This infographic on the two technologies explains their pros and cons
Chaitanya Giri is Fellow, Space and Ocean Studies Programme, Gateway House.
Designed by Daniella Singh, Design Associate, Gateway House.
This infographic was exclusively created for Gateway House: Indian Council on Global Relations. You can read more exclusive content here.
For interview requests with the author, or for permission to republish, please contact outreach@gatewayhouse.in
© Copyright 2019 Gateway House: Indian Council on Global Relations. All rights reserved. Any unauthorized copying or reproduction is strictly prohibited.