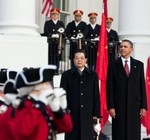 Chinese President Hu Jintao arrived in the United States on January 17 evening for a 3-day state visit. The last time the Chinese Premier travelled to the US was in April 2006. This is his first visit since Barak Obama took over as President. This will also be Hu Jintao's last visit to the US before his scheduled retirement in October 2012.
The upcoming trip, which includes a joint press conference and black-tie state dinner, will be only the third state visit to be hosted by President Obama — the earlier two being for Indian Prime Minister Manmohan Singh and Mexican President Felipe Calderon.
Hu Jintao's visit comes at a time when the geopolitical situation in Asia and the Asia-Pacific region is fluid – consequent to the US deciding to re-energise relations with countries in the region – and when Sino-US relations have been under some strain. Yuan Peng, a scholar at the China Institutes of Contemporary International Relations, affiliated to the Ministry of State Security, said:  "At such a crucial moment, Hu's visit will help reshape the China-US ties in future."
Sino-US relations received their first setback during the new Obama administration when in January 2010 it notified the US Congress of its intent to sell US$6.4 billion worth of defense items to Taiwan. The arms package included 114 Patriot Advanced Capability (PAC-3) missile-defense missiles, 60 UH-60M Black Hawk utility helicopters, 12 Harpoon Block II anti-ship missiles, 60 Multifunctional Information Distribution Systems (MIDS), and 2 refurbished Osprey-class minesweepers. Further strain was imposed when President Obama met the Dalai Lama in the White House in early February.
Beijing objected to the arms sale and retaliated by suspending defence exchanges with the US. Later, provoked by North Korea's sinking of the South Korean vessel 'Cheonan' in March 2010, the US and South Korea staged their largest ever joint military exercises from July to September 2010, followed quickly by equally large scale US-Japan joint military exercises.
The exercises also highlighted the level of mutual distrust between the US and China. The official Chinese media carried angry rhetoric about the exercises being intended as a warning to China as well as North Korea. The arrival of the nuclear-powered aircraft carrier USS 'George Washington' into the Yellow Sea during the exercises with Japan particularly upset the Chinese, who viewed it as threatening their 'economic and political centre.'
Given this background, President Hu's visit is an important event. A successful visit will boost his domestic popularity and affirm that he has contributed to strengthening this mutually important bilateral relationship. In the weeks leading up to Hu Jintao's visit official Chinese media  reports have sought to emphasise the importance of the relationship and quoted Chinese strategic experts as describing US-China relations as important, but lacking in mutual trust. They stressed the need to build the relationship. The White House has similarly tried to create a favourable atmosphere for the visit and decided that Hu Jintao, accompanied by two of the senior dignitaries accompanying him, dines privately with Obama at the latter's residence on January 17 before two-closed door official meetings and the state dinner the following day. Hu Jintao will also visit Chicago where he will give his only public speech.
Substantive steps have also been taken by Washington. US Defence Secretary Robert Gates was in Beijing this past week (Jan 10-13), just prior to Hu Jintao's departure for Washington, to discuss details of Sino-US defence exchanges. Quite unusually Hu Jintao, while meeting Gates, confirmed that China's latest J-20 Stealth Fighter aircraft had successfully completed its second test flight. The confirmation underscored the technological advances that China has made. Gates also met Chinese Vice President Xi Jinping, widely tipped to succeed Hu Jintao and the important People's Liberation Army Deputy Chief of General Staff, Ma Xiaotian.
While maritime issues were specifically discussed, Gates' suggestion for a new dialogue on nuclear weapons, space, cyber and missile defence, however, did not elicit a positive response. In a speech later in Tokyo, US Defence Secretary Gates said that Washington would prefer that defence exchanges do not remain vulnerable to suspension in the future, thereby reflecting Washington's keenness.
Economic issues are high on the agenda for the Hu visit, and US Treasury Secretary Timothy Geithner will push for a further readjustment of the Yuan (RMB). Chinese officials have already declared that this is unlikely to make any headway. Commenting favourably on the steps taken by China on IPR, Geithner additionally urged China to level the playing field for US exports by increasing domestic consumption and investment. At the same time he separately disclosed that the US will export more than US$ 100 billion worth of goods and services to China in 2011, which would provide jobs to thousands of Americans in different sectors.
A slew of international issues will be discussed including the nuclear issues relating to North Korea and Iran, Taiwan the South China Sea, Tibet, the environment and human rights.
Of direct relevance to India will be the discussions on Afghanistan, Pakistan and Kashmir, where US and Chinese interests converge. Pakistan President Asif Zardari's unexpected visit last week to the Washington could have been made in this context – particularly as the US believes that a resolution to the Kashmir issue is essential to its achieving its objectives in Afghanistan and ensuring peace between India and Pakistan. China's recent posture designating the state of J&K as 'disputed' is related to this. The joint press conference will be an important indication of the areas of agreement between the two countries.
Jayadeva Ranade is a former Additional Secretary in the Cabinet Secretariat, Government of India.
This article was exclusively written for Gateway House: Indian Council on Global Relations. You can read more exclusive content here.
For interview requests with the author, or for permission to republish, please contact outreach@gatewayhouse.in.
© Copyright 2011 Gateway House: Indian Council on Global Relations. All rights reserved. Any unauthorized copying or reproduction is strictly prohibited.