The Chinese economy has long been sold to outsiders as a mixed economy, offering market access in return for capital, technology, and political concessions. Many of its cheerleaders and optimists have hoped that greater economic engagement with China will lead to a more open society.
These hopes are misplaced. The recent reinstatement of Xi Jinping as China's supreme leader shows that after three decades of the so-called China model – socialism with Chinese characteristics and a vibrant private sector – the Chinese economy is now once again dominated and controlled by the state. Two of the most ardent supporters of free market economics in the current Xi team:  Premier Li Keqiang and Vice Premier Liu have been eased out as they didn't share Xi's vision of common prosperity. Some of the best-known Chinese entrepreneurs have seen their wings clipped, and high-flying companies have been brought down to earth via regulatory action. To further tame the private sector and achieve the Xi's vision of Common Prosperity more draconian steps will have to be taken and that's why Shanghai Province in charge Li Quiang finds a place in Xi's current team, is iron hand methods in implementation of Xi's zero Covid policy in the affluent Shanghai province impressed Xi and one can expect the iron hand play book being used in the private sector, Li Quiang will be that person. This will have long term implications for China, as well as its neighbours.
A Gateway House assessment of China's most valuable throws up an interesting winner for 2022: Kweichow Moutai, a state-owned distillery that makes and sells Maotai, a brand of baiju (traditional Chinese alcoholic drink). Kweichow Moutai is now more valuable than Chinese tech giants Tencent and Alibaba, which once were snapping at the heels of U.S. tech giants such as Amazon and Google, but whose market value has eroded over the past two years.
Table 1: China's most valuable Companies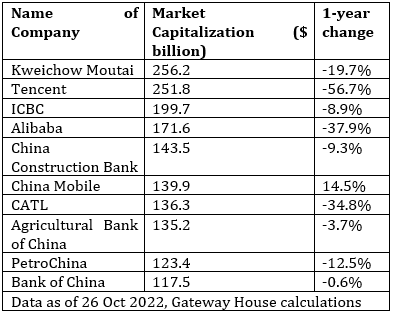 Source: Companiesmarketcap.com.
Alibaba was the poster child of China's tech sector and a bell-weather for all that was worth investing in China. In October 2020, Alibaba had a market capitalization of over $800 billion – not far behind Alphabet (Google) which was then valued at just over $1 trillion. Around that same time, founder Jack Ma criticized China's regulatory system.[1] Immediately after, he vanished from public view for several months. He has since been seen in public only intermittently. A crackdown by State Administration for Market Regulation (SAMR), a regulatory body, on Alibaba followed, for various past transgressions. It resulted in the $37 billion IPO of Alibaba's fintech affiliate Ant Financial on the Shanghai and Hong Kong Stock exchanges being scrapped – after retail investors had already placed bids worth over $3 trillion for the shares. Alibaba was subsequently slapped with a record high regulatory penalty from SAMR for abusing its dominant market position[2]. The current value of Alibaba is a little over 20% of the peak valuation.
The other tech giant, Tencent, which was worth over $900 billion at its peak in January 2021 tried to avoid political entanglements but still got caught in China's crackdown – or 'delayed regulation' as it is often described – against big tech… It is today worth less than a third of its peak valuation. These companies no more compare with their US counterparts.
A little about China's new corporate top dogs. Kweichow Moutai is a state-owned enterprise, with a government entity holding 60% of its shares. Seven of China's ten most valuable companies are now state-owned enterprises: names such as ICBC, China Construction Bank, China Mobile and PetroChina. In contrast, only one of India's ten most valuable firms is a state-owned enterprise – the State Bank of India at number seven.[3] The next closest state-owned Indian company is oil major ONGC – at number 31, nowhere near the top.
What are the implications of this dramatic change? First, that China is not a market economy. It may have had some characteristics of a market economy in the past, but the current scenario clearly shows that the state will retain its controlling position.
Second, China's slowdown will be long term. The country's growth rate has dropped sharply in the past few years. Hampering the private sector and favouring State Owned Enterprises, which tend to be inefficient with capital, is one reason. Growth does not seem to be the priority of the Chinese government.
Finally, Xi Jinping cannot, and will not, retire. Why? Alibaba and Tencent have lost over $1 trillion in market value over the past two years. Many of the venture capital and private equity investors in China are princelings, scions of political families. They have now lost fortunes in the regulatory shakedown. Xi Jinping has also locked away his political opponents under the garb of a massive anti-corruption campaign. He has too many enemies and retiring peacefully is not an option. The visuals of Xi's predecessor Hu Jintao being led out of the Communist Party Congress show that it is no longer safe to give up power. Xi has no option but to stay president for life.
For China's neighbours, especially India, there is much reason to worry. A strongman running a failing economy and many internal rivals, may choose an external entanglement to divert attention from problems within, and to 'unite' the country against an external enemy. Available options are few – and India is one of them.
Amit Bhandari is Senior Fellow for Energy, Investment and Connectivity, Gateway House
This article was exclusively written for Gateway House: Indian Council on Global Relations. You can read more exclusive content here
For permission to republish, please contact outreach@gatewayhouse.in  
©Copyright 2022 Gateway House: Indian Council on Global Relations. All rights reserved. Any unauthorised copying or reproduction is strictly prohibited. 
References
[1] https://www.reuters.com/article/us-china-ant-group-jack-ma-idUSKBN2991DA
[2] https://fis-yhq-data-service.oss-accelerate.aliyuncs.com/ir_filings/HKEX/09988/en/202104132021041300009/2021041300009.pdf?Expires=1666863696&OSSAccessKeyId=LTAI5tCvEyqTs8MjhvE1yGjK&Signature=PSe0XJeYvfs7dJH32%2F7fCaOT2LA%3D
[3] https://www.bseindia.com/markets/equity/eqreports/topmarketcapitalization.aspx