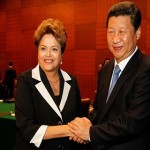 At the China-Community of Latin American and Caribbean States (CELAC) Forum meeting held in Beijing in January 2015, Chinese President Xi Jinping announced that over the next ten years trade between China the region will double to $500 billion and Chinese investment in the region will reach $250 billion .These large targets are reflective of China's vastly increased economic engagement with Latin America.
Trade has already reached $275 billion in 2013, up from $12 billion in 2000. China has become the top trading partner for three countries, including Brazil, overtaking the European Union as the region's second largest trading partner with 10% of its exports and 16% of imports in 2013. China has invested about $100 billion in Latin America, majority of that in oil fields and mines.
China extended a $119 billion line of credit to Latin America between 2005 and 2014, according to Inter American Dialogue, a U.S. think tank. In 2010 alone China provided $37 billion, more than the combined total funding by World Bank, Inter-American Development Bank and U.S. Exim Bank.
In addition to loans given to individual countries, China has extended credit for region-wide projects in collaboration with the Inter American Development Bank—of which it is a member.
A Chinese company, Hong Kong Nicaragua Canal Development Investment Group (HKND) is developing the $50 billion Nicaragua Canal project connecting the Atlantic Ocean with the Pacific Ocean, invoking comparisons to the U.S. built Panama Canal.
Chinese banks have now become the principal lenders to countries which have been spurned by western capital such as Venezuela, Ecuador and Argentina.To them, China has  extended currency swap facilities, helping them tide over foreign exchange shortage. When Brazil's oil major Petrobras faced financial issues due to the recent corruption scandal, the American credit rating agencies downgraded its rating. In stepped the China Development Bank with a $3.5 billion bridge loan on 1 April 2015, as part of a two-year cooperation agreement.
China has opened branches of its banks in the region and bought controlling stakes in some local banks to facilitate its growing financial clout within the region. In addition, China's growing engagement and stature in Latin America is a result of the 'win-win' complementarity between China's capital surplus and resource needs, and Latin America's surplus resources and investment needs. China's arrival has coincided with Latin America's strategy to diversify its economic partnership and reduce its dependence on the U.S and EU, its overbearing traditional partners.
Still, the Latin Americans do perceive China as a potential threat. They impose antidumping duties on Chinese goods and place restrictions on Chinese immigration. Brazil, Argentina and Uruguay have imposed limits on the acquisition of agricultural land by foreigners after being altered to the ambitious proposals of some Chinese companies to buy several hundred thousand hectares.
The U.S. is worried by the Chinese 'encroachment' of Latin America, long considered  the 'backyard of U.S.' since the declaration of the Monroe doctrine in 1823. According to reports, the Head of the U.S. Southern Command said in his Congressional testimony that "While the Pentagon is launching its 'pivot to Asia', China is engaged in its own 'pivot to the Americas".
The U.S. is also concerned by the defence and nuclear deals being signed by China with Latin America.
It is because of these concerns that the U.S. government tried to stop the Chinese entry into the Inter American Development Bank by blackballing the Chinese application. But later they allowed them in after working out some back room deals.
While China's growing presence in Latin America is increasingly being viewed as a threat regionally, India, in contrast, is perceived as a business partner.
Indian firms are well-regarded in Latin America. Indian IT firms employ about 25,000 Latin Americans regionally, and are admired.  Indian generics have helped reduce healthcare costs for Latin American consumers.
And Latinos are admirers of the Indian practice of yoga, meditation and spiritualism, which helps them acquire a deeper cultural understanding of India. Politically, India's democratic, pluralistic and open model resonates with Latin Americans more than does China's communist authoritarian model, which the region has already experienced and rejected.
The news that India's annual economic growth rate is overtaking China's, according to the 2015 IMF report, has caught the attention of Latin American businessmen who have begun stopping by Mumbai on their way back from Shanghai.
"Now is the time for India to make a move" was the title of a recent Americas Quarterly blog (January 2015) with the question "Is 2015, the year of India in Latin America?" It is time for Prime Minister Modi to pay closer attention and make a trip through the region, just as Chinese leaders are doing, the latest being Premier Li Keqiang's visit to Brazil, Chile, Peru and Colombia from 17-29 May
Ambassador Viswanathan is Distinguished Fellow, Latin America Studies, Gateway House. He is the former Indian Ambassador to Argentina, Uruguay, Paraguay and Venezuela, and Consul General in Sao Paulo.

This blog was exclusively written for Gateway House: Indian Council on Global Relations. You can read more exclusive content here.
For interview requests with the author, or for permission to republish, please contact outreach@gatewayhouse.in.
© Copyright 2015 Gateway House: Indian Council on Global Relations. All rights reserved. Any unauthorized copying or reproduction is strictly prohibited.