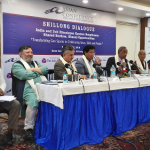 These remarks were given by Rajiv Bhatia, Distinguished Fellow, Foreign Policy Studies, Gateway House as the chair of the inaugural session at the Shillong Dialogue Roundtable on India and Sub-Himalayan Eastern Neighbours: Shared Borders, Shared Opportunities – Transforming Geo-Spaces to Celebrating Ideas, Skills, and People on August 16-17, 2018. Click here to read details of the event. 
Esteemed Chief Minister of Meghalaya, Shri Conrad K. Sangma, Dr. Surendra Pandey, MP from Nepal, Shri Shakti Sinha, Director Nehru Museum and Library, Shri Sabyasachi Dutta, Executive Director, Asian Confluence, Distinguished Participants and Friends,
It is a pleasure to be here, and a privilege to chair the inaugural session of a creatively designed intellectual interaction; it promises to come up with ideas, plans and projects to improve the lives of our people. We are here to share, learn from each other, and create synergy, a process that helps all those who may not be present here but who nevertheless have important stakes in our deliberations.
I am glad that this Dialogue takes place in Shillong, an important capital in our North Eastern region. It is being hosted by Asian Confluence, a seasoned think tank that has already many achievements to its credit. The collaboration with The Asia Foundation for the study around which this event has been anchored, demonstrates that the host institutions have been earnest and diligent about their chosen goals.
This Dialogue comes about a month after the Delhi Dialogue X, India's flagship 1.5 Track dialogue with the ASEAN-member states. The Hon'ble Chief Minister was present there; he delivered a realistic and yet futuristic statement, which was widely appreciated. I have been associated with organizing the Delhi Dialogue in the past. Based on my experience and study in trends in policy making and implementation, I can venture to suggest that, a decade after Delhi Dialogue was launched, the time is now ripe to hold the next session of Delhi Dialogue – or at least its regional chapter – in a suitable city in the Northeast. By bringing here this prestigious international conference organized by the Government of India, we could truly enhance the quotient of action in the triad of 'culture, connectivity and commerce' in India's Act East Policy.
The broader strategic political and economic landscape in the Indo-Pacific region has been undergoing a complex change. Governments and scholars may differ on its contours and implications. However, it is evident that policies and actions of key players – US, China, India, Japan and ASEAN – are impacting on the region in an unpredictable way.
From the signals picked up during a recent policy tour, arranged by the Kalinga International Foundation (KIF), I can assert with some certainty that two regional developments are highly relevant to our deliberations. First, Indonesia's diplomatic initiative to blend acceptance of the Indo-Pacific construct with the principle of ASEAN centrality is noteworthy. Second, India's recent decision to establish a Group of Ministers to guide negotiations for the Regional Comprehensive Economic Partnership (RCEP) is significant. The manner in which both these projects unfold in the remaining part of 2018 will have long-term repercussions.
Usually, a paradox strikes the organizers of most conferences. They agonize deeply and work diligently on the concept note of their conference – but it often goes unread! I am confident that this is not the case with our distinguished participants assembled here.
This Dialogue, as you know, is structured on four pillars of an on-going study. They are: 1) Tourism for better sub-regional integration, economic and peace dividends, 2) Creation of integrated, Climate-smart and gender-inclusive Agri-Horti value chains, 3) Exploring special Trading Hubs, and 4) the larger strategic backdrop and the way forward. Whether inclusion of the services sector and facets of digital economy, both relevant to the needs of the Northeast, could also be considered is a question I pose before you.
In the end, I am happy to note that this menu offers an appetizing intellectual repas. All that we need to keep in mind is that the goal is to strengthen and diversify existing cooperative links between India and its four select neighbours – Nepal, Bhutan, Bangladesh and Myanmar. Hence our focus should stay on the opportunities, concerns and challenges of our Northeastern states and their immediate neighbourhood. Mutual benefit should be our guiding consideration.
I am sure that your contributions will enrich the study as well as all of us.
Thank you for your attention.
Rajiv Bhatia is Distinguished Fellow, Foreign Policy Studies, Gateway House
These remarks were given at the Shillong Dialogue Roundtable on August 16-17, 2018. Click here to read details of the event. 
For interview requests with the author, or for permission to republish, please contact outreach@gatewayhouse.in.
© Copyright 2018 Gateway House: Indian Council on Global Relations. All rights reserved. Any unauthorized copying or reproduction is strictly prohibited