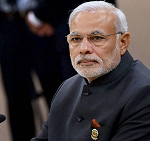 If one uses visible outcomes as a yardstick, Prime Minister Narendra Modi's eight-month tenure has met expectations. The stock markets are up, the credit risk ratings outlook for India has changed from negative to stable, FDI flows are trending north and commitments to participate in the growth agenda are pouring in from many countries. Investors come only if they are confident of the future, and they are speaking with their money on India's prospects.
Now Modi has to deliver. His mission to change India's DNA is through the three As: accountability, aspiration, and attitude.
Accountability aims to strengthen the execution of decisions by India's bureaucracy:  Modi seems to have strongly signalled the principle of measurement and accountability to the administrative machinery: come to work on time, keep the work place clean and decide and act with speed. Looking at India through the lens of business transformation, these steps though seemingly small and soft, are the starting point to build the country's capacity to execute, without which bold reforms are just empty promises. Accountability is a critical component of any organisation's turnaround and success.
Aspiration is the first step to a new future: Certainly the prime minister has whet people's appetite to seek more and do more. His Kennedy-esque statement of "cheaper cost per mile to get to Mars than an auto rickshaw in Ahmadabad" demonstrates how he is creatively commanding the country's aspiration.  Other examples that resonate with the masses are simple, though transformative in its essence: clean rivers, toilets for all and tidy workspace in government buildings.  His Make in India agenda aims to tell the country that we can do anything.
Attitude shifts are catalysts to change:  The purpose of a big vision is to stake a new future for people to mobilise themselves, which Mr. Modi seems to be doing with actionable examples. In his Independence Day speech, Modi's call to mothers to know where their sons have been and what they have been doing, put the onus of protecting young women on families. The speech imparts a powerful message: change starts from the individual. His call for transparency and to hold "all official meetings" at the office and not at home or hotels, is a message of no tolerance for corruption to the administrative machinery and business community alike.
To set India on a new trajectory, a long list of structural changes also need to be instituted: infrastructure, health, education, energy, land, labour, fiscal deficits, environment and trade.  In the last five years, new investments across the board, in industry, resource and infrastructure declined from 10% to 1% of GDP by 2013 because of policy uncertainty, governance scandals and a logjam in decision-making.  The economy has done better in the last few months, but the fundamentals are still weak.
Invigorating India will require accelerating investment, innovation and export-led growth. That will call for investor confidence at home and abroad.
Four areas have the potential to accelerate the transformation and increase the growth momentum: credit, innovation, exports, policy clarity.
Credit Investment: A policy to broaden and deepen debt investments can open a window for a larger number of households to earn higher returns on their savings and bring more capital for investment to the country.  India's 30% savings rate offers ample capacity to raise investment levels.  Policies to support intermediation of savings to loans through platforms beyond banks, can serve as a conduit to add credit capital in the economy.
Innovation Leap:  Internet costs in India are five times higher than many other Asian countries. Greater access to faster and cost-competitive internet is critical. Low costs will aid new technology-based innovation, reduce the pressure on physical infrastructure investments and urban migration, increase access to quality health, education, and even integrate the young qualified work force deeper into the global economy. The successful Mars landing, using home grown resources at a fraction of the cost of other nations, is a testament to India's growing strength in creative uses of science and computational prowess.
Export Growth: "Make in India" is based on the strength of a strong democracy, large domestic demand and young work force. India is earning the title of being the source of affordable innovation, the kind that other emerging economies and less affluent populations in advanced economies will benefit from.  'Affordable innovative' can be India's competitive advantage in the global economy. The sectors for these robust, lower priced quality products include health care, education, personal technology devices and financial service products. The government with its army of bureaucrats can serve the large and small business enterprises. The diplomatic corps can be asked to take the on the role of commercial ambassadors with a measurable goal for promoting exports.
Ready-to-do business: A clear tax policy can go a long way in eliminating the uncertainty that arose from the retrospective taxes of the previous regime. So would a clear export policy. A few years ago, the SEZ policy was announced with fanfare. But it soon petered out amidst uncertainty around investment incentives. India ranks in the lowest quartile [World Bank and WEF] on the ease of doing business. The administrative leadership should be challenged with a measurable goal of being ranked in the top tiers.  It might not only transform the administrative machinery, but also spark entrepreneurs to build new businesses and attract even more FDI to fuel growth.
A new government with Narendra Modi at the helm has put India on an upward trajectory through raised aspirations, attitude, and accountability.  This is a good foundation. Many other global leaders like U.S. President Barack Obama were also elected on a mandate of change, with mixed results to show for it; businessmen and financiers use this comparison to express caution about what Modi can really do.
As the government prepares Budget 2015, many opine that Modi will focus on implementation rather than reform. There is ample historical and contemporary evidence to show that a country's political leadership can influence its success trajectory by fostering a culture that inspires individuality, imagination, and aspiration.
Deven Sharma was President of Standard and Poors and Chairman of Crisil from 2007-2011 and led both companies through the financial crisis. Currently he is on the board of Indian Institutional Advisory Services and is the founder of InfleXon, a management advisory firm tackling and taking advantage of market and technology disruption.    
This article was exclusively written for Gateway House: Indian Council on Global Relations. You can read more exclusive content here.
For interview requests with the author, or for permission to republish, please contact outreach@gatewayhouse.in.
© Copyright 2015 Gateway House: Indian Council on Global Relations. All rights reserved. Any unauthorized copying or reproduction is strictly prohibited