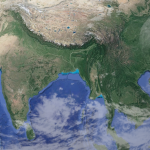 The recently concluded BRICS summit and BIMSTEC outreach at Goa constituted a potpourri of events and interactions in terms of the diversity of bilateral and multilateral issues and initiatives, certainly so in its maritime content. From India's maritime perspective, it may be therefore most appropriate to view the developments and nuances in the traditional nautical manner, looking first Southwest to Brazil and South Africa, then north to Russia, and finally, and most importantly East, to China, BIMSTEC and the now simmering Bay of Bengal.
To begin with, there is an often forgotten grouping telescoped within BRICS, which has blossomed into an institutionalised maritime relationship. The India, Brazil and South Africa (IBSA) Dialogue Forum came into being in 2003, and as part of its diverse engagement, conducts an annual naval exercise, termed IBSAMAR, with the participation of the Brazilian, South African and Indian Navies. The first such exercise was conducted in 2008 off South Africa, and the most recent one was in February this year off the west coast of India.
IBSAMAR is a unique maritime endeavour between geographically distant and diverse nations with little in common besides their emerging market status and South-South solidarity. Yet it adds considerably to maritime security in the Southern oceans against criminal and non-state maritime threats, and is a sterling example of planet-wide naval cooperation for securing the seas, the last great commons of mankind. IBSAMAR needs to be strengthened and encouraged, irrespective of the waxing and waning of the BRICS project, and perhaps a IBSA summit needs to be programmed concurrently with BRICS.
The bilateral which received considerable attention was Russia. Here, the maritime outcome of the Modi-Putin summit was limited to the acquisition of four Admiral Grigorovich class frigates, reportedly also linked to a possible agreement for the lease of a second nuclear powered attack submarine (SSN), similar to the INS Chakra, presently operational in the Navy's arsenal.
These ships will essentially be follow-ons to the Talwar and Teg class frigates, already in service with the Indian Navy, and also procured from Russia. Two of the frigates are to be made in Russia, and two in Indian shipyards. Moscow has been keen to supply these vessels, already under construction in Yantar Shipyard in Kaliningrad, and New Delhi has clearly made an exception to its policy of constructing all warships and submarines indigenously.
It remains to be seen whether the task of constructing the latter two ships would eventually be accorded to a private shipyard as part of the Modi government's efforts to kickstart the Defence Industrial Base (DIB), languishing for decades within the confines of the public sector. Even if that be so, it is debatable whether it would be financially viable and cost effective for a private player to install specialised machinery and infrastructure to construct just two ships. It also remains to be seen whether Russia's ponderous industrial establishment can deliver the pricing transparency and product support required in contemporary globalised business practices.
The same risks apply to the Inter-Governmental Agreement (IGA) in respect of the Kamov helicopters to be manufactured at Hindustan Aeronautics Limited (HAL), which prima facie, appears to be a retrograde step if the government wants to encourage private sector participation in the DIB, and quickly address operational gaps. Prolonged contractual negotiations could, as seen in the past, further delay the induction of those helicopters which are urgently required by the Navy and the other two services.
Looking East, the most significant maritime portent from Goa was the strengthening of the BIMSTEC profile relative not only to SAARC, but also to the BCIM (Bangladesh–China–India–Myanmar Forum for Regional Cooperation). This is important because it provides a purely local grouping of eastern Indian Ocean region littoral states, without the presence of an extra-regional power. But it will not be easy to do so on account of China's active diplomacy in the region.
President Xi's stopover in Dhaka on his way to the Goa summit, and the pledging of $34 billion worth of investment reveals the intensity of Beijing's considerable efforts to connect its landlocked hinterland to the Indian Ocean through Bangladesh and Myanmar. Fresh inroads are therefore likely to be made by China towards its strategic objective of securing a second solution (after Gwadar in Pakistan), to resolve its Malacca Dilemma and its energy lifeline by single-handedly building a Deep Water Port (DWP) for Bangladesh or Myanmar.
Dhaka's fast developing economy desperately needs a DWP. China, India and Japan have all been keen to participate in the near-certain development of such a facility. An earlier decision to award Sonadia DWP to Beijing in 2009 was formally cancelled earlier this year due to conflicting geopolitical compulsions. Given the abundance of maritime suitors, and perhaps realising the undesirability of committing its development to a single powerful and extremely assertive neighbour, Dhaka has been recently receptive to the overtures of New Delhi, Tokyo and international consortiums for port development. India is very much in the fray for the Payra port development, and Japan's offer to construct a DWP at Matarbari is under serious consideration. However, Beijing's latest bounty may again tilt the scales.
New Delhi simply cannot match Beijing's largesse, and therefore the BIMSTEC platform is crucial to India's efforts to create a peaceful Bay of Bengal community through economic and cultural linkages.
Any overwhelming presence of China in Bangladesh or Myanmar's maritime affairs will almost certainly lead to increased Chinese naval activity, and bring an end to the halcyon days that the Bay of Bengal has historically enjoyed.
By peacefully resolving its maritime boundary dispute with Bangladesh, and accepting the award of the UN's Permanent Court of Arbitration India has considerably enhanced its credibility and acceptance amongst its smaller neighbours. Giving impetus to BIMSTEC, India will foster deep and equitable economic and security cooperation among the nations on the Bay of Bengal littoral, very much in tune with PM Modi's larger SAGAR initiative.
Vice Admiral Anil Chopra is Distinguished Fellow, International Security and Maritime Studies, Gateway House. He was the former Commander- in-Chief of both the Western Naval Command and the Eastern Naval Command, and former Chief of the Indian Coast Guard.
This article was exclusively written for Gateway House: Indian Council on Global Relations. You can read more exclusive content here.
For interview requests with the author, or for permission to republish, please contact outreach@gatewayhouse.in.
© Copyright 2016 Gateway House: Indian Council on Global Relations. All rights reserved. Any unauthorized copying or reproduction is strictly prohibited