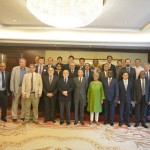 The annual BRICS Summit—to be held in September this year–is usually prefaced by numerous conferences that the host country organises at various official and unofficial levels, including those among the think tanks of the five countries, to refine some of the key issues feeding into the agenda that it prepares for discussion at the flagship event.
The theme for the 9th BRICS Summit, to be held in 2017, is 'Stronger Partnership for a Brighter Future', and China, the host country, has set up several think tanks, institutions, and research centres in universities, solely for the study of BRICS, many of which have organised some high-quality interactions so far.
Similarly, in 2016, when India hosted the 8th BRICS Summit, on the theme, 'Building Responsive, Inclusive and Collective Solutions', the government of India organised over 50 events to develop substantive 'action points' for the summit that could be followed up later. Such interactions in different cities achieve a dual objective: first, to identify the priorities of the host country's government, and second, to popularise the idea of BRICS within its own geography.
I was invited last month to participate in one of the several conferences of the BRICS 2017 Think Tanks Forum, held in Beijing, whose subject was, 'The Co-ordination of BRICS Development Strategies: Ways to Shared Prosperity'. It was jointly organised by the National Institute for Global Strategy (NIGS), the University of International Relations (UIR), and, in a first, Guangming, a think tank that also owns a local newspaper, which meant that journalists were present throughout.
At the conference, I was struck by the angst with which some of the members still questioned the viability of the BRICS grouping due to the immense diversity in the size of the countries, and their varying stages of development and degrees of industrialisation.
Another point of concern is their membership in regional groupings, like the South African Development Community (SADC), Mercosur, the South Asian Association for Regional Cooperation (SAARC), and the Eurasian Union. As big countries, they also have leadership aspirations within these respective regional groupings.
That the members harbour distinct strategic objectives is also evident: China is a superpower, Russia is highly industrialised and also the second largest energy exporter in the world, India is growing rapidly, but Brazil and South Africa are mired in domestic political troubles. As commodity exporters, Brazil and South Africa are beneficiaries of China's economic expansion, but they are simultaneously distressed because their infant manufacturing industries, particularly shoes and readymade garments, are being ravaged by cheap Chinese exports.
To my mind, however, despite the very real differences, members of BRICS see themselves as a "not-Western grouping" but not "anti-West" in thinking. In addition, they share a broad agenda to influence and shape the present global governance structures.
One of the early achievements of BRICS was the broad international agreement to increase the voting share of developing countries in global institutions like the International Monetary Fund (IMF). However, after that was stymied by the U.S. Congress, BRICS went ahead to create alternate financial institutions and frameworks like the New Development Bank (NDB), and the Contingent Reserve Arrangement (CRA) parallel to the IMF-World Bank structure.
Although the theme at the Beijing BRICS Think Tank Forum was 'The Co-ordination of BRICS Development Strategies: Ways to Shared Prosperity', there were few concrete suggestions on how the development strategies of the members could be made more complementary to the common purpose.
The South African delegation brought up cross-cutting issues, such as social inequality, unemployment, and BRICS countries' membership in multiple regional organisations, which made it difficult to prioritise common strategic objectives.
The Russians pointed out that all the activity among the BRICS countries was on a bilateral, not multilateral basis, but they saw value in disseminating the soft power of member countries. They proposed collaboration in education and science, and the need to shape the global governance agenda by utilising the combined intellectual capacity of BRICS.
The Brazilian delegate had some specific recommendations, which included:
developing a 'BRICS Credit Card', and leveraging the linkages of China's Belt and Road Initiative with the ASEAN countries and Eurasia, to popularise its use;
creating a mechanism similar to Bitcoins for BRICS members;
achieving common infrastructure policies by focusing on sustainability. One mechanism proposed for this was that the NDB and Asian Infrastructure Investment Bank (AIIB) promote the Sustainable Development Goals (SDGs) in projects funded by them;
fashioning a common stand on select issues, such as the problems in the Middle East and in UN bodies, recognising that it is not possible to take up sensitive issues, like Crimea and the India-China border;
creating a common BRICS TV Channel, which disseminates content produced by the different member countries, such as CCTV (Chinese News Channel), RT (Russian Television Network), Bollywood films, African music and Brazilian soap operas to promote the BRICS's soft power.
The Chinese experts were keen on linking BRICS directly to the Belt and Road Initiative (BRI), citing the joint statement between Xi Jinping, and Vladimir Putin, in which Putin called Eurasian integration "a civilisational project for the future".
Since none of the other countries were keen on the Forum being subsumed by BRI, Chinese experts suggested a new 'Friends of BRICS' grouping, to include those seven G20 countries that are not a part of G7 or BRICS. This will mean associating countries like Argentina, Australia, Indonesia, Mexico, Saudi Arabia, South Korea, and Turkey, with the BRICS Forums. However, even this was not uniformly agreed upon and the consensus principle under which BRICS operates, prevailed.
The Indian delegates argued for BRICS to move forward together on a consensus principle. My intervention was about recognising the growing importance of trade in services, which already constitutes one third of global trade, amounting to $4.4 trillion. As the most vibrant sector in most economies, its promotion could also address the common problems of unemployment and income inequality.
Commitments to trade in services are being gradually included in all the new bilateral, regional, and multilateral trade agreements. India's comprehensive trade agreements with Japan, Korea, Malaysia and Singapore already have commitments. The Trans-Pacific Partnership (TPP), the Trans Atlantic Trade and Investment Partnership (TTIP), and the Regional Comprehensive Economic Partnership (RCEP)of which india is a part, also have committments to trade in services. But at the multilateral level, the developed-country-promoted Trade in Services Agreement (TiSA) is the only comprehensive one. Since TiSA does not include BRICS, it is imperative that the BRICS countries support India's proposal for a Trade Facilitation Agreement (TFA) in services that it submitted to the World Trade Organization in November 2016.
Unlike trade in goods, where border controls are of utmost importance, trade in services has to be regulated "behind the border" by domestic regulatory institutions. Therefore, it is important that a Trade in Services Facilitation Agreement is pursued by BRICS. Such an agreement gains urgency because more and more services are becoming tradeable across borders due to digitisation.
Since the negotiating process is complex and can be long drawn out, BRICS countries could begin, as a first step, to increase interaction among their regulatory authorities. Further, if BRICS regulators gain familiarity with each others' standards they can swiftly harmonise thier standards or sign Mutual Regulatory Agreements sooner. In turn, these will feed into the negotiations for an intra-BRICS Trade in Services Agreement.
The response to the suggestion for an intra-BRICS Trade in Services Agreement, as to those made by other participants, was lukewarm.
Although there was some overlap on issues like soft power, and the achievements remained meagre, the outcome of the conference was that it was useful in reducing differences. So far at least, while BRICS has a grand vision, there is inadequate identification of specific objectives. Once this is done, their implementation will bind the members together.
Neelam Deo is Co-founder and Director, Gateway House: Indian Council on Global Relations, Mumbai and is a former Indian Ambassador.
This blog was exclusively written for Gateway House: Indian Council on Global Relations. You can read more exclusive content here.
For interview requests with the author, or for permission to republish, please contact outreach@gatewayhouse.in.
© Copyright 2017 Gateway House: Indian Council on Global Relations. All rights reserved. Any unauthorized copying or reproduction is strictly prohibited.