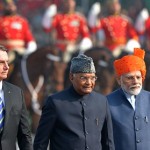 The state visit to India by President Jair Bolsonaro (25-27 January 2020) and his participation as the chief guest in India's Republic Day celebrations combined to place a special focus on India-Brazil relations. It resulted in a shared approach to the ways to expand and deepen this relationship, which often gets viewed more in the multilateral, rather than bilateral, context. The fact that the visit received impressive media coverage was indication of the gradually rising awareness about the significant stakes for both nations in this partnership.
Mutual perceptions
For India, Brazil is much more than a mere partner in acronym-rich forums, such as Brazil Russia India China South Africa (BRICS), India Brazil South Africa (IBSA), Brazil, South Africa, India and China (BASIC) and G4 or Brazil, Germany, India, and Japan). It holds a natural attraction for India, being a fellow democracy. It is the largest nation in Latin America, with a population of 210 million, is a $1.8-trillion economy and has a broadly similar level of development as India.
President Bolsonaro's visit emphasised the fact that India's worldview, if confined to Asia, Europe and the U.S., will remain skewed and incomplete; it must encompass Africa and Latin America in more meaningful and substantive ways than it has done in the past – and discussions during President Bolsonaro's visit did reflect this global vision.
For Brazil, India's importance in a multipolar world is self-evident. As one of the world's middle powers, it cannot be content with managing a foreign policy, which is anchored in equations with the U.S., China and a handful of European nations only. Without a serious relationship with key Asian powers – India, Japan, Indonesia – it will become a marginal player in global geopolitics. Correspondingly, Ernesto Araujo, Brazilian foreign minister, stressed that his country considered India "one of the main partners in our new international strategy and in our new foreign policy".[1]
The visit showed that there is a clear convergence in worldview and that India-Brazil relations are based on "common values, shared democratic ideals and a commitment to foster economic growth" of the two countries.[2] President Bolsonaro and Prime Minister Modi expressed renewed commitment "to impart dynamism and strengthen the close and longstanding strategic relationship".[3]
This seemed to imply that the strategic partnership, established in 2006, was yet to blossom optimally, leading to the decision to adopt an elaborate action plan "to strengthen" it.
Focus areas
By definition, a strategic partnership covers all areas of bilateral relations, ranging from political coordination, defence and security to economic, cultural and other forms of cooperation.
First and foremost, broad-based defence cooperation will be expanded through an active engagement of the two defence industries and regular interactions between the leaderships of the armed forces. Training, peacekeeping, cybersecurity, maritime and space cooperation have been identified as sectors of mutual interest.
Trade and economic cooperation too must grow for a strategic partnership to have meaning – and the two leaders signed 15 agreements during the visit as if in acknowledgement of the disappointingly low, current levels of commercial exchanges: bilateral trade stood at $8.2 billion in 2018-2019. India's investments in Brazil were valued at $6 billion and Brazil's investment in India at $1 billion. The two governments agreed to set a target of $15 billion for bilateral trade by 2022.
Brazil is looking to Indian industry to engage in its automotive, leather, oil and gas, including refining, pharmaceuticals, electricity and chemical sectors. India expects Brazilian companies to come into infrastructure, food processing, biofuels and other renewables, animal husbandry and agro-sectors.[4] National business chambers need to move swiftly to leverage the available opportunities.[5]
A third focus area is energy. In its global quest for hydrocarbons, India is looking at Brazil with renewed interest. Its crude oil imports from Brazil, which touched a high of $2.5 billion in 2014-2015 and then declined to $1.24 billion in 2015-2016, now show signs of recovery. They stood at $1.59 billion in 2018-2019, and can increase.[6]
The scenario is even more attractive in bio-fuels. A world leader in ethanol production, Brazil, which has agreed to collaborate with India at a higher level, will share its advanced technology. The two countries are also ready to step up research on bio-energy.
Agriculture is a fourth area of mutual interest. Tereza Cristina, Brazil's minister of agriculture, highlighted the benefits of cooperation in specific fields, such as genetic improvement of cattle, seed production, and increased exchanges between agricultural research institutions. She said the existing India-MERCOSUR Preferential Trade Agreement (PTA) ought to be expanded to include agriculture,[7] a view reflected in the joint statement issued during the visit.
Conclusion
The positive outcome of this visit comes as a fitting response to critics, who had questioned New Delhi's choice of President Bolsonaro as chief guest for Republic Day 2020, given his political record and controversial views. They may have under-estimated the Brazilian establishment – and its fabled diplomatic service – to keep the political leadership on the straight and narrow for the advancement of Brazil's interests.
The action plan the two leaders devised ought to reassure scholars, such as Karin Costa Vazquez and Gustavo Rojas, who wrote on the eve of the visit: "… Brazil has not a clear strategy towards India. Nor India has a strategy towards Brazil."[8] Yet, such skepticism may only be dispelled once the plan is seen implemented.
Congruence of interests and viewpoints between India and Brazil is a welcome reality in today's world of geopolitical uncertainty and complex multipolarity. The more the two governments and other stakeholders succeed in strengthening their bilateral relationship, the more effective they will become in multilateral institutions.
Rajiv Bhatia is Distinguished Fellow, Foreign Policy Studies Programme, Gateway House. A former ambassador to Mexico, he writes regularly on developments relating to BRICS and IBSA among other multilateral institutions.
This article was exclusively written for Gateway House: Indian Council on Global Relations. You can read more exclusive content here.
For interview requests with the author, or for permission to republish, please contact outreach@gatewayhouse.in
© Copyright 2020 Gateway House: Indian Council on Global Relations. All rights reserved. Any unauthorized copying or reproduction is strictly prohibited.
References
[1] Haidar, Suhasini, 'President Bolsonaro, PM Modi share views on idea of a nation', The Hindu, 25 January 2020.
[2] Ministry of External Affairs, 'India-Brazil Joint Statement during the State Visit of President of Brazil to India (January 25-27, 2020)', Government of India, 25 January 2020, para 5. https://www.mea.gov.in/bilateral-documents.htm?dtl/32328/IndiaBrazil_Joint_Statement_during_the_State_Visit_of_President_of_Brazil_to_India_January_2527_2020
[3] Ibid.
[4] Ibid. Para 19.
[5] Nelson W. Cunningham, 'It's time Brazil and India gave trade ties a turbo boost', "I am convinced that a business executive who can succeed in Brazil producing durable products for a demanding and cost-conscious consumer could succeed in India equally well. And vice versa." The Mint, 27 January 2020.
[6] Ministry of External Affairs, 'India-Brazil Relations', Government of India, http://mea.gov.in/Portal/ForeignRelation/Brazil_bilateral_brief_Jan_2020.pdf
[7] Cristina, Tereza 'Brazil-India ties offer a world of opportunities', The Hindustan Times, 27 January 2020.
[8] Vazquez, Karin Costa and Rojas, Gustavo 'Brazil-India relations: A marriage yet to be seen', Financial Express, 21 January 2020. https://www.financialexpress.com/defence/brazil-india-relations-a-marriage-yet-to-be-seen/1830576/