James Nedumpara
James J. Nedumpara is Professor and Head of Centre for International Trade and Investment Law (CTIL) established by the Government of India at the Indian Institute of Foreign Trade (IIFT). In this capacity he advises the Government on various aspects relating to international trade and investment law. He is currently on leave from Jindal Global Law School where he joined as a founding faculty. James has almost two decades of experience in the field of international economic law and has worked with leading law firms, corporate firms and also UNCTAD's India programme before joining academia.  He was also part of the Indian delegation that appeared in the recent proceedings on India – Agricultural Products (Avian Influenza dispute) before the WTO Appellate Body. James has also taught as a visiting faculty at FGV Law School, São Paolo, ITAM Mexico City, UNSW Australia and NLSIU, Bangalore. James received his Ph.D in Law from the National Law School of India University, Bangalore and holds LL.M. degrees from the University of Cambridge, UK, the New York University School of Law, USA and the National University of Singapore. He took his Bachelor of Laws (LL.B) degree from Mahatma Gandhi University, India. He is the Co-Chair of the South Asia International Economic Law Network (SAIELN).
Recent projects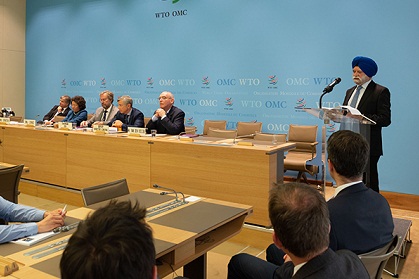 There is a crisis in the WTO Appellate Body, and it has implications for India and the multilateral trading system
5 December 2013 Gateway House
At the World Trade Organisation (WTO)'s ongoing ninth Ministerial Conference, the focus of several countries is on food security. What does the proposed 'Peace Clause,' mean for developing nations? What are the complex factors at play in the decision-making process, in the ongoing meeting?