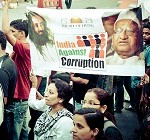 It is not often that you can draw lessons in management from a mass public initiative. I went to Azad Maidan in Mumbai in August to join the thousands others in the fight against corruption. But the business analyst in me couldn't help marvel at the management spectacle that was on display. The mission, operations, communications, enrollment, marketing, motivation and customer service of the movement were being managed in a way that would put most business school case studies to shame.
The field had roughly a thousand people, including a hundred volunteers and a few dozen policemen. One corner of the field had covered seating (it had been raining all day). Those fasting were sitting on stage facing the myriad television cameras at the opposite end, separated only by enthusiastic supporters. On the mike were organizers, community leaders and sloganeers from different walks and religions of life – Hindus, Muslims, Christians, Sikhs – alike. Outside the covered area were groups of protestors in circles doing their own sloganeering. The crowd was mostly lower middle class – educated, passionate, decent and downright patriotic. The older men were in office-going cotton pants with shirts, and the women in salwar suits. The younger crowd was in jeans and tee-shirts, holding up the Indian tri-color with pride. Both the young and the elderly were protesting side-by-side, reflecting the gravity of the cause that had transcended the generations.
MISSION
Speaker after speaker on the stage made the mission of the movement crystal clear: it is a fight against corruption. Not land acquisition, not food inflation, but corruption. Team Anna was taking on leadership of a cause for which demand was high but supply almost zero. To confirm a tangible outcome, rather than an endless battle for a good cause, a measurable and achievable success criteria had also been defined – passage of the Jan Lok Pal Bill. This laser-sharp focus has enabled the organizers and the citizen protestors at Azad Maidan, as also the distributed protests around the country, to march in step and direct all the firepower towards the one, single goal.
Lesson: Focus is a pre-requisite for fighting a larger, more empowered competitor.
OPERATIONS
On the field, Eliyahu M. Goldratt's Theory of Constraints was being executed flawlessly to ensure that there were minimum bottlenecks. The help desks were placed near the entrances with enough space for people to queue for sending postcards to the Prime Minister. The entire process of taking the postcard (provided free), getting a pen (borrowed), writing into the postcard, filling the PM's address (done by an organizer) and receiving a chest badge, took less than five minutes! Yes, I timed it. That's called a Throughput time in MBA language, and five minutes would have clinched a medal. And all of this was done by five people manning a booth that was seeing thousands pouring in since morning. That's Lean Management for you.
Lesson: Queues can scare away people. Managing the crowds should be a priority.
COMMUNICATIONS
Two boards were communicating the message. One had the slogan "Azaadi ki doosri ladai". The second had listed out the 11 major differences between the government's version and Team Anna's version of the bill. It was so simply written that a taxi driver, who had also been looking up at the board with me, turned and said, "Agar MP aur MLA ko vote khareedne ke liye nahi pakad sakte, to kya faida?" No better indication that the board was serving its purpose.
Lesson: Keep your message simple, direct and catchy.
ENROLLMENT
Subscription to the movement is easy. All you need is an "I am Anna" topi and lots of patriotism. Language, religion, caste, age, gender – no bar. Most slogans are in hinglish – India's unrecognized national language. There were Sikhs, Muslims, Hindus, Christians who stood up to claim that they were in it together. So did the Gujaratis, Marathis, Biharis and Tamilians, and men and women of all ages. There is no registration required. No need to learn jargons, or fear missing the fine print, or providing proof of your Indian citizenship or Indian-ness, or accumulating loyalty points by fasting for a minimum number of hours to be considered a bronze, silver or gold patriot.
Lesson: Make it easy to sign up.
MARKETING
The 4 P's marketing model was in application in its full spirit – Product (Gandhi topis), Price (affordable), Place (Azad Maidan), Promotion (viral marketing). The topi symbolized allegiance to Gandhian form of dissent – You can shun the real Anna, topple him, starve him but his spirit will live on through an invisible line of succession. The cost at Rs. 5 is just at the right price-point that most people can buy, and become one of the proud many that can be spotted in the most crowded streets. The Victoria Terminus (built by the British) and Brihan Mumbai Municipal Corporation (probably the most visibly corrupt institution) located right opposite Azad Maidan provided the perfect place to begin the second struggle for independence. Lastly, and perhaps, the most viral of all, was the "I am Anna" slogan written on each topi. It called out to all those uninvolved with the same sense of duty as the messages you see during elections, "I voted, did you?"
Lesson: All the 4P's must resonate with people. The result could be viral.
CUSTOMER SERVICE
For questions about the rallies, you don't have to call a 1-800 number and be transferred five times before a human voice can help. Here, the time, location, intent of each rally was written out in tabular format on white boards with the name and mobile number of a regular, average, Indian youngster, "Mukesh", "Anil", "Siddharth" written alongside. Their responses were quick and helpful.
Lesson: Don't try to have your customer service put on a human face. Have a human instead.
MOTIVATION
If you have been wondering how a make-do protest ground can engage people for so long, the power of context can help somewhat explain that. Malcolm Gladwell had explained in his book, Tipping Point, that a movement can gather steam or tip, if the audio-visual context is right. He questioned whether Paul Revere's midnight run to warn about the British may have had the same affect if it had been done during the day. Similarly, the picture of people fasting in white kurta's, with white Gandhi topis, under the portrait of Gandhi in Azad Maidan made the movement patriotic, and emotional. The visible appeal converts into an adrenalin rush through your heart in seconds, and before you know it, you body has suddenly acquired energy to go on.
Lesson: Right ambience can tip the movement in your favor.
Finally, like every management strategy, this one too has its limitations and will have its critics. But like every management strategy, it cannot come with a promise of solving all the problems, for all the people, for all the time. It can only be an example for those who follow, with the hope that they adopt it for a good cause and retain the values with which this strategy was created.
Akshay Mathur is Head of Research at Gateway House: Indian Council on Global Relations.
This article was exclusively written for Gateway House: Indian Council on Global Relations. You can read more exclusive content here.
For interview requests with the author, or for permission to republish, please contact outreach@gatewayhouse.in.
© Copyright 2011 Gateway House: Indian Council on Global Relations. All rights reserved. Any unauthorized copying or reproduction is strictly prohibited.