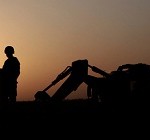 Afghan President Hamid Karzai will be in India next month. His last visit one year ago sealed a strategic partnership between India and Afghanistan aimed to tackle the changed security situation in the region after NATO troops pull out in 2014. How they deal with the country that lies between them will determine the future of security in South Asia.
Last month in Washington, Pakistan's Foreign Minister Hina Rabbani Khar stated that her country is moving away from a long-standing doctrine of its foreign policy. "We seek no strategic depth in Afghanistan," said Khar, speaking at the Council of Foreign Relations. "What I consider today to be the primary national interest of Pakistan is a peaceful and stable — not necessarily even friendly — Afghanistan."
This is a welcome statement. With NATO troops winding down their Afghan operations over the next two years, South Asia's feuding neighbours are positioning themselves to deal with the evolving security dynamics. But for India and Afghanistan to take Khar's statement seriously, they need to see substantial policy changes from Islamabad.
An immediate and credible signal will be for Pakistan to de-link India's transit rights to Afghanistan from the resolution of the Kashmir issue. Under the Afghanistan-Pakistan Transit Trade Agreement, Afghan goods are allowed to come up to the Wagah border, but no Indian goods can go into Afghanistan via Pakistan. An exception was made in March this year for a consignment of Indian food aid that passed through Karachi port, on its way to Torkam, the transit point between Pakistan and Afghanistan. If the exception becomes a rule, or at least a series of exceptions, that would be substantial progress.
But it is the lack of change in Pakistan's internal power equations which makes its neighbours most skeptical of the minister's statement. The extractive top brass of Pakistan's military still derives its money and power by propagating the fear of losing Kashmir and emerging Indian might.
Within Pakistan, the ISI (Inter-Services Intelligence) continues to remain above the law. It was given a clean chit by Islamabad even before a probe into Osama bin Laden's death was conducted. Many, including Human Rights Watch, suspect journalist Saleem Shahzad was killed for criticizing the army and the ISI – his killers are yet to be caught. On the day that Khar spoke in Washington, former ISI chief General Ehsan ul-Haq, also then in the U.S. capital, talked of India's "unrelenting hegemonic ambitions" in South Asia. In other words, the army and the ISI still have a self-serving incentive to use Afghanistan as a haven for jihadis. Till this incentive is neutralized, strategic depth will remain Pakistan's dominant strategy.
Across the border, the Afghan Taliban will also have an incentive in raising the Kashmir jihad call again, as that would draw in money and arms from Pakistan for their real purpose – maintaining logistical support from Pakistan to weaken or even displace the Karzai government once the NATO troops leave.
But ignoring Khar's remarks altogether is also not helpful. Instead, this is an opportunity for India to start putting in place a two-decade vision for changing the incentive structures, which would make Pakistan's ruling elite play a cooperative game with India. To make that a reality, India must first revive its own domestic economy, as also build massive economic and military assets and alliances in the region – assets that can be used as bargaining chips in negotiations with Pakistan at a later date. Pakistan's military is most likely to give up the notion of strategic depth if it believes it can gain disproportionately from the bargain.
Outrage over the mindless jihadist violence, like the attack on schoolgirl Malala Yousufzai, can act as a catalyst to push Pakistan's quiet majority to demand an overhaul. So can the across-the-border view of India's larger economy and open society, along with its regional influence. As seen between East and West Germany, or to a certain extent between North and South Korea, incentive structures change in long-standing disputes when one party becomes disproportionately more prosperous or powerful than the other.
India is already positioned to take on this larger, pro-active role to radically alter the balance of power in the region. According to Jane's Defence Weekly, some 30,000 Afghan security personnel will be trained in elite Indian military schools over the next three years, part of the strategic agreement between India and Afghanistan signed in October last year. And despite our stated reluctance, about 300 Indian paramilitary forces have already served in Afghanistan, guarding the $70 million, 220km-long Delaram-Zaranj highway which India built to provide Afghanistan a corridor to sea via Iran. India should be prepared to put in more of its own forces in Afghanistan to protect its many infrastructure projects and personnel working in fields such as construction, power and telecom.
India should deepen its engagement with regional players like Tajikistan and Iran, both of which have a shared interest in keeping the Taliban away. India controls the Farkhor Air Base on the Tajik-Afghan border and rebuilt the dilapidated Ayni Air Base close to the Tajik capital Dushanbe. While there is talk of stationing fighter jets in Tajikistan, there has been no confirmation from New Delhi; this is a necessity if India is to benefit from its presence in Central Asia's cockpit. Finally, the completion of the Chah Bahar port in Iran will boost India's Central Asia policy, which will not remain hostage to a geography that favors Pakistan.
Despite Pakistan's recent overtures to both Russia and China and the close Beijing-Islamabad partnership, both countries are potential allies for India too, as they have jihadi threats in their countries.
India's pro-active role in Central Asia will certainly ruffle feathers in Islamabad. India needs to make it clear that its strategy is not meant to isolate or intimidate Pakistan, and must vigorously continue its dialogue with Pakistan. It must also build on the positives in trade and liberal visa regimes, and look at moving forward on territorial issues like Siachen, where Pakistan's army chief has called for a solution. Unlike in the past, India will need to show bold leadership in continuing the dialogue even in the face of extremist attacks, in creating win-wins rather than getting stuck in history or dogma, in being able to spin off its growing wealth to benefit other South Asian nations. Perhaps that will be the final incentive that Pakistan's ruling elite, specially its powerful military, needs to cooperate for peace in the region.
Sambuddha Mitra Mustafi is a Senior Researcher at Gateway House: Indian Council on Global Relations.
This article was exclusively written for Gateway House: Indian Council on Global Relations. You can read more exclusive content here.
For interview requests with the author, or for permission to republish, please contact outreach@gatewayhouse.in.
© Copyright 2012 Gateway House: Indian Council on Global Relations. All rights reserved. Any unauthorized copying or reproduction is strictly prohibited.