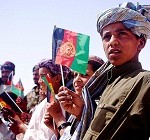 2014 will be a crucial year for Afghanistan, and South Asia as a whole, given the impending withdrawal of U.S. troops from Afghanistan. Rajni Bakshi, Senior Gandhi Peace Fellow at Gateway House, speaks to the Afghan Youth Peace Volunteers, an Afghan youth group committed to a non-violent and egalitarian way of life for Afghanistan. They talk about how they see their country's future in the face of these significant changes.
The Afghan Peace Volunteers were represented by Zekerullah, Abdulhai, Ali, Ghulam Hussein, Raz Mohammad, Faiz and Dr. Hakim.
Q. How do you see the impending withdrawal of NATO troops from your country?
This is a misunderstanding. It is the reverse that is true. Negotiations are going on to establish nine U.S. military bases in Afghanistan. A draft of the U.S.-Afghanistan Bilateral Security Agreement agreement is available online. About 15,000 troops, mostly Special Forces, are expected to remain in these bases. And there might be other NATO troops. The private military contractors will continue to operate in Afghanistan. At one time, there were more foreign private military contractors in Afghanistan than U.S. troops. The U.S. Secretary of State, John Kerry, has threatened Karzai, that if he does not sign this agreement, the U.S. will cut economic aid. The troops in these bases will get full legal immunity for crimes committed anywhere in Afghanistan. We think this agreement will be signed, if not by Karzai, then by the next president who takes charge.
Q. What do the Afghan Peace Volunteers want in this context?
We want the full withdrawal of foreign troops. It is better for the Afghans to build the country on their own rather than do it by taking the help of foreign countries. We ought to be self-reliant, not dependent. Afghanistan is an agricultural country with an agricultural economy. Many provinces were self-sufficient in food, but this changed.
Q. Why did this change?
Afghans now call themselves "free-loaders", and the change has come about due to long years of drought, deforestation and destruction of arable land due to war and landmines.
Q. Many strategists outside say that once NATO withdraws, the Taliban will return. Do you agree?
This is a bit of propaganda. There is no homogenously definable Taliban. People in Afghanistan don't support the Taliban. The Peace Volunteers have not met fellow Afghans who support the Taliban.  There will be those who call themselves Taliban and who will want to seize power, but there are many such armed groups. The Taliban will not be unique in this regard.
Q. What is a possible strategy to resist these armed groups?
One strategy is for people to unite and talk among themselves about how they can stand together to face the armed leaders who are also people from their areas. If people are not united and they allow individual war lords to take power, then the war lords will continue to fight amongst themselves and people will be caught in the cross-fire.
Q. How many areas of Afghanistan is your group active in?
Our core group started in Bamiyan. We are now based in Kabul. We don't have any activities in the provinces but we have begun visiting youth in other provinces and building relationships with them, for instance in Dai Kundi, Nangahar, Parwan, and Kandahar. Kabul is home to a number of youth from different provinces and our volunteers interact with them. Most of our volunteers are students. Some of them are in college.
Q. Does your group plan to visit India in the near future?
Right now we are exploring the possibility of a group of our women peace volunteers visiting India to learn from groups here.
Rajni Bakshi is the Senior Gandhi Peace Fellow at Gateway House.
This blog was exclusively written for Gateway House: Indian Council on Global Relations. You can read more exclusive content here.
For interview requests with the author, or for permission to republish, please contact outreach@gatewayhouse.in.
© Copyright 2014 Gateway House: Indian Council on Global Relations. All rights reserved. Any unauthorized copying or reproduction is strictly prohibited