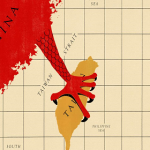 All doesn't seem to be well with the mandate of heaven. China's economy seems to be facing several issues with trouble in the key real estate, banking and technology industries. This could explain China's sabre-rattling over U.S. House of Representative's Speaker Nancy Pelosi's visit to Taiwan[1]. With the economy a mess, 'protecting core interests' offers the Chinese Communist Party (CCP) a way to look good to its domestic audience, and divert attention from pressing problems at home.
For the just-ended month of July 2022, China's manufacturing activity contracted, caused by multiple lockdowns triggered by the country's Zero Covid strategy[2]. For the quarter ended June 2022, the Chinese economy recorded a growth of just 0.4%, again caused by the repeated lockdowns[3]. The real estate sector, an important driver for the economy, faces mounting problems. Led by Evergrande, a number of Chinese property developers have defaulted on their dues since late 2021, and many of their projects remain stalled. Customers are now coming together for recourse. In July 2022, home buyers from over 100 projects have come together and are threatening a 'mortgage strike' to stop payments for stalled projects[4]. This was sufficient for the top regulator, the China Banking and Insurance Regulatory Commission (CBIRC), to issue a statement/instruction to banks to 'join the efforts to secure deliveries of presold homes'[5].
July also witnessed large scale demonstrations by bank depositors in the eastern provinces of Henan and Anhui, who could no longer access their deposits. This money had been skimmed off by the parent company of the rural banks which took in the deposits. The initial response of authorities was predictably ham-handed – Covid-19 related restrictions were imposed on 'troublemakers', and  demonstrators were attacked by non-uniformed thugs, possibly hired by the bank management[6]. Eventually, the provincial government of both the states had to step in to repay the depositors[7].
The tightening purse strings are also affecting China's external strategy, including the Belt and Road Initiative. Sri Lanka, a major destination for Chinese investments and debt, is facing an economic crisis.  While India has provided over $3 billion in assistance, China has been notably missing in action, refusing so far to even reduce the usurious interest rates on its loans. India's western neighbour Pakistan is also battling to avert a financial crisis, with forex reserves falling precipitously. Unlike in the past, China hasn't obliged with a bailout. The cheque-book/debt-trap diplomatic outreach of the past has been possibly set aside for the moment, even as there are questions across the world about China's role in causing economic crises in developing countries.
At the same time, China's new national champions – tech giants such Alibaba and Tencent, are again in the doghouse, with share prices down 50% and 30% respectively over the past year. After being out of public eye for almost two years, news reports suggest Jack Ma is close to giving up control of Ant Group[8]. Meanwhile, not a single new videogame launched by Tencent has been approved by China's regulator for launch for over a year[9]. The message to new entrepreneurs is clear – don't dare to get too big, lest party sees you as a threat. In the longer run, this crackdown will have a chilling effect on innovation and entrepreneurship in China. Meanwhile, Chinese tech giants continue to remain locked out of the Indian market, crimping future growth and may soon have to start delisting from U.S. stock exchanges, cutting access to capital.
These economic troubles come at a bad time: the Chinese Communist Party (CCP) is due to hold its five-yearly party Congress later this year[10]. One of the agenda items is the 're-election' of President Xi Jinping to an unprecedented third term.
So far, the Chinese response to economic problems has been to do what it has always done – pour more concrete. The government is setting up a 500 billion yuan fund for investment in infrastructure[11]. But this will be subject to diminishing returns. The other possible response could be to provoke an external dispute. The sabre-rattling at Nancy Pelosi's Taiwan visit offers an example – the CCP still makes a big deal about China's Century of Humiliation, which ended in 1949. Picking a fight with one of the smaller neighbours can be a way to drive the message home that only the Party can protect China. A weaker China is likely to become a more belligerent China. As a neighbour with outstanding disputes, India needs to remain wary.
Amit Bhandari is Senior Fellow, Energy, Investments and Connectivity at Gateway House
This article was exclusively written for Gateway House: Indian Council on Global Relations. You can read more exclusive content here.
For permission to republish, please contact outreach@gatewayhouse.in
© Copyright 2022 Gateway House: Indian Council on Global Relations. All rights reserved. Any unauthorised copying or reproduction is strictly prohibited.
References
[1] http://en.people.cn/n3/2022/0802/c90000-10129856.html
[2] https://www.marketwatch.com/story/china-manufacturing-sector-contracts-in-july-home-sales-fall-sharply-11659310545?mod=economy-politics
[3] https://english.news.cn/20220715/80dc0937df4f4efa93f8e12dce1e7632/c.html
[4] https://asia.nikkei.com/Business/Markets/China-debt-crunch/Chinese-homebuyers-call-mortgage-strike-over-unfinished-projects
[5] http://www.chinadaily.com.cn/a/202207/18/WS62d5084aa310fd2b29e6cf48.html
[6] https://www.scmp.com/news/china/politics/article/3185102/china-bank-scandal-protesters-report-harassment-restrictions
[7] https://global.chinadaily.com.cn/a/202207/12/WS62cd68a0a310fd2b29e6bed9.html
[8] https://www.reuters.com/technology/jack-ma-plans-give-up-control-ant-group-wsj-2022-07-28/
[9] https://www.reuters.com/technology/chinese-video-game-revenue-declines-first-time-amid-crackdown-2022-07-21/
[10] https://news.cgtn.com/news/2022-07-27/Xi-calls-for-advancing-national-rejuvenation-ahead-of-Party-congress-1c0S3rmON4k/index.html
[11] https://money.usnews.com/investing/news/articles/2022-07-04/china-to-set-up-state-infrastructure-fund-worth-75-billion-sources