Global carbon emissions rose to record-high levels in 2018 due to increasing energy demands in large economies including India, according to a newly published report by the International Energy Agency[1]. Although India ranks amongst the least per capita carbon dioxide emitters, its emissions rose by 4.8% in 2018.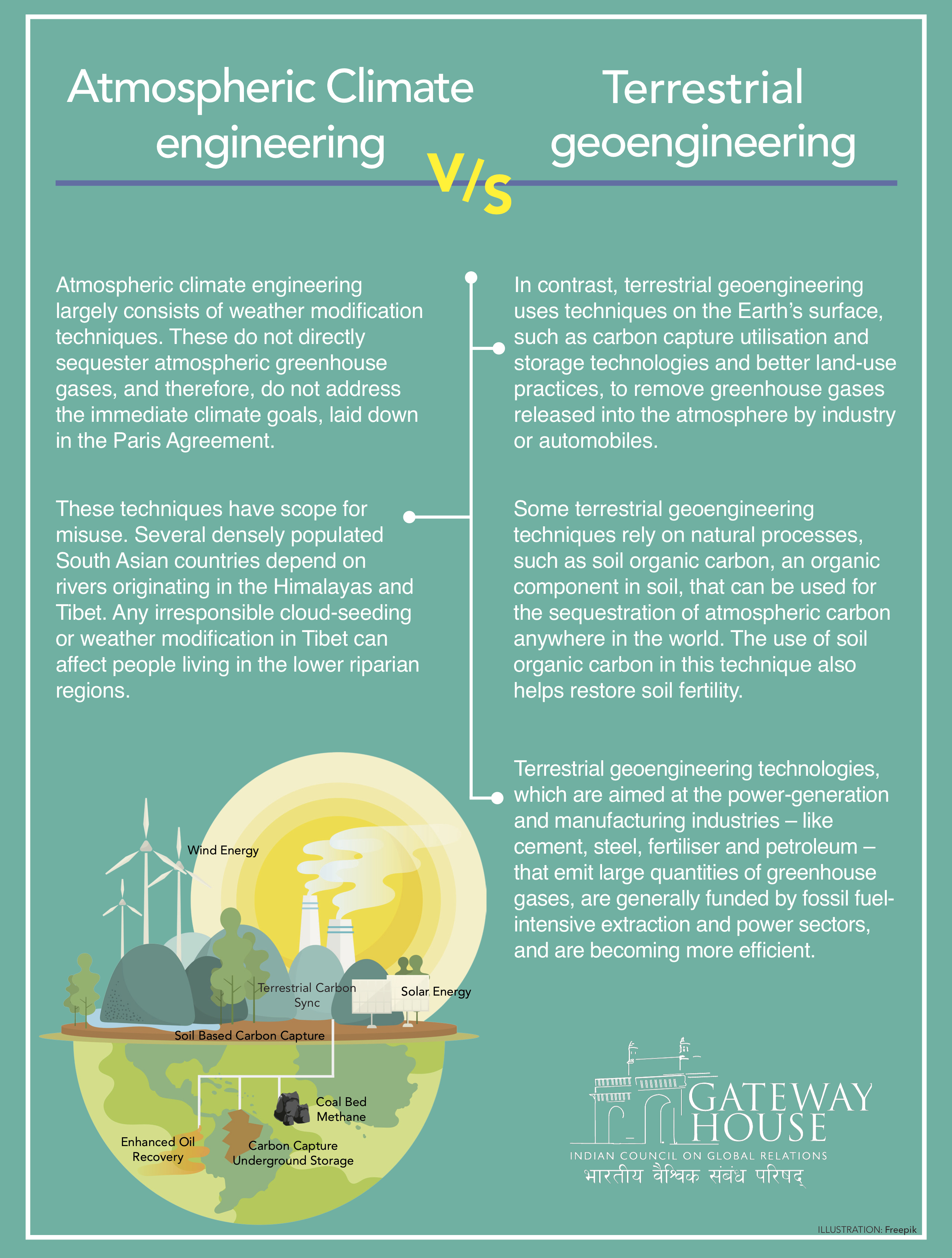 A new paper on terrestrial geoengineering technologies by Dr. Chaitanya Giri, Fellow, Space and Ocean Studies, Gateway House suggests a solution for India: curbing the already emitted carbon dioxide and similar greenhouse gases through a carbon capture process. This is superior to 'atmospheric climate engineering' processes used to mitigate the effects of climate change. "In the carbon capture technique, carbon emitted due to human activities, if sequestered by using advanced terrestrial geoengineering technologies and practices, can be transformed into solid carbon materials and hydrogen and oxygen fuel – important commodities used in futuristic electronics and for clean-transportation in the global market," suggests Giri. "India's continued dependence on fossil fuel and the likelihood of continued emittance, makes this is a pragmatic solution for reducing greenhouse gases," he says.
Fossil fuels currently constitute 80% of total global primary energy consumption. India with its increasing industrialization is a major fossil fuel importer. Technologically-advanced countries like Canada are energy superpowers with abundant fossil fuel reserves. Partnerships between advanced and developing countries on these new geoengineering technologies can help meet global climate change mitigation goals. The new research on the subject, published by Gateway House in collaboration with the Waterloo-based Centre for International Governance Innovation, a leading Canadian think tank, shows how incentivizing the removal of greenhouse gases, the causative factor for anthropogenic climate change, can address the issue.
The paper recommends the following:
Domestically, the government should acknowledge and act on the fact that India's high-emitting power sector can be decarbonized.

India has taken tremendous steps in decarbonizing its highly emitting largely coal-powered power sector. In a short span, India has installed almost 40 gigawatts of renewable energy. By 2022, the renewable energy production is expected to reach 120 gigawatts.
But, clean energy alone will not be able to curb the climate change side-effects. Along with clean and renewable energy, New Delhi must invest in the research and development of carbon capture technologies and assist its power sector and other highly-emitting industries – particularly steel, petrochemicals, and cement – to install carbon capture technologies and reduce their respective greenhouse gas emissions.

Internationally, India can cooperate with allies like Canada for co-developing carbon capture technologies. Bilaterally, the two countries can lead the issue by:

Expanding the current India-Canada Energy Dialogue – largely focused on conventional hydrocarbon co-operation – to include co-development of carbon capture and utilisation technologies in the expanded agenda.
To assist this process, the Indian and Canadian government space agencies and private space companies must build high-resolution greenhouse gas monitoring satellites, which can pinpoint the industrial sources of greenhouse gas emissions across the globe.

Multilaterally, there is much to be done. An early effort can be made by the two countries by proposing to designate unethical, non-consensual, cross-border atmospheric climate engineering projects as 'an act of weather warfare' under the regulatory purview of the Environmental Modification Convention (ENMOD), Espoo Convention & UN Office of Disarmament Affairs (UNODA).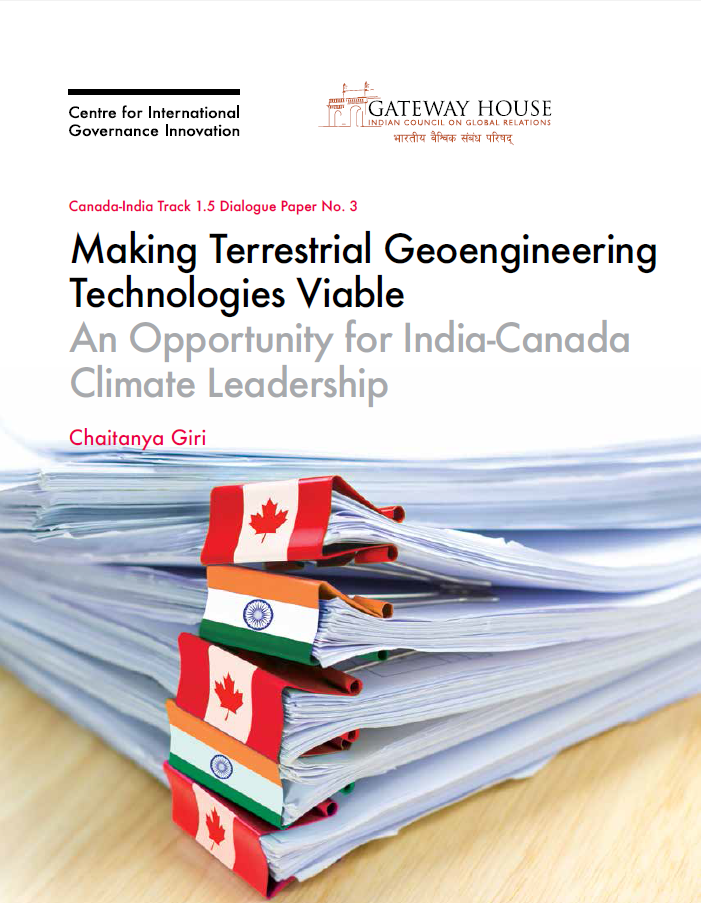 The detailed study and subject analysis, Making Terrestrial Geoengineering Technologies Viable: An Opportunity for India-Canada Climate Leadership, was published as part of the three-year, India-Canada Track 1.5 Dialogue.
To read the entire research paper, click here.
Please contact Aliasger Bootwalla at outreach@gatewayhouse.in with further questions.
Issued by:
Gateway House: Indian Council On Global Relations
Cecil Court, 3rd floor
Colaba, Mumbai – 400 005
[1]International Energy Agency, Global Energy & CO2 Status Report, March 26, 2019 <https://www.iea.org/geco/emissions/>