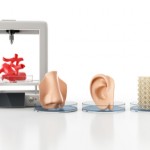 Disruptions often lead to innovation and the ongoing COVID-19 pandemic is no exception.  Innovators the world over are working at breakneck speed to create medical cures, as also the hardware and software needed to cope with the outbreak. Their work will accelerate once the immediate danger has passed because the post COVID-19 goal is also urgent: to drastically limit the global supply chain of goods dependent on China.
One technology that is contributing proximately to relieving the hardship created by COVID-19 is 3D-printing. It provides rapid prototyping and production, and its capabilities are independent of logistic value chains, making it a popular option for vital medical aids, such as masks, respirators, and ventilators. Europe and U.S.A, the new epicentres of COVID-19, are also home to many 3D-printer Original Equipment Manufacturers (OEMs) such as  EOS, Renishaw, SLM, 3D Systems, Carbon3D, Envision Tec, Sciaky, Makerbot, etc. The 3D-printing ecosystem in these regions has therefore taken the lead in rapidly rolling out innovations for meeting the immediate challenges posed by the pandemic. For now at least, scepticism about the promise held out by 3D printing may be assuaged. Globally, COVID-19 is showing that it does work.
Start-ups, for example, are playing a role as important as the OEMs'. Italian start-up Isinnova.[1] has helped local hospitals  tide over the acute shortage of valves for oxygen respirators by 3D-printing them. These valves are mandatorily replaced with every new patient. In Spain, the Leitat Technology Centre [2] has developed a design for an emergency breathing device and produced a prototype using 3D-printing tools. Production of almost 50 to 100 units per day is likely to commence shortly. In the U.S., 3D-printing unicorn Carbon D has printed face masks and test swabs rapidly for the crisis. It is quickly filling its order books for the post-Corona world too, stepping up its production of the simple denture, which has typically been outsourced to China, and which had 40% of the North American market.
3D players can also support those traditional smokestack industries which are repurposing their factory floors for the crisis. To overcome the acute shortage of protective gear for health care workers, crowd pooling of 3D-printing resources is being resorted to by sharing of designs.[3]  In another instance, automobile manufacturers in India,[4] the U.S.,[5] the EU,[6] Norway,[7] and Canada[8] are collaborating with ventilator designers to speed up and scale up its manufacturing. However, production shifts are time-consuming and require considerable process line retooling.  3D-printing can help accelerate critical phases in this process such as design, prototyping and the final manufacturing of sub-assemblies or whole components.
In the post-COVID-19 world, 3D-printed products will have to undergo validation through rigorous testing mandated by regulatory frameworks. For now though, enabling regulations for rapid R&D have been pushed through in India[9] and the U.S.[10] In India, the government is offering soft loans (up to 50% of project cost at 5% simple interest per annum) and equity participation (up to a maximum of 25% of the project cost).
India's 3D-printing industry in India is still nascent and must use the superior design, prototyping and manufacturing capabilities inherent in the technology to overcome critical deficiencies in diagnostic test kits, personal protection equipment and home-based respiratory interventions for COVID-19 patients.
To become independent and scale up, 3D players will need much more. The 3D-printing industry in India has large-scale value chain dependencies. These include the physical hardware: the printer; the software; the material – metal/non-metal; and 3D-printing service providers.
a) The printer: the machine from which the final product emerges. These machines are all imported from the U.S. and Europe and used to manufacture components for the automobile, medical and aerospace sectors.
b) The software: CAD-CAM is software that is used by all industries – from small gift items to construction and automobile. These need to be integrated into the independent 3D-system software. Because it is built into the printer, it is also a foreign import.
c) The material: non-metal materials, such as resins and thermo plastics are used for jewellery, dentures and all manner of proto-typing; metals, such as bronze and titanium, in powder form are used for applications in automobiles and satellites. The production of the material is an issue of scale: without adequate printers, it is uneconomical to make the material in India. Again, this too is mostly imported from the U.S., Europe, and some from China.
d) The service providers: they buy the printer, software and material, and offer their services to interested entities.
In India, many big and small firms offer 3D-printing services for a few industry sectors, such as medical and automobiles. The most prominent are Wipro-3D, a business division of Wipro Infrastructure Engineering, based in Bengaluru, Imaginarium in Mumbai and Think-3D in Visakhapatnam. Wipro-3D has been providing metal and non-metal 3D-printed products for high-tech applications to the Indian Space Research Organisation (ISRO), Hindustan Aeronautics Ltd (HAL)[11] and the automobile industry since 2013.
All these players are heavily reliant on the U.S. and Europe for hardware, software and material sourcing. The ongoing pandemic has exposed these dependencies and severely limited the scalability potential of innovations through 3D-printing in India.
In addition to the above hurdles is the issue of collaboration. For India to emerge as a competitive player in 3D printing, the IT hardware and software companies must collaborate with each other and co-invest in R&D for developing a home-grown 3D-printing ecosystem to achieve value chain independence, rapid prototyping and manufacturing capabilities – all crucial requirements in a post-COVID-19 era.
Academia and industry must also collaborate to fill the skill gaps in 3D-printing technology. 3D requires an inter-disciplinary approach, blending expertise in design engineering, Machine Learning, mechatronics, systems engineering, additive engineering principles, structural engineering, metallurgy, powder metallurgy, nanotechnology, optics, conventional machining and thermal engineering.  Collaboration will also add significant numbers to the pool of experts especially in these disciplines.
Early signs of such collaboration are visible in India. In December 2019, Wipro 3D and the Centre for Product Design and Manufacturing at  the Indian Institute of Science, Bangalore, developed India's first industry-grade, metal-additive 3D-printing machine.[12] The 3D printer, which works on Selective Electron Beam Melting technology, will cater to the aerospace, defence, oil & gas and medical implants segments once commercialised.
Wipro-3D has also established a skill acceleration programme, AddwizeTM, for industry and academia. This is important because 3D printing as a technology is not part of the curricula of engineering colleges in India. Wipro's initiative creates experts for its own service, but also fills an academic gap. Anyone can sign up for it – from engineering veterans to students.
Once the immediate COVID-19 danger has passed, government and industry will have to invest in creating a home-grown 3D-printing ecosystem, the precursor to a modern, digitised manufacturing base. More industry initiatives like Wipro 3D's are needed, as also the development of technical curricula for schools and colleges that will include subjects like Artificial Intelligence.[13] The Indian Institutes of Technology[14] in India, Massachusetts Institute of Technology[15] and Stanford University[16] are among the few technical institutes, offering short-term certification courses for industry and as an elective for students. Academia and industry must collaborate on nano-technologies for local formulation of 3D-printing materials. Several incentives are offered under the Make in India programme for commercialising such technologies.
The response of Indian 3D-printing players during the ongoing crisis will determine the future growth of this technology in the country.
Cdr. Amrut Godbole is a serving officer of the Indian Navy and currently Indian Navy Fellow, Gateway House.
The views expressed in this report/article are those of the author and do not necessarily reflect the official policy or position of the Indian Navy, the Ministry of Defense, or India.
This article was exclusively written for Gateway House: Indian Council on Global Relations. You can read more exclusive content here.
For interview requests with the author, or for permission to republish, please contact outreach@gatewayhouse.in
© Copyright 2020 Gateway House: Indian Council on Global Relations. All rights reserved. Any unauthorized copying or reproduction is strictly prohibited.
References
[1] Feldman, Amy, 'Meet The Italian Engineers 3D-Printing Respirator Parts For Free To Help Keep Coronavirus Patients Alive', Forbes, 19 March 2020,
https://www.forbes.com/sites/amyfeldman/2020/03/19/talking-with-the-italian-engineers-who-3d-printed-respirator-parts-for-hospitals-with-coronavirus-patients-for-free/#10b4af2678f1
[2] V., Carlota, 'Medical approved emergency 3D printed ventilator goes into prodcution', 3D Natives, 23 March 2020, https://www.3dnatives.com/en/3d-printed-respirator-230320205/
[3] McCue, TJ, 'Calling All Makers With 3D Printers: Join Critical Mission To Make Face Masks and Shields For 2020 Healthcare Workers', Forbes, 24 March 2020,
https://www.forbes.com/sites/tjmccue/2020/03/24/calling-all-makers-with-3d-printers-join-critical-mission-to-make-face-masks-and-shields-for-2020-healthcare-workers/#5819eb750068
[4] Press Information Bureau, 'DST launches nationwide exercise to map & boost Covid19 solutions with R&D, seed & scale up support', Government of India, 27 March 2020,
https://pib.gov.in/PressReleseDetail.aspx?PRID=1608564
[5] Sam Beta, 'Centers for Disease Control COVID-19 Broad Agency Announcement', Centres for Disease Control & Prevention,
https://beta.sam.gov/opp/05e52b343d47430aac518109b54fd492/view
[6] European Commission, 'Applications welcome from startups and SMEs with innovative solutions to tackle Coronavirus outbreak', 13 March 2020,
https://ec.europa.eu/info/news/startups-and-smes-innovative-solutions-welcome-2020-mar-13_en
[7] https://www.forskningsradet.no/en/call-for-proposals/2020/covid-19-emergency-call-proposals-
[8] Prime Ministers' Office, 'Prime Minister outlines Canada's COVID-19 response', Government of Canada, 11 March 2020,
https://pm.gc.ca/en/news/news-releases/2020/03/11/prime-minister-outlines-canadas-covid-19-response
[9] Press Information Bureau, 'Technology Development Board under DST invites technology proposals for fighting COVID 19′, Government of India, 22 March 2020,
https://pib.gov.in/PressReleasePage.aspx?PRID=1607622
[10] U.S. Food and Drug Administration, 'Coronavirus (COVID-19) Update: FDA Provides More Regulatory Relief During Outbreak, Continues to Help Expedite Availability of Diagnostics', Government of India, 16 March 2020,
https://www.fda.gov/news-events/press-announcements/coronavirus-covid-19-update-fda-provides-more-regulatory-relief-during-outbreak-continues-help
[11] ET Bureau, 'HAL joins hands with Wipro 3D for aerospace component development', Economic Times, 2 January 2020,
https://economictimes.indiatimes.com/industry/transportation/airlines-/-aviation/hal-joins-hands-with-wipro-3d-for-aerospace-component-development/articleshow/73071366.cms?from=mdr
[12]  ET Bureau, 'Wipro 3D develops India's first metal 3D printing machine with IISc', Economic Times, 13 December 2019,
https://economictimes.indiatimes.com/tech/ites/wipro-3d-develops-indias-first-metal-3d-printing-machine-with-iisc/articleshow/72536779.cms?from=mdr
[13] Central Board of Secondary Education, 'CBSE Artificial Intelligence Curriculum Launch', 
http://cbseacademic.nic.in/ai.html
[14] All India Council of Technical Education, 'A short term course on Addictive Manufacturing', https://www.iitk.ac.in/new/data/Brochure_Additive-Manufacturing-course-2019.pdf
[15] MIT Professional Education, 'Additive Manufacturing: From 3D Printing to the Factory Floor'
https://professional.mit.edu/course-catalog/additive-manufacturing-3d-printing-factory-floor
[16] Stanford University, 'WELCOME TO 3D PRINTING FOR NON-TECHNICAL INNOVATORS',