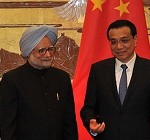 The reports of Indian Prime Minister Manmohan Singh's visit to China towards the end of October, and his meeting with Chinese Premier Li Keqiang, all point to a fruitful discussion. The reports have described the possible steps in relation to the borders of both countries, riparian rights, deepening cooperation through better people-to-people contacts, cultural activities, city-to-city cooperation, and work on the proposed Nalanda University.
However, missing from this diverse menu is the value to both countries of potential alliances between Chinese and Indian women. At a time when Indian and Chinese women researchers and economists are exchanging knowledge on the changes taking place in their economies, it would be worthwhile to include these exchanges in the bilateral dialogues, as well as at the annual India-China economic summits and the  associated Research Advisory Committees. Significant ideas for the partnership between the two countries are contained in these exchanges between women.
If the knowledge and activism of this new network of Indian and Chinese feminist economists – meeting again in New Delhi on 11 November – is noted and included, especially by those who are working on levelling the playing field of both economies, then indeed, as the prime minister during his recent visit to China, "When India and China shake hands, the world would have to notice"
While most analyses emphasise the differences between India and China, and usually position China as the winner of the race, the new networks of women researchers and economists emphasise the similarities. This playing field, which is not competitive but co-operative, can be a meaningful launch-pad for an exciting handshake.
What are these exchanges revealing? One, that recognising and learning from the differences in the impact of "reform" and globalisation," as well as in national policies and institutions, has been enabling for both sides. The base line – cultural practices, the strong presence of patriarchal modes, a sexual division of labour, a marked preference for sons – is similar in both countries. This similarity has brought to the discussion table a dimension of reality, grounded in lived experience, that is enabling
India, usually seen as "lagging behind" China, leaps forward in such exchanges. Chinese women want the various enabling legislations that Indian women have – the quota system in local government, the new laws giving inheritance rights to women, as well as land rights, and schemes like the Integrated Child Development Services (ICDS). They also want a "voice" or the freedom of speech that is manifest in India's public gatherings, protests, and in proposals that are supported by the media and accommodated by the state. This aspect was vividly brought out in the outcomes of the protests that followed the sexual assault on 16 December 2013 of a young woman in a bus in Delhi – outcomes globally recognised as an extraordinary Indian achievement.
Second, the dialogues between women have provided a forum to rethink economic policies and programmes for the benefit of their communities. This was poignantly reflected in the question an Indian participant asked her Chinese sisters at a workshop at Stanford University, U.S., as part of the annual conference of the International Association of Feminist Economists in July 2013: "The flood of cheap Chinese goods imported into Indian markets, including even diyas and patangs, has destroyed the livelihood of millions of Indian workers. Can you stop flooding our markets with these goods?" The Chinese participants were not aware of this consequence of their country's cheap imitations of local crafts, which are destroying indigenous production, "culture," as well as livelihoods.
Here is a point directly relevant to our trade regimes, an issue trapped in current trading regulations and quid pro quo conditions: Can the cooperative voice of women, in what may be a new powerful entry into the space of the political economy, change the terms of trade?
In both India and China, labour is moving from secure or formal employment to informal work, though this shift is more dramatic in China than in India. Once China lost the edge – in terms of the volume of cheap consumer goods exported to the West and elsewhere – the manufacturing processes and opportunities for work in China's rural economy also declined.
While there is a marked difference in the way women were absorbed into the production processes in India and China in the earlier years of "reform" –  1978 onwards for China and 1991 onwards in India – since 2008 the picture is becoming similar, with a greater number of women employed in the informal sector in both countries.
For Chinese women, even after the introduction of reforms, initially, there were new opportunities in the form of non-farm jobs; for example, in village enterprises, in urban labour units, in young private sector enterprises, in the Special Economic Zones, and in a restructured public sector.
However, this very restructuring and opening up of the Chinese economy  made all workers, including women, more vulnerable to sudden changes and shocks, both internal and external. Women who were laid off, as well as new entrants, eventually found it more difficult than men to find new jobs. In China, according to the China Health and Nutrition Survey, women's employment in the formal sector has declined from about 76% in 1997 to around 60% in 2006. Conversely, in the informal sector, women's employment increased from 24% in 1997 to around 40% in 2006. 
In India, women have always been a small percentage of workers in the formal  economy – 10.46% in 1999-2000 and 12.94% in 2004-05.  In 2004-05, the proportion of informal workers was as high as 77% of the female workforce in rural areas and 63.5% in urban areas; so the shifts here were not so dramatic as in China. [1]
Migration to the cities is another common feature. Men and women are migrating to the urban areas in large numbers in both India and China. The estimated total number of migrants in India was 66.6 million in 2007-08, of which 15% (9.6 million) were women – and the figure for women is an underestimate. [2] For China, in 2004, nearly 125 million persons were in the migrant labour force, of which women constituted around one-third. They were in the 16-28 age bracket; better-educated and unmarried women predominated in both off-farm work and urban wage-earning migrants. [3]
Applying the gendered lens to the India-China growth stories as well as agendas not only highlights the mismatch between aspirations and achievements, but offers a platform for harmonising economic journeys between these two nations, and also extending it to BRICS and other groupings. Focusing on the India-China alliance from a gendered perspective can help us to perceive the flaws in the growth trajectories as well as in trading arrangements and it can lead to a progressive strategy where both countries can benefit from women's ideas, knowledge, and collaboration. It can become a track-two in economic diplomacy.
Devaki Jain is a development economist; she was a member of the South Commission chaired by Julius Nyerere.
Deepshikha Batheja is her research assistant and a post-graduate in economics.
This article was exclusively written for Gateway House: Indian Council on Global Relations. You can read more exclusive content here.
For interview requests with the author, or for permission to republish, please contact outreach@gatewayhouse.in.
© Copyright 2013 Gateway House: Indian Council on Global Relations. All rights reserved. Any unauthorized copying or reproduction is strictly prohibited
References
[1] Naik, A. K. (2009, September). Informal Sector and Informal Workers in India. Paper Prepared for the Special IARIW-SAIM Conference on 'Measuring the Informal Economy in Developing Countries.' Retrieved from http://www.iariw.org/papers/2009/5a%20naik.pdf ; Mazumdar, I. and Neetha, N. (2011, October 22). 'Gender Dimensions: Employment trends in India 1993-94 to 2009-10', Economic and Political Weekly. Vol XLVI No. 43
[2] Mazumdar, I, N Neetha, AgnihotriI. (2013, March 9). 'Migration and Gender in India'. Economic & Political Weekly. Vol xlvIiI no 10
[3] Deininger, K, Jin Fang Xia, S. (2012, January). 'Moving off the Farm-Land Institutions to Facilitate Structural Transformation and Agricultural Productivity Growth in China', World Bank  Development Research Group, Policy Research Working Paper 5949.