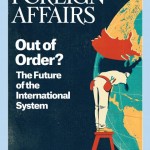 During the nineteenth century, the United States played a minor role in the global balance of power. The country did not maintain a large standing army, and as late as the 1870s, the U.S. Navy was smaller than the navy of Chile. Americans had no problems using force to acquire land or resources (as Mexico and the Native American nations could attest), but for the most part, both the U.S. government and the American public opposed significant involvement in international affairs outside the Western Hemisphere.
A flirtation with imperialism at the end of the century drew U.S. attention outward, as did the growing U.S. role in the world economy, paving the way for President Woodrow Wilson to take the United States into World War I. But the costs of the war and the failure of Wilson's ambitious attempt to reform international politics afterward turned U.S. attention inward once again during the 1920s and 1930s, leading to the strange situation of an increasingly great power holding itself aloof from an increasingly turbulent world.
JOSEPH S. NYE, JR., is University Distinguished Service Professor at the Harvard Kennedy School of Government and the author of Is the American Century Over?
This article appeared in the Foreign Affairs 2017 January/February edition. It is republished here with permission.
This article was originally published by Foreign Affairs. You can read the rest of the article here.
You can read exclusive content from Gateway House: Indian Council on Global Relations, here.
Copyright © 2017 by the Council on Foreign Relations, Inc.