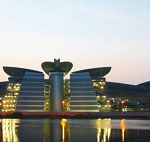 The new office of Tata Consultancy Services (TCS) in Siruseri, Chennai is a signature building with a spectacular architectural design. This unique edifice has been designed by two Uruguayan architects Carlos Ott and Carlos Ponce de Leon. The building is a welcome change and an aesthetic addition to the city of Chennai, notorious for its culture of giant cut-outs of film stars and the ubiquitous statues of politicians.
The futuristic building complex looks like a butterfly with a 400-metre central spine forming a majestic atrium at a tall 42 metres. The 5 million square feet office complex is spread over 70 acres.  There are six blocks on each side of the spine of the atrium forming part of the wings of the butterfly.
The building has won several awards for energy and water management. It uses state-of-the-art technology, advanced materials, solar control and thermal insulation systems designed specially for the heat and humidity of Chennai. This makes building maintenance less expensive, more efficient and environment-friendly.
The Siruseri TCS complex is the largest corporate office in Asia with a capacity for 25,000 staff. The inspiring building and the innovative global work being done there by TCS is a matter of pride for India and Uruguay both.
How did the design contract for this prestigious building go to architects from tiny Uruguay located across the oceans, whose population of 3 million is under half of Chennai's?
The answer lies embedded in the special connection between TCS and Uruguay. TCS put Uruguay in the global IT map when in 2002, it set up the first Global Delivery Centre in Montevideo, the capital of Uruguay. In return, Uruguay helped TCS  find its place in the Latin American map. Gabriel Rozman, a Uruguayan and TCS executive, convinced the TCS Board to set up its first Latin American centre in his country. He got special treatment from the Uruguayan government, which enthusiastically welcomed TCS. From Montevideo, Gabriel Rozman spear-headed successfully the expansion of TCS across eight Latin American countries— Argentina, Chile, Brazil, Mexico, Peru, Colombia and Costa Rica. TCS now employs over 10,000 Latin American staff- including 1,000 Uruguayans- who develop software and provide off-shore services to U.S. and European markets and of course Latin American clients. The company has targeted the region for 10% of its global revenue. When the TCS office in Chennai was inaugurated in 2011, TCS invited the Vice President of Uruguay, Danilo Astori, to cut the ribbon.
TCS knows Uruguay in a way no other Indian does. But there is little other recognition of the country. Indian football fans know that Uruguay created history by winning the World Cup twice, beating Argentina in 1930 and Brazil in 1950 in the finals. They were thrilled with the Kolkatta visit of Diego Forlan, the Uruguayan star in 2011 after he won the Golden Ball award in the 2010 World Cup in South Africa.
But these days, Uruguay is gaining global fame beyond football, and the wider India should pay attention. Uruguay has a unique leadership in President Jose Mujica. In contrast to the many corrupt and pompous Indian politicians, Mujica is uncorruptible  – and the poorest president in the world. He lives a simple life in his own ramshackle farm hut, rejecting the presidential mansion and protocol, growing vegetables and fruits and driving his own old Volkswagen Beetle. He was an ex-guerilla fighter who spent 14 years in jail during the military dictatorship.
Uruguay is also internationalising its education in an interesting way. Carlos Ott and Carlos Ponce both studied architecture in Uruguay where, every architecture student has visited India – part of the University of Uruguay architecture school's tradition of sending their students on mandatory global tours (including 10 days in India).
So both TCS' Uruguayan architects are thrilled to make their mark in India, a country they admire for its tradition, culture and wisdom. They hope to be able to put their Uruguayan touch to other buildings in India.
Ambassador Viswanathan is Distinguished Fellow, Latin America Studies, Gateway House. He is the former Indian Ambassador to Argentina, Uruguay, Paraguay and Venezuela, and Consul General in Sao Paulo. 
This blog was exclusively written for Gateway House: Indian Council on Global Relations. You can read more exclusive content here.
For interview requests with the author, or for permission to republish, please contact outreach@gatewayhouse.in.
© Copyright 2015 Gateway House: Indian Council on Global Relations. All rights reserved. Any unauthorized copying or reproduction is strictly prohibited