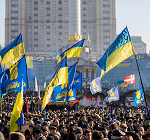 Trade exchanges between India and the Ukraine have grown rapidly over the last decade, with Ukraine becoming one of the fastest growing trade markets for India. The two countries have signed many agreements in education, science, defence and culture. Gateway House's Shai Venkatraman speaks to Debabrata Saha, former Indian Ambassador to Kiev, about the potential impact of the ongoing crisis on bilateral trade ties and India's position on the crisis in the backdrop of worsening U.S.-Russia relations
Q. As relations between the U.S. and Russia deteriorate, India is likely to come under pressure to take a clear stand on the crisis in Ukraine. Given how often Russia has taken India's side at critical moments, do you believe it is time for India to return the favour?
I believe the Indian government's position on the developments in Ukraine has been quite clear. Our spokesman welcomed recent efforts at reducing the tension (in Ukraine) and expressed the hope that a solution to Ukraine's internal differences would be found in a manner that meets the aspirations of all sections of Ukraine's population. He also spoke of a legitimate democratic process to find full expression through free and fair elections that provide for an inclusive society, while adding that India called for sincere and sustained diplomatic efforts to ensure that issues between Ukraine and its neighbouring countries are resolved through constructive dialogue.
We do have friendly relations with Russia, just as we have with Ukraine – and with most other countries. The question of 'returning the favour' to Russia – or to any country for that matter – in a situation such as the current one in Ukraine is simply not relevant. Our position is, as it should be, based firmly on well-established principles. Our Prime Minister in his telephone conversation with President Putin on March 18 emphasised the consistent position India had on the issues of unity and territorial integrity of countries. He expressed his hope that all sides would exercise restraint and work together constructively to find political and diplomatic solutions that protected the legitimate interests of all countries in the region and ensured long term peace and stability in Europe and beyond.
Q. In terms of trade how important is Ukraine to India?
Our two-way bilateral trade in 2012-13 stood at $3,103.93 million. Our exports were $519.66 million and imports $2,584.27 million. Pharmaceutical products account for a major part of Indian exports to Ukraine. In value terms India is the second largest exporter of pharmaceutical products to Ukraine, after Germany. Ukraine is clearly a vital trading partner of India.
Q. What is likely to be the immediate impact of the crisis in Ukraine on India?
The events in Ukraine since November last year undoubtedly pose the most serious challenge to the country since its independence in 1991 following the breakup of the former Soviet Union. Resolution of the issues that have been thrown up would naturally be accorded the highest priority by any new government that comes to power after the elections that should take place in the next few months. I don't know what visits and exchanges between Ukraine and India were scheduled for this year, but I would imagine that these would need to be looked at afresh once the new government is in place and re-worked, so that our bilateral engagement can be resumed as soon as possible, with renewed vigour.  As for our trade, economic and cultural exchanges, the crisis in Ukraine should not have any lasting negative impact on them.
Q. Some argue that the problem with Ukraine, and other such countries is of self-identity. Instead of creating a successful state to justify partition they prefer to adopt a hostile policy towards the big power next-door. Do you think that is a fair reading of Ukraine's situation?
One should not underestimate the enormity of the challenges thrown up by Ukraine's emergence as an independent country following the breakup of the Soviet Union in 1991. That break-up continues to have an impact on every facet of life in Ukraine (and in most other countries of the former Soviet Union), including in particular on its economy, its political development, and, not least, on the myriad issues, small or big, left unresolved while reconfiguring the former Soviet Union into the various independent republics. Given our own experience in the sub-continent we are acutely aware of these challenges, and are much more sensitive to them than are countries that have not gone through such an experience.
Debabrata Saha has served as India's Ambassador to the Ukraine and Italy.
Click here for Special focus: Ukraine
This interview was exclusively conducted for Gateway House: Indian Council on Global Relations. You can read more exclusive content here.
For interview requests with the author, or for permission to republish, please contact outreach@gatewayhouse.in.
© Copyright 2014 Gateway House: Indian Council on Global Relations. All rights reserved. Any unauthorized copying or reproduction is strictly prohibited.