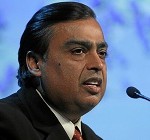 The noise in the media over the Central Industrial Security Force (CISF) being asked to protect Mukesh Ambani has drowned out some basic questions regarding the protection of a private individual in India. The business of private security, estimated to be around Rs 35000 crore currently, will grow at 20-25% annually over the next few years, according to industry-watchers. This extremely rapid growth indicates the insecurity of private individuals and organisations. It also clearly shows the government's indifference to the security of its citizens.
On the other hand, it is not uncommon to see a motorcade of machine gun-toting commandoes sweeping aside the common man to allow a 'VIP' to proceed. Arguably, 50-70% of the sanctioned police strength in Delhi is reportedly used for VIP protection in some form. The remaining personnel are so over-worked that they cannot cope even with routine policing.
Mukesh Ambani can pay Rs. 15 lakh per month for CISF protection, but what happens to those without the power and pelf to procure such security? The common person has no choice but to hire private security guards. These guards range in motivation and capability from the ubiquitous watchman outside urban residential premises, who is paid a few thousand rupees, to the high-end trained ex-servicemen hired by high net worth individuals.
Two important aspects to consider about the private versus government security issue, are the legal implications and the equipment used. The laws that govern private protection come are spelt out in the Private Security Agencies (Regulation) Act, 2005 (PSARA).  The provisions in this act are nebulous. States are expected to evolve their own laws based on the PSARA, and many have not done so.  There are no provisions in the Act to enable private guards to perform their duties, or be granted special dispensations under the law to perform their duties, as are provided to government servants.  The guards operate as private individuals.
While the PSARA makes no mention of armed guards, the Arms Act of 1959 only allows individuals to own licensed weapons. Agencies are not permitted to own weapons. Referring to the PSARA, the Ministry of Home Affairs (MHA) has said the possession and use of arms and ammunition are governed by the Arms Act and "private security guards don't have any special dispensation to acquire or hold weapons."
So to provide an armed guard to clients, private security agencies employ a person who owns a weapon in his individual capacity.  The individual is expected to use his own weapon in "self defence," which could have other legal ramifications under the Arms Act.
In the case of the murder of Ponty Chadha who was killed in November 2012 at a south Delhi farmhouse, the MHA agreed that no separate guidelines had been issued under the Arms Act to govern the use of firearms by private security guards, and that in cases of guards using firearms as individuals or illegally, the guards and not their agencies shall be held liable.
By comparison, personnel of government law enforcement agencies are not governed by the Arms Act when they carry weapons issued to them for performing their duties.   Besides, they can be prosecuted only with the permission of the government, which is rarely forthcoming. In other words, unlike a private armed guard, government forces are protected by the law in the use of their weapons. It is for this privilege under the law that the CISF is so sought-after.
The type of equipment used is also important. Criminals and terrorists have access to sophisticated automatic weapons, which a private individual cannot own.  Under the Arms Act, an individual can own only specific calibres and types of weapons, which cannot match the arms that a determined criminal can carry.  A private individual is permitted to buy only a limited amount of ammunition in a year. The ammunition is expensive and precludes sufficient practice. But government guarding agencies have access to relatively modern weaponry. This is the second reason for the popularity of government guarding agencies.
Protecting the life and property of an individual is a fundamental function of government, not a commercial enterprise to be run by the state. But if a resource-scarce government is unable to provide adequate protection to private individuals, it must at least enact legislation allowing for better private protection. A more organised and legally-enabled private security sector will be far more effective.
There is no shortage of trained manpower in the private sector – a large number of personnel retire from the police and the forces at a young age, and the security industry is an avenue for employment.  Many countries allow for the privatisation of policing and protection. A similar model appropriate to the Indian context can be evolved. Until then, the scramble for scarce government resources will continue, protecting those who can pay for this privilege, and ignoring those who cannot.
Xerxes Adrianwalla is a retired Brigadier of the Indian Army and a regular contributor to Gateway House: Indian Council on Global Relations.
This article was exclusively written for Gateway House: Indian Council on Global Relations. You can read more exclusive content here.
For interview requests with the author, or for permission to republish, please contact outreach@gatewayhouse.in.
© Copyright 2013 Gateway House: Indian Council on Global Relations. All rights reserved. Any unauthorized copying or reproduction is strictly prohibited.