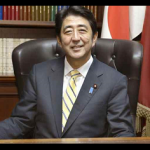 In the demise of former Japanese Prime Minister Shinzo Abe, the world has lost a leader, and India has lost a committed partner. His legacy is marked by statesmanship and foresight, enabling him to reform the security and economic establishment of a Japan rooted in post-World War II pacifism into envisioning an Indo-Pacific regional architecture that pursued freedom, prosperity and transparency.
During his nine-year two tenures as prime minister, Shinzo Abe visited India four times. As a young man, Shinzo Abe's opinion of India was informed by Indian jurist Justice Radhabinod Pal's dissent note at the UN-appointed Tokyo Tribunal in 1948, where 25 Japanese nationals were handed a guilty verdict for war crimes.[1] Shinzo Abe's grandfather and later prime minister, Nobusuke Kishi, was also accused of war crimes, although he was never tried. This made Justice Pal a hero among Japan's nationalist politicians, including Nobusuke Kishi, who in 1957 became the first Japanese prime minister to visit India. When his grandson Shinzo Abe made his first visit to India as Japan's Prime Minister in 2007, he made a call on Justice Pal's son in Kolkata. 
The Abes' personal admiration surely helped build a special Japan-India relationship. It was Shinzo Abe, who, on his first brief stint as Prime Minster in 2006-2007, recognised India as an important partner with Japan bilaterally and multilaterally. 
In Asia, the presence of a common competitor, China, with an increasing strategic presence, gave impetus for the two other Asian giants, India and Japan, to build closer relations. This was aided by the West's embrace of India in the late 2000s. In 2007, while India was domestically debating and negotiating the India-U.S. Civil Nuclear Agreement amongst the government's coalition partners, during an official visit to India the same year, Abe delivered a historic speech in the Indian Parliament which gave shape to the idea of a new geographical imaginary linking the Indian and Pacific Oceans. He described it as a "broader Asia" coming together in an "immense network spanning the entirety of the Pacific Ocean, incorporating the United States of America and Australia".[2] This "confluence" of the Indian and Pacific oceans anchored Japan and India's role in the Indo-Pacific.
The newly defined region marked the beginning of geopolitical cooperation between India and Japan, a departure from the previous nature of relations primarily defined by economics and trade. It materialised into the Quadrilateral Security Dialogue or Quad, for which Shinzo Abe was instrumental in successfully building a common vision for democracy in the region and cooperation between India, Japan, Australia and the U.S. Abe's foresight on the Indo-Pacific extended to the Comprehensive and Progressive Agreement for Trans-Pacific Partnership (CPTPP) where Japan took leadership of the mega trade agreement following US' abdication[3] in 2017. Much to his disappointment, India did not join the agreement. 
Bilaterally, Japan had a unique economic engagement with India, taking on challenging infrastructure projects like the small car Maruti-Suzuki, the Dedicated Freight Corridor and the Delhi-Mumbai Industrial Corridor. Abe pushed forward more ambitious but necessary infrastructure requirements for India, like the metro and the Shinkansen Bullet Train[4] high-speed rail project. In this, he was assisted by his many friends in India, from former Prime Minister Dr Manmohan Singh to the current Prime Minister Narendra Modi, creating an environment that recognised mutual interests and benefits. 
Since the early 2000s, Japan has been a significant development partner for India. In 2003, India became the largest recipient of Official Development Assistance (ODA) from Japan.[5] Under Shinzo Abe, India's share of ODA increased, despite a decline in total ODA that Japan extended. 
Shinzo Abe's contribution to India's growing strategic salience cannot be understated. He had faith in India. He recognised the opportunities India and Japan offered each other and created a dynamic relationship with convergence in regional governance and partnership. The momentum of the bilateral built during his tenure has continued since he stepped down as Japan's Prime Minister in 2020, and India and Japan continue to extensively cooperate in various domains.
In the passing of Shinzo Abe, India has lost a true friend.
Saeeduddin Faridi is a Researcher at Gateway House.
This article was exclusively written for Gateway House: Indian Council on Global Relations. You can read more exclusive content here.
For permission to republish, please contact outreach@gatewayhouse.in
©Copyright 2022 Gateway House: Indian Council on Global Relations. All rights reserved. Any unauthorised copying or reproduction is strictly prohibited.
References:
[1] http://www.sdh-fact.com/CL02_1/65_S4.pdf
[2] https://www.mofa.go.jp/region/asia-paci/pmv0708/speech-2.html
[3] Jo Tamura (2022-04). The Rise of a "Middle Power"? Japan's Role in Preserving TPP11 : 1-28. ScholarBank@NUS Repository. https://doi.org/10.25818/s9r9-3r49 
[4] https://www.mofa.go.jp/s_sa/sw/in/page3e_000432.html
[5] https://www.mofa.go.jp/region/asia-paci/india/pmv0504/oda_i.pdf