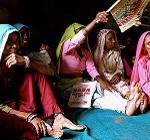 "God has made of man and woman one complete whole. In the scheme of nature, both of them are equal."
– M. K. Gandhi.
On October 11, even as the UN marked the first International Day of the Girl Child, 14-year-old Malala Yousafzai lay seriously ill in a hospital in Pakistan, shot at by the Taliban for defending her right to education.
On October 9, a 19-year-old pregnant woman was abducted and raped in Kaithal district, Haryana, India. This incident took place just days after the local Khap Panchayat in the state demanded the legal marriageable age of women be reduced to 16 (from the official 18) 'to curb incidents of sexual assault.'
Both instances have been condemned extensively by the media, policy-makers, and people all over the world, but it has not lead to any change in policy or societal outlook for the emancipation of women in those countries.
In 2011, 24,206 incidents of rape, 8,618 cases of dowry deaths, and 99,135 cases of cruelty by husbands and relatives against women were recorded in India. Last month, 15 cases of rape were officially registered in Haryana alone.
Despite a growing atmosphere of misogyny in India and other developing countries – indicated by a constantly worsening sex ratio (107 males per 100 females in India, and 120 males per 100 females in China), denial of access by families to food, education, medical facilities and any play time for the girl child, and skyrocketing numbers of incidents of rape and honour-killings, our political leadership has stayed mute. Instead of being condemned, the Khap Panchayats are being wooed by the political parties because of the vote banks they control.
Sexism is present in developed nations too, and permeates the top political hierarchies. Over the past year, Tony Abbot, the leader of the opposition in Australia, made several sexist comments against Julia Gillard, the incumbent and first woman Prime Minister of that country. So when Abbot accused the Speaker of the Parliament, Peter Slipper, of being sexist and called for his resignation, Gillard spoke up against Abbot's misogynist attitude and double standards, in a landmark speech in her parliament.
Gender bias is therefore not a problem specific to particular cultures or stages of development. It's a ubiquitous, deep-rooted issue and exists regardless of cultures and nationalities.
The enormity of this problem's scale should be recognized before committees and programs are put into action. There should be increased political intolerance towards gender bias. Stringent laws must be passed against all forms of harassment and stricter action must be taken against offenders. Gender sensitivity should be taught in all stages of education; most of all, the economy must be shaped to incorporate full participation of women. The combination of education and financial independence with increased political will is necessary to bring about the much-needed change.
Rajeshwari Krishnamurthy is the Content Manager at Gateway House: Indian Council on Global Relations.
This blog was exclusively written for Gateway House: Indian Council on Global Relations. You can read more exclusive content here.
For interview requests with the author, or for permission to republish, please contact outreach@gatewayhouse.in.
© Copyright 2012 Gateway House: Indian Council on Global Relations. All rights reserved. Any unauthorized copying or reproduction is strictly prohibited