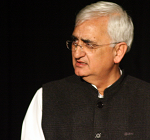 Salman Khurshid has taken over as India's Foreign Minister at a time when the ministry's main challenges are internal rather than external.
Diplomatically India has never had it so good – it is taken seriously at global fora, seen as an emerging market leader, global powers look for good relations with it. With emerging economies projected to contribute nearly 70% of global growth over the next few decades, India, along with the BRICS nations, has a chance to rewrite some of the rules of international engagement. In South Asia, India has moved far away from the Pakistan hyphen, and is ready to be more pro-active in Afghanistan once ISAF troops leave over the next couple of years. Ties with the U.S. have settled into a strategic comfort zone and Washington has been wooing Delhi to be its key ally in the State Department's "pivot to Asia." Sino-Indian ties have matured into pragmatic stability combined with a healthy envy. In what is being touted as the Asian century, India is poised to play the role of geopolitical kingmaker, especially if its economy gets back on the fast track.
But bridging the long gap between potential and performance is India's internal challenge – and the new minister's big-picture task.
In today's world, information and influence are more diffused than ever. Geopolitical power is now a fast-moving, hi-tech game that demands quick decisions, the strategic use of new media and a diplomatic corps that is ahead of the curve in creating profitable relationships with states and businesses. In this world, cyber attacks can be as deadly as embassy bombings; economic resources, business deals flow seamlessly across borders and drive new strategic alliances. This new world calls for a safe distance from history and dogma – it demands a new vision that creatively uses hard and soft power tools in the national interest, but with a globally acceptable narrative.
India's Ministry of External Affairs (MEA) still functions in a highly inflexible system that feels outdated in this new diplomatic world. India has about 700 serving diplomats – not much more than tiny Singapore's 525. The ministry's modest expansion plans will mean that the service will double in 35 years, according to international affairs analyst Kanti Bajpai. The MEA has tentatively opened its doors to lateral hiring from other government departments, but it has not drawn much interest. The services still exclusively draws its recruits from those who pass the generic civil service examination where the very top are eligible for the MEA – but many now choose other ministries to make their careers.
"The examination fetish has become such a part of our political culture that expect howls of protest from bureaucrats and politicians alike, if lateral placements were opened up," warns Bajpai. "There will be complaints of elitism and nepotism, but lateral expansion is essential to shore up our foreign services."
Khurshid needs to draw young talent into the service and augment it with experts in academia, cyber security, think-tanks, business, energy and media specialists. This can help to rapidly modernize India's Foreign Service.
The other internal challenge for Khurshid will come from India's increasingly assertive regional politicians. West Bengal's Chief Minister Mamata Banerjee scuttled the Teesta river water-sharing agreement which had the potential to considerably further India's goodwill with Bangladesh. Kashmir, Tamil Nadu and Sri Lanka, the North East and Myanmar all have a potentially similar problem, where the central and state government end up working at cross-purposes. How Khurshid deals with India's powerful regional satraps may well define his legacy in our immediate, and most strategic neighborhood.
With the Manmohan Singh government in its last innings, Khurshid can play the star turn in the game. He is unlikely to have enough time to come up with any significant foreign policy shifts, so it will be better for him to keep his focus internal. The impact will be long-lasting.
Ultimately, Khurshid's appointment is part of UPA 2's botox therapy. At 59, Khurshid is a full two decades younger than his predecessor S.M. Krishna, whose unremarkable stint will be best remembered for being overshadowed by his charismatic Pakistani counterpart and for mistakenly reading the Portuguese representative's speech at the United Nations. The hope is that the younger Khurshid will be more open to new ideas and people, and that he will be driven to leave a reformist legacy, not one marked by aimless drift.
Sambuddha Mitra Mustafi is a Senior Researcher at Gateway House: Indian Council on Global Relations.
This article was exclusively written for Gateway House: Indian Council on Global Relations. You can read more exclusive content here.
For interview requests with the author, or for permission to republish, please contact outreach@gatewayhouse.in.
© Copyright 2012 Gateway House: Indian Council on Global Relations. All rights reserved. Any unauthorized copying or reproduction is strictly prohibited.