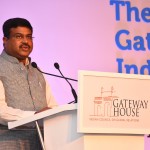 At the outset let me congratulate Gateway House and Ministry of External Affairs to launch this conference in Mumbai with the august participation of Indian and International Political and Business leaders. The Sessions yesterday and today cover a wide range of issues which are of immense contemporary importance and straddle the worlds of business, politics and international relations.
I am glad that this discussion is taking place in Mumbai which is India's industrial and financial capital. Besides, Mumbai has been in the forefront of leading Indian oil and gas industry. Starting from hosting the first two refineries after independence, to Mumbai High oil and gas production and processing facilities, to beginning of supply of domestic LPG, Mumbai has remained in the frontline of providing energy security for India.
The topic selected by the organisers is very relevant for the present time. In last two years, I have tried to understand the geopolitics of oil and gas. With all candidness I can say that it is a complex subject. When I took over as Minister in May 2014, oil was hovering around $105 – $110 per barrel.  At that time ISIS started inching towards Baghdad and speculation was rife that oil may reach around $150 to $200 per barrel.  I spent some sleepless nights as this could have had serious implications for consumers and general economy in India. This forecast was proven wrong and you all know about the downward oil price spiral that started in second half of 2014 which took it down to $26 per barrel.
The topic of discussion of this Session – "The Geopolitics of New Energy" intends to capture the current and possible future dynamics wherein the ground is shifting and goal posts and players are changing.  Geopolitics is of immense importance due to its ingrained capacity to create sudden and disruptive pressure on the operations of global energy assets and energy supplies. Certainly, Energy lies at the heart of political, economic and environmental interests of not just for India but global community at whole. It is a complex but very important and interesting issue.
Questions which immediately come to mind are:
Whether the centre of gravity of the world of energy is shifting outside West Asia?
Are traditional hydrocarbon rich countries being overtaken in importance by new developed and developing countries dispersed globally?
Is "financialization" of the energy market playing a larger than ever role in oil prices?
Will oil and gas remain pre-eminent source of energy or will renewable pose a challenge to their historical supremacy?
These are some of the questions which may be on the top of our minds during this Session.
Friends, in my address I will try to capture some of the trends being observed both in geopolitics of energy as well as the financial and technology dimension of oil and gas.  I will then speak about the impact of these changes for India. I will also share on what India is doing in the face of this changing oil and gas canvas.
Let me make eight quick observations on recent developments in oil and gas:
 The centre of gravity of oil supply has shifted outside of the Middle-East. Countries like USA, Russia, Canada, Australia, countries from Africa, Latin America, Central Asia and few other countries have also emerged as major suppliers of oil and gas leading to a changed energy landscape.  There has been new level of energy cooperation between these countries with energy importing countries which were never seen before. Few examples are China-Turkmenistan gas pipelines, China-Russia multi-billion dollar gas pipeline, Indian investment in energy resources of Russia, Africa and Latin America; Indian plans to source LNG from U.S., Australia etc.
Major consumers and importers of oil and gas are now countries from Asia like China, India, Japan, and South Korea. This trend is likely to continue in future. It is certain that buyers will have more bargaining power vis-a-vis the suppliers than in the past.
The re-entry of Iran after lifting of sanctions has changed dynamics and decision making process within OPEC. The OPEC meetings in Doha in April and Vienna earlier this month reflect the role OPEC will play, or better said, will NOT play in the world of oil in the near future.  Loosening of OPEC's hold on the oil market, with more non-OPEC oil is a significant development.
New sources of oil and gas, and emergence of cost effective alternate forms of energy have forced many oil dependent economies to start thinking of a "post oil economy", as articulated by Saudi Arabia in its Vision-2030. There are arguments that there is a self-balancing mechanism of oil price that has developed in the market now. While continued low oil prices have slowed down the U.S. shale production and Canadian oil sands, they will rebound if the oil prices go up again, thereby having control on price rise for longer periods.
Technology has brought some good news. It has brought some certainty in this ever changing world of oil and gas. Advanced drilling, seismic and recovery technology, more accurate data analysis, efficient refining, better conservation techniques, modern pipelines and marketing infrastructure have emerged as key drivers enabling us to find and extract more oil and gas. Technology has also enabled fracking, which turned the world's largest energy consumer into a potential exporter. Technology has also helped create alternatives for fossil fuels. Prices of renewable energy, especially solar, have fallen sharply in the past five years. Electric vehicle technology has also improved in a big way. These technologies can end up reducing the demand for fossil fuels at a time when supply is going up.
Price volatility is not new to oil and gas markets. Oil prices have been on a roller coaster ride several times. Last 20 years have seen prices move between $16 and $125. I do not think that the current price volatility is entirely due to supply-demand reasons. Historically, oil has very rarely obeyed the supply demand logic. Prices have been guided by geo-political events, particularly wars in the Middle East as in 1967 and 1973, global financial down turns like 1997 Asian meltdown, and 2008 Global financial collapse, or the oligopolistic decisions of cartels. This time there seem to be host of reasons for softening of price such as the U.S. reaching near self sufficiency due to shale revolution, new oil producers coming to export market, lack of unanimity within OPEC, discovery of new fossil fuel sources and' financialisation' of the oil market.
Financial players with no interest in the physical oil have been able to dictate the price of oil. Hedge funds, insurance companies and High Net worth investors have become active in this sector adding more players and more uncertainty of oil prices. In the last few decades, a variety of instruments that permit speculation in oil have been introduced in form of futures, options, exchange traded funds and derivatives. There have even been calls for policy intervention to limit financial participation. Whether financial players bring improvement in market efficiency or bring in more volatility, is a moot question. I think distinguished financial market expert, Shri Neelkanth Mishra and the panel can ably debate the relative advantages and disadvantages of this.
Despite growing prospects and cost-effectiveness of renewable energy, oil and gas will remain a predominant source of energy. The world of petrochemical has emerged as an ever-expanding sector and is probably affecting daily life of human being more than what oil has done as transportation fuel. Moreover, thanks to massive surge in LNG and transnational gas pipelines role of natural gas in energy baskets of many countries are going to increase. Natural gas will also act as complement to renewable energy in many cases.
The point I am trying to make is that the energy market is changing fast. We are moving in a direction where there are growing numbers of sellers, the role of cartels is diminishing, technology is opening new pathways, and for a change, buyers have a role in price determination. The actors who have the capacity to alter the oil market are numerous now.  The good thing is that we are in a better situation where present price level looks like the New Normal.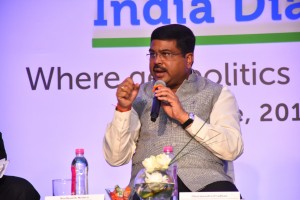 India is geo-politically located in a neighbourhood which is rich in resources but with several complexities. Middle East and Iran are our next door maritime neighbours but we have not been able to get advantage from it for several reasons. We are still struggling for having short-distance gas pipelines from Turkmenistan despite having mutual willingness. We remain worried about geopolitical developments in Middle East, Africa, Latin America and elsewhere. While tension between Sudan and South Sudan is affecting our investment, we left our operations in many countries like Syria, Libya and Egypt due to geopolitical disturbances there.
Low oil and gas prices have benefited countries like India by reducing the import bill significantly, and also reducing cost of power, fertiliser and other industrial outputs which are dependent on oil and gas.It has brought smiles to many faces in India.
The energy sector is an important pillar of our economic aspirations. As you are aware India imports about 80% of its oil and 37% of its gas requirement.  Last year alone India imported 202 MMT of crude.  Although the per capita energy consumption of India is about one-third of global average, we are already the world's 4th largest importer of oil and gas, and projections in energy outlooks of OPEC, IEA and BP forecast energy consumption of India to increase. According to many forecasts over 90% of growth in world energy consumption in the next 20 years will come from India and China alone.
Energy access is a fundamental requirement and the government under Prime Minister Shri Narendra Modi is committed to provide reliable and affordable energy to all segments of society. Access to energy is critical for sustaining our rapidly growing economy at over 7% per annum and to satisfy the ever growing needs and aspirations of the people. In last two years we have successfully targeted subsidy in LPG in terms of who will get it and by giving directly in the bank account of the consumer. We are now beginning to implement the same in Kerosene. LPG network is going to get a massive boost in coming three years with the PM Ujjwala scheme under which 50 million new BPL households will be connected with subsidised LPG at a discounted price. Petrol and diesel are deregulated products and private sector has started to reopen their retail network across India bringing more choice for consumers. We are expanding our refining capacity to meet our domestic demand as well as to become an international hub for refined products.
I am sure most of you are familiar about the Gujarat story where even villages and small business units are connected with piped natural gas. Gas forms 25% of the energy basket in Gujarat which is higher than international standard of 24%. We are serious to implement the same model across India. We are also in the process of expanding use of natural gas in transportation segment. A robust network of LNG terminals is being planned on the East Coast and few additional terminals on the West Coast. Our voluntary commitments in Paris during COP-21 also make it necessary to increase the volume of gas in our energy basket. There have been efforts to promote bio-fuels like ethanol and bio-diesel in a major way.
Hon'ble Prime Minister has set us a challenging target of reducing 10% of our oil and gas imports by 2022.  We are, therefore, working hard to boost domestic exploration and production by modernising our infrastructure, introducing policy reforms and ease of doing business for both public and private sectors.  India has recently launched 67 discovered small fields for which bidding will commence in mid July. These were lying un-monitored for years. The Government has also announced Hydrocarbon Exploration and Licensing Policy (HELP) with most progressive features in it.  Bids under this policy will be launched shortly.
To insulate India from the uncertainty of geopolitics and volatility we have diversified our imports of oil and gas from various sources. We source about 58% our oil requirement from the Middle-East and 20% each from Africa and Latin America. We are also diversifying our gas sourcing.We have reformed the crude procurement process of oil PSUs thereby saving huge amounts in import bill.
Acquisition of assets of hydrocarbon has also been a priority. Our portfolio includes assets in 25 countries.  Last month, ONGC Videsh acquired 15% stake in Vankor field in Russia. Our efforts at energy diplomacy are being spearheaded by Prime Minister himself. Prime Minister has visited almost all important oil and gas producing countries in past two years including Saudi Arabia, Russia, Iran, Qatar, UAE, Turkmenistan, Kazakhstan, USA, Mexico etc. He is scheduled to visit four African countries next month following the organization of a highly successful India- Africa Forum Summit in October last year.He played leading role in negotiations for asset acquisitions in Russia and LNG price revision with Qatar.I have myself made visits to countries like Saudi Arabia, Iran, Russia, Qatar, UAE, Turkmenistan, Nigeria, Mozambique, Colombia, Mexico, Vietnam etc. to shore up our energy security.  We are also engaging in pipelines such as TAPI which could supply us at least 40 MMSCMD of gas, once operational.
I think I have shared my thoughts and it is time to hear our other panelists and then have a discussion.
Thanks a lot and Jai hind.
Dharmendra Pradhan is Minister of State for Petroleum and Natural Gas.
This speech was delivered as the Power Keynote at The Gateway of India Dialogue 2016, held in Mumbai on the 13-14th of June 2016.
Watch the full Power Dialogue here.
You can read exclusive content from Gateway House: Indian Council on Global Relations, here.
For interview requests with the author, or for permission to republish, please contact outreach@gatewayhouse.in.
© Copyright 2016 Gateway House: Indian Council on Global Relations. All rights reserved. Any unauthorized copying or reproduction is strictly prohibited