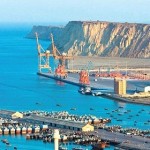 Geopolitical equations are changing in the northern Arabian Sea, and Pakistan's decades-long efforts in prospecting for oil in the region are at the heart of it[1]. Though oil finds have not yet materialised, Rawalpindi is keen on exploration and development, with the goal of lowering its indebtedness to Beijing. To that end, Pakistani Prime Minister Imran Khan is wooing another benefactor: Saudi Arabia. In October 2018, immediately upon assuming office, Imran Khan made Riyadh his first state visit. He invited Saudi investments in projects around Gwadar and the China Pakistan Economic Corridor[2], the first time a major Belt and Road Initiative (BRI) state has proactively invited a third party into BRI projects without Beijing's direct consent.
Pakistan has periodically offered its geography as bait to its many superpower clients. Since 2001, China has enjoyed a solitary presence in desolate Gwadar as a builder of transport infrastructure – road, rail and ports. But the international opprobrium it has incurred through its BRI-led debt trap strategy has now resulted in a pushback by Rawalpindi as well – in a sly manner.
Pakistan always had plans of its own for Gwadar and the entire Makran coast. Rawalpindi has been anticipating a large oil and gas discovery in its Exclusive Economic Zone for a long time.[3] In 2015, after more than a decade of deliberation with the United Nations Commission on Continental Shelf (UNCCS), Pakistan extended its own continental shelf from 200 to 350 nautical miles. This extension has enlarged Pakistan's maritime area from 240,000 sq km to 290,000 sq km,[4] encompassing large swathes of petroleum-rich submarine fan-delta of the Indus river.
Now that the Chinese have built the fundamental transport infrastructure, Pakistan is moving on to Gwadar 2.0 to transform it into a major petrochemical hub besides a logistical one. With Gwadar 2.0, Beijing has ended its solo leadership run in Gwadar and it will have to accommodate Rawalpindi's partners.
This became clear after the 17 February 2019 visit of Saudi Crown Prince Mohammad Bin Sultan to Pakistan, who announced that Saudi Aramco, the world's largest petroleum company, will build a massive, $8-billion petrochemical refinery at Gwadar.[5] [6] [7].
The refinery will be built upon the expectation of finding a large oil and gas reserve in the vicinity. Other petroleum supermajors are already at work in the area. On 11 January 2019, a month before the Saudi crown prince's arrival, the Italian company, Ente Nazionale Idrocarburi (ENI) and the American ExxonMobil, both petroleum supermajors, began prospecting in the Kekra-1 well of the Indus Block G offshore basin, located 300 km south of Karachi[8] [9]. The refinery built by Aramco is, therefore, expected to become a piece of crucial on-shore downstream infrastructure. This is significant as it sees the return of America's ExxonMobil to Pakistan after three decades, during which time the U.S.' Afghan war took precedence. And ExxonMobil won over the normally favoured Chinese company, China National Petroleum Corporation, which was to build LNG terminals at Gwadar, but the contract was cancelled in August 2018, making way for ExxonMobil to build them.[10]
To secure both these upcoming coastal and offshore assets, Rawalpindi has also begun focusing on naval modernisation, particularly strengthening its submarine and anti-submarine capabilities. The Pakistan Navy is acquiring the China-built Yuan-class (Type 039-A series) submarines,[11] presumably fitted with air-independent propulsion that will make them operable for longer durations underwater. Other acquisitions include the Jiangkai-class multi-role stealth frigates, built by China,[12] and the Ada-class corvettes built by Turkey,[13] both of which have anti-submarine warfare (ASW) capabilities. Turkey's stature as a provider of military technology is rising in Rawalpindi, considering also that it is modernising its Agosta-class submarines via the Turkish defence contractor, STM.[14]
Rawalpindi's geoeconomic ambitions have resulted in the shifting of geopolitical alliances. Its preference for Riyadh for building the petrochemical refinery has not gone down well with Beijing, which is now looking westwards to Iran, offering to repair and build petrochemical refineries at Abadan in the Persian Gulf and the Mazandaran province along the southern coast of the Caspian Sea.[15] [16]
The Saudi presence in Gwadar close to Pakistan's Iranian border is likely to create unease in Tehran, and therefore, does not bode well for the region's security. In geoeconomic terms, the prospects of a sizeable petroleum discovery along the Makran coast – something that Rawalpindi is banking upon to revive its weak, military-driven economy – has given it the confidence to play one patron against the other. New Delhi must assess these ambitions along with Pakistan's in-bred terror ad nauseum, and its widening domestic fault lines as it calibrates its regional threat perception matrix.
Chaitanya Giri is Fellow, Space and Ocean Studies, Gateway House.
This article was exclusively written for Gateway House: Indian Council on Global Relations. You can read more exclusive content here.
For interview requests with the author, or for permission to republish, please contact outreach@gatewayhouse.in
© Copyright 2019 Gateway House: Indian Council on Global Relations. All rights reserved. Any unauthorized copying or reproduction is strictly prohibited.
References
[1] Pakistan Association of Petroleum Geoscientists, <http://www.papg.org.pk/ehis.asp>
[2] Radio Pakistan, 'Saudi Arabia keen to invest in energy sector: Fawad', 2 October 2018, <http://www.radio.gov.pk/02-10-2018/saudi-arabia-shows-interest-in-investing-in-energy-sector-fawad>
[3] Pakistan Association of Petroleum Geoscientists, <http://www.papg.org.pk/ehis.asp>
[4] United Nations Convention on the Law of the Sea, Commission on the Limits of the Continental Shelf, 'Summary of Recommendations of the Commission on the Limits of the Continental Shelf in regard to the submission made by the Islamic Republic of Pakistan on 30 April 2009′,  <http://www.un.org/depts/los/clcs_new/submissions_files/pak29_09/2015_03_13_SC_PAK.pdf>
[5] Radio Pakistan, 'Saudi Arabia taking keen interest to invest in Gwadar: Asad' 9 November 2018, <http://www.radio.gov.pk/09-11-2018/govt-to-disclose-all-terms-on-imf-agreement-in-na-asad>
[6] Emerging Pakistan, 'Pakistan, Saudi Arabia to sign $15b Gwadar oil refinery deal in February', 7 January 2019, <https://blog.emergingpakistan.gov.pk/pakistan-saudi-arabia-to-sign-15b-gwadar-oil-refinery-deal-in-february/>
[7] House of Saudi, 'Saudi Royal Family agrees to bail out stricken Pakistan'  Saudi Royal Family website, 19 February 2019, <https://houseofsaud.com/saudi-royal-family-agrees-to-bail-out-stricken-pakistan/>
[8] ENI Press Release, 'ENI signs agreement for the acquisition of a new exploration block offshore Pakistan' 13 December 2012, <https://www.eni.com/en_IT/media/2012/12/eni-signs-agreement-for-the-acquisition-of-a-new-exploration-block-offshore-pakistan>
[9] The News, 'Govt pins hope on offshore Kekra-1 drilling for hydrocarbon jackpot'  16 January 2019, <https://www.thenews.com.pk/print/419397-govt-pins-hope-on-offshore-kekra-1-drilling-for-hydrocarbon-jackpot>
[10] Ibid
[11] Asian Military Review, 'Pakistan Navy modernizes submarine capabilities' 27 November 2018, <https://asianmilitaryreview.com/2018/11/pakistan-navy-modernises-submarine-capabilities/>
[12] Missile Threat – CSIS Missile Defense Project, 'Pakistan to procure Chinese missile defense frigates', 12 June 2018, <https://missilethreat.csis.org/pakistan-to-procure-two-more-chinese-guided-missile-frigates/>
[13] Jane's Defence Weekly, G. Dominguez, 'Update: Turkey's STM wins tender for Pakistani corvettes', 6 July 2018, <https://www.janes.com/article/81568/update-turkey-s-stm-wins-tender-for-pakistani-corvettes>
[14] STM, 'Pakistan's Submarines Entrusted to STM',<https://www.stm.com.tr/en/news/announcement/pakistans-submarines-entrusted-to-stm>
[15] The National Iranian Oil Engineering & Construction Company, 'Increase and establish Abadan Refinery capacity', <http://www.nioec.org/en/Pages/Plans%20and%20Projects/Ongoing%20Projects/RefinaryProjects/development-and-capacity-stabilization-of-Abadan-refinery%E2%80%93Phase-2.aspx>
[16]  Islamic Republic News Agency, 'China to construct oil refinery in Iran', 15 October 2018, <http://www.irna.ir/en/News/83066895>