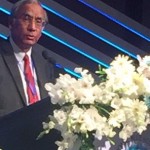 Opening Remarks by the Moderator, Ambassador Rajiv Bhatia, Distinguished Fellow, Gateway House on 23 November 2017 at the Second International Blue Economy Dialogue, 'Promoting Blue Economy: Making the best use of Opportunities from the Coasts, Seas and Oceans' in Dhaka, Bangladesh. Read more about the event here. 
It is a privilege to participate in this Blue Economy Dialogue. I warmly thank the Government of Bangladesh for the invitation, this well-crafted initiative, and generous hospitality.
It is a pleasure to serve as Moderator for this session with a theme which focuses on the utilisation – I am a little uncomfortable with the term 'exploitation' – of oceanic resources in a prudent, effective and sustainable manner.
The sea is undoubtedly the treasure trove of assets and benefits for humankind. As the world population continues to increase, its needs and demands are also on the rise. Land alone will not be able to afford us optimal satisfaction. Hence turning to the ocean is indispensable. Oceans' resources could be of crucial importance in ensuring food security, health security and energy security of our peoples in the decades to come.
Utilization of oceanic resources needs to be done, while keeping in mind the vital factor of sustainability. In fact, sustainability is so fundamental in any discussion on oceans that the national-level Task Force, established by India's premier industry chamber – FICCI, defined Blue Economy as "a wide range of economic activities pertaining to sustainable development of resources and assets in the oceans, related rivers, water bodies and coastal regions – in a manner that ensures equity, inclusion, innovation and modern technology." As Chairperson of this Task Force, may I suggest that our study entitled "Blue Economy: Vision 2025" deserves your attention.
We need to identify and prioritise what specific resources from the sea and seabed are available and also determine how we could profit from them in the short to medium term. The area of our attention need not be the whole vast expanse of oceans around the globe; it should rather be the Indian Ocean, particularly its specific segment, namely the Bay of Bengal whose waters wash the shores of Bangladesh, India, Myanmar, Thailand and, in a way, Sri Lanka.
For this discussion, we shall no doubt deploy the latest additions to our technological knowledge of the ocean's resources. We will perhaps try to identify the-state-of-the art technology that may be required for the purpose of reaching to and effecting utilisation of available treasures. We shall certainly need to be amply mindful of additional financing that will be required for new ventures. Where will it come from? We could also endeavour to come up with a plan of international cooperation among the states concerned.
In this context, I should highlight that our regional organisation, BIMSTEC, displaying sure signs of rejuvenation in recent years and driven by its vision of 'Bay of Bengal Community', has been seriously interested expanding cooperation in the theme that we shall explore now. From the Informal Retreat of its leaders, held in Goa in 16 October 2016, emerged an Outcome Document which stated:
We recognize the enormous potential that the development of the blue economy holds for our region, and agree to explore ways to deepen our cooperation in areas such as aquaculture (both inland and coastal), hydrography, seabed mineral exploration, coastal shipping, eco-tourism and renewable ocean energy with the objective of promoting holistic and sustainable development of our region.
We are very fortunate to have a panel of eminent experts from different parts of the world – Netherlands, UK, and India, besides the Secretary General of International Seabed Authority. They shall work in concert to share their expert knowledge on Current Practices of Seabed Mining; Prospects of Exploration and Exploitation of Marine Gas Hydrate from the Bay of Bengal; Coastal Protection and Land Reclamation; Marine Litter in Bay of Bengal; and Sustainable Economic Growth from the Marine Recourses: Possibilities of Exploration and Exploitation of Gas Hydrate from the Marine Areas of Bangladesh. Presumably you have already seen the bio-profiles of the experts.
I request each expert to address you for about 15 minutes. This should leave us with about half-an-hour for 'open discussion', as envisaged by the organizers of the conference.
May I now invite Mr. Michael W Lodge, Secretary General, ISA to take the floor.
Rajiv Bhatia is Distinguished Fellow, Foreign Policy Studies, Gateway House
This speech was delivered at the Second International Blue Economy Dialogue, 'Promoting Blue Economy: Making the best use of Opportunities from the Coasts, Seas and Oceans' in Dhaka, Bangladesh. Read more about the event here. 
You can read exclusive content from Gateway House: Indian Council on Global Relations, here.
For interview requests with the author, or for permission to republish, please contact outreach@gatewayhouse.in.
© Copyright 2017 Gateway House: Indian Council on Global Relations. All rights reserved. Any unauthorized copying or reproduction is strictly prohibited