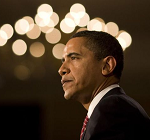 Barack Obama's victory on the night of November 6, which gave him a second term, was nothing short of a landslide. In his victory speech, President Obama said that "the best is yet to come" for the American people. Will this hold true for India-U.S. relations as well?
Obama got 303 electoral votes, when 270 were needed; yet the popular vote showed a deeply divided country with Obama getting 50% and Romney 48% of the votes. The division points to the major work ahead – at least in the initial phase, Obama will have to focus on the difficult tasks of reducing the national debt of $16 trillion, reviving the economy, spurring job growth and reforming the dilapidated systems of healthcare and education. These are the issues which nearly lost him the election.
Beyond domestic issues, in the international arena, equally critical unfinished tasks await Obama – the war in Afghanistan has to be closed by 2014, it is imperative to address the Iran and Syria issues and possibly revive the Israel-Palestine Peace Process; China's aggressive economic, political and security-related actions will have to be dealt with, and U.S. relations with Pakistan have to be rebuilt.
With these multiple national and global imperatives crowding his agenda, will President Obama have any time for India? Is "the best yet to come" even in terms of the U.S' relations with India? Other than references to outsourcing jobs to India, both American presidential candidates were silent about India during their election campaigns. This silence has done us no harm – it indicates that the U.S. does not see India as a problem.
A second term gives Obama the liberty and flexibility to rejuvenate the relationship with India, which has mostly been dormant or on the slow track since Obama visited India in 2010. At our end, discord over the Nuclear Liability Bill as well as other related agreements in the Lok Sabha was equally responsible for our inability to build on anticipated gains from the 2006 Civil Nuclear Cooperation Agreement.
The Obama administration is likely to be preoccupied with the domestic debt and budget issues for some time, and will try to avoid a gridlock with the Republicans. As such, the onus for reactivating the entire bilateral relationship will fall on India.
President Obama's policy to "pivot" U.S. military strengths to the Indo-Pacific region will continue in full force and bring India more critically into the regional matrix. We will have to decide where we wish to stand, given a rising China's aggressive stance on political, trade and security issues vis-a-vis India, and in the region.
The U.S. imperative to find a workable basis for relations with Pakistan for a successful exit strategy from Afghanistan by 2014 will favour Pakistan's long-held goal of "strategic depth" in Afghanistan. This should not, in the process, bypass our growing interests and commitment in Afghanistan. It should also not embolden Pakistan to disregard the imperative to bring the perpetrators of the Mumbai attacks to justice, or to provoke renewed terrorist attacks in India.
Similarly, Obama will have to work to ensure that Iran does not get a nuclear bomb; the pressure from Israel and the U.S. Jewish lobby will be relentless. While he may still prefer negotiation, Iranian intransigence could force Obama's hand. The impact on India will be significant and we will have to decide how far we can go, having already succumbed to U.S. pressure to reduce our oil imports from Iran. We need to lay down "red lines" such as the need for better access to Afghanistan and its resources through the proposed port in Chahbahar and working with Iran in the post-U.S. situation in the region.
The finalisation on November 6 of the Canada-India agreement to allow uranium export, a similar agreement with Australia, and for reactor technology with South Korea, imposes pressure on the U.S. Unless the U.S. moves fast, it could be dealt out of the lucrative Indian market.
Over the next four years, India-U.S. collaboration in education, science and technology, and agriculture will yield the most long-term benefits if we can pass enabling legislation like the Foreign Universities Bill. The decision to allow foreign direct investment into multi-brand retail will now bring U.S. mega brands like Wal-Mart and Kroger to a number of Indian states, boosting returns on agriculture.
The vexed matter of "outsourcing" became a campaign issue, with President Obama talking of moving jobs back from "Bangalore to Buffalo" and accusing Romney as being the great "outsourcer." While H1B visas have dropped this year, it remains moot whether U.S. industry will blindly follow the political masters. In a scenario of low job growth, Indian companies have also understood that their U.S. business will crucially hinge on their ability to show they are job creators in the U.S. too.
If the right moves are made, the next four years of the Obama administration could well help to consolidate the gains so far and move India-U.S. relations further. Then the best may indeed be still to come.
Ambassador Rajendra Abhyankar, Chairman, Kunzru Centre for Defence Studies and Research, Pune, is currently teaching at The School of Public and Environmental Affairs, Indiana University, Bloomington, U.S.   
This blog was exclusively written for Gateway House: Indian Council on Global Relations. You can read more exclusive content here.
For interview requests with the author, or for permission to republish, please contact outreach@gatewayhouse.in.
© Copyright 2012 Gateway House: Indian Council on Global Relations. All rights reserved. Any unauthorized copying or reproduction is strictly prohibited.