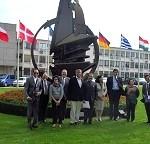 On September 22-23, as part of an Indian policymakers' delegation, I got a rare opportunity to visit the North Atlantic Treaty Organization (NATO) headquarters in Brussels, Belgium and the Allied Joint Force Command Headquarters in Brunssum, the Netherlands. Afghanistan and the NATO's impending drawdown from there was on our minds but the American and European diplomats, as well as military commanders briefed the delegation not only on Afghanistan but also on the current challenges faced by the NATO.
On Afghanistan, there were two distinct assessments emerging from Brussels and Brunssum. In Brussels, a pessimistic assessment was apparent, with officials stressing the importance of regional partnerships to ensure the country's stability. It was here that they wanted India to play an active role to ensure that Afghanistan doesn't slide into chaos. The Indian side repeatedly highlighted Pakistan's role in Afghan instability, which was received with some heads nodding but also some in disagreement.
This pessimistic assessment was in stark contrast to the optimistic opinion of the military commanders in Brunssum. In fact, Afghanistan popped up in the briefing only when the Indian side pressed them to give an assessment. The commanders maintained that Afghanistan was on track in security and political transition process, by saying that it was 'out of the headlines.' "It is supposed to be where we wanted it to be," a commander remarked.
Beyond Afghanistan however, there are bigger challenges for NATO as is evident from the recent developments in Ukraine and Crimea.
Many European members have trimmed their defence budgets as a result of their dwindling economic fortunes. With declining force sizes, these countries have scaled down their commitment to NATO. The U.S., which does the heavy lifting within NATO by contributing approximately 75% of its budget, is worried that the alliance might lose its combative edge. The U.S. officials at NATO told us that to overcome this, the U.S. has been urging other members like France and Germany to share the burden and rebalance it, by enhancing their defence spending. For instance, in the recently concluded NATO Summit in Wales, the UK on September 4-5, all NATO members pledged to spend at least 2% of their GDP on defence.
However, even an enhanced defence spending is unlikely to resolve the problem, as the political willingness to increase defence capabilities is completely absent in some European capitals. In fact, European officials expressed scepticism about the ability of some members to absorb an enhanced expenditure.
Another primary dilemma for NATO is determining its primary threat- who it is fighting against? Is it Russia or a non-state actor such as the Sunni militant group, the Islamic State (IS)? Increasingly, NATO is finding it difficult to reach a consensus on this issue. We sensed this tension during our briefings, and this frustration became more palpable because the military commanders in Brunssum had a clear definition of NATO's primary threat. In their view, Russia was the highest-ranking threat and the developments in Crimea and Ukraine in the past few months have fundamentally changed the European security outlook.
The origins of this indetermination go back to the 1990s when the U.S. scrambled to maintain NATO's relevance in the post-Cold War era. Basking in its 'unipolar moment', the U.S. expanded NATO's geographical reach by including new members and by engaging with out-of-region countries such as Australia, Japan, South Korea and Mongolia. This lead to a diversification in the scope of the commitments by NATO, and now as the Ukraine episode threatens NATO's core security interests, many Eastern European countries are questioning these 'extraneous' commitments. At the same time, there are other members, such as those from the Mediterranean region, which want NATO to focus on the terrorist threats posed by organisations such as the IS.
As the political leadership in Brussels finds it difficult to evolve a consensus due to the widening disagreements over a host of issues, NATO's consensus-based decision-making process has undergone a transformation. The meaning of 'consensus' has now changed from 'everybody agreeing and everybody contributing' to 'nobody objecting and not everybody contributing militarily'. The clearest expression of this compromised consensus model was NATO's 2011 air campaign in Libya where prominent members such as Germany, Spain, and Turkey refused military participation.
While NATO struggles to arrive at a consensus on primary threat, the organisation's military commanders are gearing up to host a joint multi-national training exercise in 2015 of the NATO Response Force, which seeks to rapidly establish NATO's ground presence in conflict situations-both conventional and non-conventional. As per NATO, these exercises are meant to build on the lessons learnt from the NATO-led International Security Assistance Force(ISAF) campaign in Afghanistan. However, the tenor of these exercises suggests that they are essentially geared towards meeting the conventional Russian threat.
Overall, the visit provided a good opportunity to assess NATO's functioning and the challenges that it faced.
On a side note, there is some bad news for sceptics who continue to doubt NATO's financial might, the organisation is building an even bigger headquarters, just across the road from the existing one.
Sameer Patil is Associate Fellow, National Security, Ethnic Conflict and Terrorism, at Gateway House.
This blog was exclusively written for Gateway House: Indian Council on Global Relations. You can read more exclusive content here.
For interview requests with the author, or for permission to republish, please contact outreach@gatewayhouse.in.
© Copyright 2014 Gateway House: Indian Council on Global Relations. All rights reserved. Any unauthorized copying or reproduction is strictly prohibited