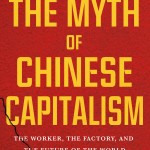 The Chinese Politburo carefully cultivates an image of China for the world to see.  It is the China of sleek skyscrapers with elaborate architecture, the high tech factories of Guangdong driving a massive export model, advances in 5G and Artificial Intelligence, the vision of an integrated electronic battlefield of the future, modern warships bristling with armaments and disciplined-looking sailors at attention on deck, affluent Chinese buying French designer silks, a benevolent country helping others develop, and an egalitarian population that is happy at work and at home.
In The Myth of Chinese Capitalism, author Dexter Roberts presents a radically different portrait: it could be called "the real China". Roberts, who was based in Beijing for 23 years as a reporter and bureau chief of Bloomberg Businessweek, skillfully addresses the remarkable, indeed miraculous economic ascent of China in recent decades, starting with the economic deregulation of Deng Xiaoping in the 1970s, China's entry into the World Trade Organization (WTO) in 2001, and continuing massive foreign direct investment into the country, which has approximated or exceeded $130 billion[1] per annum in recent years. Not honoring its WTO commitments, China set the stage for a trade war[2], while amassing several trillion dollars of reserves from its exports, with a business model built on the backs of mistreated workers.
Through his assessments of public policy as well as numerous personal vignettes of Chinese workers, farmers, industrialists, and officials, Roberts portrays the image of coastal elites achieving success at the expense of laborers, particularly migrant workers known as nongmingong, who can be relocated suddenly by Chinese authorities that want to clear out slums or shift human resources to various projects and factories. Currently, there seems to be limited focus in the media regarding the plight of Chinese migrants, although the hardships for Indian migrants following the late March, COVID-19 lockdown have received worldwide attention. [3]
Roberts explains that these migrants, who probably number in the hundreds of millions, are controlled by a hukou, a registration document that defines what benefits families may receive. The hukou has facilitated the movement of cheap labor that has endured poor working conditions, with little recourse. Further, Roberts argues that management of populations by the hukou has not only assured better quality schools and medical care, but also longer life expectancy for the Chinese elites in major cities. Indeed, the hukou is said to be the essence of China's robust manufacturing and export economy.
Roberts focuses on the use of land as a principal strategic issue in China: throughout the country's history, land ownership and its benefits have given rise to rebellions that took down Chinese empires. Ironically, China is the third largest country in the world, yet arable land is a scarce resource, representing less than 15% of the total. Accordingly to Roberts, one fifth of China's arable land is contaminated by industrial waste and heavy metals.[4]  Indeed, it is development of the interior of China that is critical to the country's long-term success. Quoting Mao Zedong's writing from 1927, Roberts suggests that the Chinese landless population could foment revolution, "…sweep(ing) all the imperialists, warlords, corrupt officials, local tyrants, and evil gentry into their graves."[5] One could infer that Zedong's warning applies today, and fearful of an uprising from the interior of the country, the Chinese leadership is engaged in population control that is incomprehensible to the West.
The future demographics for China are problematic.  Roberts points out that by 2050, one-third of the population will be elderly, versus 17% today. And because of the one-child policy implemented in the 1970s, the average fertility rate is 1.6, well below the accepted 2.1 so-called replacement rate.[6]The end of the one-child policy was announced in 2013.
Citing the French economist, Thomas Piketty[7] and others, Roberts suggests that China could be the most inegalitarian major society in the world in terms of the distribution of wealth, with an urban population fearful of sharing benefits and infrastructure with migrants. [8]
China's continuing economic ascent is by no means assured. Nor is its plan to shift resources from basic manufacturing to high tech, leveraging robotics in manufacturing – in view of an aging population and increasingly higher wages. Labor unrest can be expected to intensify with the introduction of more automation. And digital controls over the country's migrant population through facial recognition and DNA sequencing raise the specter of an even more authoritarian society.
The Myth of Chinese Capitalism was published in March of this year, before the full impact of COVID-19 could be assessed – and China's willful deception, false statements about its transmission, seeding of the world with unrestricted international flights, and persecution of the medical community that tried to tell the truth. The book is already an unflattering portrait of a country with an elite that has progressed on the backs of much of the population – through a so-called capitalist system that is really a myth, which denies human rights.
The book is well organized into various prisms, for example, the factory, the family, the land, and the future, to name some.  To write it, Roberts undertook a disciplined personal odyssey on local transportation, under difficult conditions, to visit numerous towns, villages, farms and factories in the interior of China.
The Myth of Chinese Capitalism adds much value to public discourse about China, and it should be recommended reading for U.S. policymakers, Congressional and military leaders, the Department of State, and government agencies. The many personal stories of Chinese whose paths have crossed with Roberts in his work and travels in China give the book a compassionate touch, with the authenticity of a hands-on China expert.
Frank Schell is a business strategy consultant and former senior vice president of the First National Bank of Chicago. He was a Lecturer at the Harris School of Public Policy, University of Chicago and is a contributor of opinion pieces to various journals.
This Book Review was exclusively written for Gateway House: Indian Council on Global Relations. You can read more exclusive content here.
For interview requests with the author, or for permission to republish, please contact outreach@gatewayhouse.in.
© Copyright 2020 Gateway House: Indian Council on Global Relations. All rights reserved. Any unauthorized copying or reproduction is strictly prohibited.
Reference
[1] 'China's 2019 foreign direct investment grew most in two years, but outbound investment fell 6 per cent', South Chine Morning Post, 21 January 2020
https://www.scmp.com/economy/china-economy/article/3046958/chinas-2019-foreign-direct-investment-58-cent-outbound
[2] Mai, Jun, 'Former top US trade negotiator Charlene Barshefsky says China deviated from its commitments, paving way for trade war', South China Morning Post, 1 January 2019,
https://www.scmp.com/news/china/diplomacy/article/2180216/former-top-us-trade-negotiator-charlene-barshefsky-says-china
[3] Pandey, Vikas, 'Coronavirus lockdown: The Indian migrants dying to get home', BBC, 20 May 2020,
https://www.bbc.com/news/world-asia-india-52672764
[4] Dexter Roberts, The Myth of Chinese Capitalism, (New York: St. Martin's Press 2020), 77.
[5] Ibid., 68.
[6] Ibid., 143.
[7] Ibid.,176.
[8] Ibid. 189.