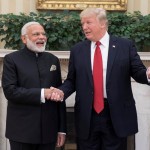 The success of the first summit meeting between President Donald Trump and Prime Minister Narendra Modi proves above all that the India-US strategic partnership is durable–and desirable–even in these times of fierce flux.
The two leaders reaffirmed in the strongest language their intention to continue building the relationship, adding to it as they went along. Three phone calls and a personal meeting resulted in a degree of familiarity that should serve them well into the future. They will meet again next month for the G-20 summit.
Trump called the security partnership with India "incredibly important" and Modi said the logic of bilateral relations was "incontrovertible".
Modi got an effusive welcome from Trump, a man who can be unkind to world leaders. He famously did not shake German Chancellor Angela Merkel's hand and had a heated exchange with the Australian prime minister over the phone over taking in refugees.
But for Modi, Trump had nothing but warm words after they spent 30 minutes talking one-on-one. The optics were good: the two leaders hugged each other in the White House Rose Garden even as they declined to take any questions from the press.
Both sides had kept expectations deliberately low presumably because nervousness about potential problems was high. Most of the commentary ahead of the visit was pessimistic, stemming from Trump's disruptive worldview, his difficult encounters with allies, and his tendency to upend established notions on international security, trade and just about anything that determines the conduct of countries.
But the joint statement issued at the end of the Trump-Modi talks checks all the right boxes, especially from India's point of view. It's forward leaning and contains within it seeds for further expansion of the strategic partnership. It is sharper on Pakistan and China and softer on contentious bilateral issues.
The very first salvo in the joint statement is aimed at China although the Asian giant is not specifically named. Even the use of the term "Indo-Pacific" instead of "Asia-Pacific" is a poke in Beijing's eye because the term assumes India and the United States as the two anchors on either side of the strategic space in which China exists. It is code for excluding China in the mind space.
Remarkably, Washington has endorsed India's stated position and criticism of China's Belt and Road Initiative (BRI) in the joint statement. This significant move comes as Trump expressed his disappointment with China's inability to help constrain North Korea's nuclear and ballistic missile programmes.
Trump's brief honeymoon with President Xi Jinping that followed the Mar-a-Lago summit seems to be over. It appears that Trump took less time to understand China than his predecessor Barack Obama who flirted with the idea of a G-2 condominium for far longer, sending shock waves in New Delhi.
Calling themselves "responsible" and "democratic stalwarts" in the Indo-Pacific Region, India and the U.S. reiterated the importance of respecting freedom of navigation, overflight and for a peaceful resolution of territorial and maritime disputes in accordance with international law.
But significantly, they also included India's specific criticisms of the BRI when they said that regional connectivity must be done through "transparent development of infrastructure and the use of responsible debt financing practices while ensuring respect for sovereignty and territorial integrity, the rule of law and the environment".
The reference to debt refinancing was a clear pointer towards Sri Lanka, which is now caught in a debt trap, thanks to Beijing's aggressive marketing and acquisitions in the island nation. China figured anonymously even on the section on trade, where India and the U.S. agreed to strengthen cooperation "to address excess capacity in industrial sectors" – a reference to Chinese steel flooding the market.
If Washington accommodated India's concerns about Chinese expansionism, New Delhi gave a nod on North Korea, America's top security headache. The joint statement said India and the U.S. will work together to counter North Korea's weapons of mass destruction programmes, "including by holding accountable all parties that support these programmes"–a clear reference again to Pakistan and China, both of which have passed on crucial technology to the regime over the years.
On Pakistan, the U.S. administration similarly adopted more specific language than in the past–a natural progression because of Trump's strong stand on terrorism and all those who are complicit in promoting it. "The leaders called on Pakistan to ensure that its territory is not used to launch terrorist attacks on other countries," the joint statement said, implicating the country for harbouring terrorists and a supportive ecosystem.
Under the Obama administration, the State Department was unwilling to name Pakistan in stark terms except to call upon Islamabad to bring the perpetrators of the Mumbai attacks to justice. While Modi was preparing to meet Trump on Monday, the State Department named Syed Salahuddin, head of Hizb-ul-Mujahideen, as a designated global terrorist. The signal to Pakistan was clear.
And Trump, who does not mince words, said both India and the U.S. were "determined to destroy terrorist organisations and the radical ideology that drives them" as Modi stood next to him in the Rose Garden.
The two sides also announced a new consultation mechanism on listing domestic and international terrorists. If this takes off, it will be progress. In the past, various U.S. administrations have been less than willing to properly cooperate with India on Pakistan because of their own equities in Islamabad and Rawalpindi.
The Trump administration is currently engaged in crafting its policy on Afghanistan and Pakistan and there are indications that this will be markedly different from the Obama administration's tendency to blow hot—and cold. It has already hinted that it will look at the region more broadly, and include India's concerns and interests while deciding on the future course of action.
It wants to deepen defence cooperation with India, which was another solid takeaway from the meeting. In its last phase, the Obama administration had declared India a "major defence partner" to allow easier transfer of technology. Trump has reaffirmed the designation and promised to work together on "advance defence equipment and technology at a level commensurate with that of the closest allies and partners of the United States". In this context, his administration has agreed to sell 22 Guardian drones, which can multiply the Indian Navy's capabilities manifold.
Also noteworthy was continued U.S. support for India's membership in various export control regimes and for a permanent membership in the UN Security Council.
On the trade and economic front, the promises were less concrete, but India agreed to "balancing" the trade relationship, a reference to the U.S. trade deficit with India estimated at $30 billion. Complaints about inadequate market access for American goods have been growing and if things go south for some reason, this could be a serious source of trouble.
All in all, it was a solid start under the new administration, and if the centre holds, the momentum ought to continue.
Seema Sirohi is a Washington-based analyst and a frequent contributor to Gateway House: Indian Council on Global Relations. Seema is also on Twitter, and her handle is @seemasirohi
This article was exclusively written for Gateway House: Indian Council on Global Relations. You can read more exclusive content here.
For interview requests with the author, or for permission to republish, please contact outreach@gatewayhouse.in.
© Copyright 2017 Gateway House: Indian Council on Global Relations. All rights reserved. Any unauthorized copying or reproduction is strictly prohibited.