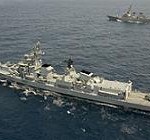 India has a long coastline and an old maritime tradition. It is also a signatory to many international conventions and agreements related to maritime activities such as the United Nations Convention on the laws of the sea (UNCLOS), also called the Law of the Sea Convention or the Law of the Sea Treaty. UNCLOS defines the rights and responsibilities of nations in their use of the world's oceans, establishing guide lines for businesses, the environment, and the management of marine natural resources.
Institutions and agreements such as the International Maritime Organization, the International Sea Bed Treaty, the International Whaling Commission — despite the direct non operational role of UN — have enabled understanding and cooperation among the 158 signatory countries who have realized the significance of  maintaining order, discipline and rules with synergy that would benefit humanity.
The same philosophy and principle should obtain in India that is essentially a seafaring nation with complete and total dependency on the seas for its survival as a sovereign nation state.
Maritime Governance Authority Set up

Admiral Venkat Bharatan is a retired Admiral of the Indian Navy. This is the second part of his paper. In the first part, the Admiral discusses India's crucial maritime stakeholders and her unpreparedness to respond to any sea-borne calamity.To read the first part, click here. 
This article was exclusively written for Gateway House: Indian Council on Global Relations. You can read more exclusive content here.
For interview requests with the author, or for permission to republish, please contact outreach@gatewayhouse.in.
© Copyright 2010 Gateway House: Indian Council on Global Relations. All rights reserved. Any unauthorized copying or reproduction is strictly prohibited.