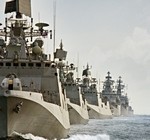 The sea-borne attack on Mumbai on November 26, 2008, called 26/11 in the popular imagination, has starkly highlighted the reality of a disorganized Maritime India. Horrific though it was, it could have been worse if the attack had instead been on Butcher Island in the inner reaches of Mumbai harbour.
The bigger and unspoken scare is that such an attack could have taken place anywhere­­­­­­­­­­­­­­­­ in the Indian geography – in any major port, the Andaman & Nicobar group of islands, off shore oil platforms.
The same goes for a major environmental disaster or a natural calamity – notwithstanding the Indian navy's increased capacity and yeoman service in the last tsunami in December 2006.
In both the short and long term, we are uprepared for any contingency that may occur in our waters.
A year and half after the attack, we are still where we were then. The absence of a strategic response – alongside a dynamic proactive maritime policy through an act of Parliament – is perplexing and unacceptable.
The 'system' seems satisfied to just react on the ground and invest large sums of monies in resources and equipment.  The aspects of Command, Control and Coordination do not appear in any debate or deliberation.  Parliament and the state assemblies are strangely silent. Maritime entities continue to meander in their own wake.
It is business as usual, reinforced by the myth in Indian psyche that we can muddle through any crisis somehow by 'adjustment.'
Ocean didactics and India

The Indian Ocean is the third largest water body in the world and borders nearly 36 countries, covering around 73.6 million sq km. It is indeed the ocean of the 21st century.  India sits astride this vast waterway, through which most global maritime trade passes, including critically strategic energy sea lanes from the west to the east.
India is completely dependent on the seas for its existence. It reliance cuts across the spectrum of sovereignty, security and commerce (ranging from the critical to the ordinary) including oil, gas, steel, cement and finished goods. If the port of Mumbai or Chennai were to close for more than 15 days, the Indian economy would be in turmoil. Man made or natural calamities at sea  can cripple or simply slow us down.
Our critical vulnerabilities are ports, harbours and coastal states; oil rigs and platforms; the long and porous coastline; the sea lanes; exclusive economic zones, and estuaries.
The key maritime stakeholders are:
The Indian Navy
The Coast guard
ONGC  (Oil and Natural Gas Commission)
Support system of vessels/tugs for the ONGC
National and international shipping companies with varieties of tankers and cargo carriers of different tonnages
Port authorities of all coastal states
Customs and excise department
State Marine Police agencies
Ship chandlers, stevedores, ship surveyors, marine insurance companies
Fishermen unions representing 3 million fishermen who live in our state coastal districts.
Maritime governance is an imperative. There is critical need for
1. Institutionalised  arrangements for coordination between all stakeholders.
2. Effective management information systems for timely, viable, maritime domain awareness.
3. Seamless integration of our land-based security infrastructure and maritime security construct. Policing, protection of our sea lanes, off-shore assets, ports and waterways are all vital areas. Counter-terrorism, anti-smuggling & narcotics traffic measures form part of this.
4. Engaging with international entities like foreign navies, international maritime organisations and friendly nation-states need informed decision-making processes.
5. Maximizing the inherent strengths of several stakeholders. Monitoring and managing ocean environmental disasters, reviews of policies for national readiness for contingencies and their planning and coordination, form part of this, as do the conduct of naval exercises, including search and rescue operations.
The only way ahead
Thankfully, India has overcome its sense of karmic reconciliation and resignation. We are now an exemplary secular democracy with a growing recognition of the value we bring to the international table. We are also impacted by the vortices of international instabilities, societal shifts, internal and external upheavals. The tide of rising expectations, inter and intra South Asian tensions, the sheer demographics of our population compound the complexities. Despite this, there is progress within this resolute and determined democracy.
Our politico-bureaucratic military combine is coming of age. It is becoming truly Indian through a process of osmosis, learning from both within and from the outside.  Every decade has registered progress in governance in spite of the ever-present corruption and inefficiency.
We are in the next phase of our democracy, where we will graudate from survival to sustainment. India is becoming a global player and stakeholder – a position that will only be sustained by setting up holistic systems that strengthen nation-management.
The Indian navy has long since advocated the concept of a National Maritime Commission. These recommendations lie somewhere in the maze of our government system. These can be retrieved and debated. Maritime governance requires organization and capabilities and a system that reports into the national chain of command. International lessons can be learnt. If this is pursued, India can then sail ahead at full steam.
The author is a retired Admiral of the Indian Navy. This is the concept part of his paper. In the next part, the dynamics of Maritime  Governance,  covering possible command and control structures and proposals for optimal functioning would be included, factoring the changes already being made.  To read the second part, click here. 
This article was exclusively written for Gateway House: Indian Council on Global Relations. You can read more exclusive content here.
For interview requests with the author, or for permission to republish, please contact outreach@gatewayhouse.in.
© Copyright 2010 Gateway House: Indian Council on Global Relations. All rights reserved. Any unauthorized copying or reproduction is strictly prohibited.