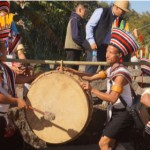 In the summer of 1944, in the last phase of the Second World War, Japanese soldiers reached India's north eastern borders, their aim being to defeat the British Empire. But they met their own Waterloo at the much written about Battles of Imphal and Kohima.
Seventy-five years after the Second World War, a different era prevails. India and Japan are very close strategic partners; Japanese diplomats, development administrators, Buddhist pilgrims and language teachers are contributing to the economic development of India's North East and growth of people-to-people linkages between India and Japan. The two countries are committed to concretising the concept of a 'Free, Open, and Prosperous Indo-Pacific' by deepening convergence between the Modi government's Act East Policy and the Abe government's 'Free and Open Indo-Pacific Strategy'.
Japanese assistance is vital for the acceleration of specified aspects of development of the landlocked North Eastern states[1] and  infrastructural connectivity within the region and with its two immediate neighbours, Bangladesh and Myanmar. This, in turn, will help strengthen India's linkages with ASEAN: Delhi and Tokyo both acknowledge the 10-state grouping's centrality in the Indo-Pacific.
According to Japanese sources, two notable features about the North East are: firstly, the percentage of people below the poverty line in the region is 28.5% which is considerably higher than the all-India figure of 21.9%. Secondly, total road surfaced in the region is 33.7% as compared to the all-India figure of 69%. This indicates the vast scope for improvement in the sectors considered as priority areas by the Japanese government.[2]
The Act East Forum
Japan's involvement in the North East, which began in the time of the UPA government (2004-2014), with Overseas Development Assistance (ODA) in 2010, became more substantive – and a part of policy – in the Modi government's time. In April 2017, the Japan International Cooperation Agency (JICA) signed an agreement with New Delhi to provide over 67 billion Yen ($610 million) for Phase I of the North East Road Network Connectivity Improvement Project, which will focus on important projects in Meghalaya and Mizoram. [3]
The same year, in September, Prime Minister Modi and Japanese Prime Minister Shinzo Abe established the Act East Forum to identify specific projects for "economic modernisation"[4] of India's North Eastern region. Areas of immediate interest to the Forum are connectivity, developmental infrastructure, industrial linkages, and people-to-people contacts through tourism, culture, and sports-related activities.
The Act East Forum decided to expedite the implementation of highways and roads in Meghalaya and Mizoram, a biodiversity conservation and forest management project in Sikkim, and a forest conservation livelihood project in Nagaland. In addition, it took up several new projects such as the Dhubri-Phulbari bridge project, said to be the longest river bridge in India, and sustained forest management projects in Tripura and Meghalaya. Other sectors receiving priority are: (1) skill and vocational initiatives, including knowledge of the Japanese language for caregivers in the North East who are bound for Japan for further training, and (2) disaster management.[5]
The Act East Forum's innovative initiatives form part of a definite shift in policy under the Modi government – the shift from Look East to Act East.[6] The present government is giving far more importance to the region to the east of India, to the ASEAN, in particular, laying emphasis more on action and implementation than policy-making alone. Japan's heightened engagement in the North East is also important considering India has not invited other powers to play a significant role in the region.
Secondly, this example of cooperation between India and Japan comes in direct response to China's increasing focus on connectivity through the Belt and Road Initiative (BRI). In terms of area coverage though, Japan has excluded Arunachal Pradesh from its purview because of China's insistence about it being a disputed area.
Even prior to the Act East Forum's formation, Japan has focused on connectivity  "and other economic infrastructure… skill development, (and) community empowerment", as Kenji Hiramatsu, Japanese ambassador to India, said in a statement.[7] An important facet of Japanese cooperation is collaboration with local NGOs through its grant aid for the grassroots projects scheme to build health clinics and vocational centres. Currently, in June 2019,  Japan decided to invest a sum  of  205.784 billion Yen ($1.8 billion) on new development projects in different parts of the North East.[8]
Development apart, soft power is being increasingly deployed to coopt the youth and other segments of communities in building the bridges of friendship. Japanese tourists are drawn to the North East also for its natural attractions, Buddhist sites and tangible evocations of the Second World War. Lately, the growing of cherry blossom, the flower favoured by the Japanese, has been introduced in Meghalaya in the hope that it will serve as "a charming catalyst to enhance people-to-people and cultural linkages between Japan and the North East."[9]
This collaboration, begun two years ago, with political commitment backing it, optimises the advantages of marrying India's demographic dividend to Japan's singular assets, namely, capital, technology and excellent management practices. Japanese inputs will take some time to fructify and increased investment of resources and commitment will be essential to make a difference in the medium term. Japan's historical fascination with the North East, besides the Buddhist affinities that bind it to this part of India, are likely to impart the desired momentum to this enterprise.
Rajiv Bhatia is Distinguished Fellow, Gateway House and a former ambassador to Myanmar. He comments regularly on Indo-Pacific affairs.
This article was exclusively written for Gateway House: Indian Council on Global Relations. You can read more exclusive content here.
For interview requests with the author, or for permission to republish, please contact outreach@gatewayhouse.in.
© Copyright 2019 Gateway House: Indian Council on Global Relations. All rights reserved. Any unauthorized copying or reproduction is strictly prohibited.
References
[1] Please see para 5 of India-Japan Vision Statement. The seven states are: Assam, Mizoram, Manipur, Nagaland, Arunachal Pradesh, Tripura and Meghalaya.
[2] Sakamoto, Takema, 'India-Japan Partnership for Economic Development in the Northeast, 20 March 2018, '<https://www.jica.go.jp/india/english/office/others/c8h0vm00009ylo4c-att/presentations_18.pdf>
[3] 'JICA's Cooperation toward the North Eastern Region is Actively in Progress', Japan International Cooperation Agency, 7 August 2017, <https://www.jica.go.jp/india/english/office/topics/press170807.html >
[4] 'Launch of India-Japan Act East Forum', Ministry of External Affairs, Government of India, 5 December 2017, <https://www.mea.gov.in/press-releases.htm?dtl/29154/Launch_of_IndiaJapan_Act_East_Forum>
[5] 'India-Japan Fact Sheets: India-Japan Development Cooperation in the Indo-Pacific, including Africa', PMIndia, 29 October 2018, <https://www.pmindia.gov.in/en/news_updates/india-japan-fact-sheets-india-japan-development-cooperation-in-the-indo-pacific-including-africa/>
[6] Bhatia, Rajiv, 'India's Act East Policy: Gains and Prospects', Gateway House: Indian Council on Global Relations, 8 April 2019,  <https://www.gatewayhouse.in/indias-act-east-policy/>
[7] Ambassador Hiramatsu, 'India, Japan and North East', speech delivered at Asian Confluence Center, 7 May 2018, <https://www.in.emb-japan.go.jp/files/000361834.pdf>
[8] 'Japan to invest Rs 13,000 cr in Northeast ', Press Information Bureau Government of India, 12 June 2019, <http://pib.gov.in/newsite/PrintRelease.aspx?relid=190376>
[9] Ambassador Hiramatsu, 2018