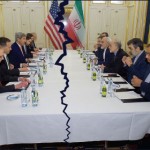 On Tuesday, May 8, U.S. President Donald Trump fulfilled an election promise that will end up costing India billions of dollars.
Trump 'tore up' the Iran nuclear deal, also known as the Joint Comprehensive Plan of Action (JCPOA). In the JCPOA, which was concluded in July 2015 between Iran and six global powers (U.S., China, Russia, France, UK and Germany), Iran agreed to restrict its nuclear programme in return for relief from crippling economic sanctions.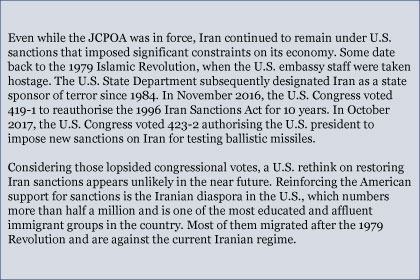 What has the JCPOA done?
Iran has massive reserves of oil and natural gas, but produces much below its potential because sanctions have kept away potential investors and customers. With JCPOA in force, Iran could freely export its petroleum and increase its oil production by 1.1 million barrels/day from the 2014 level, to 3.8 million barrels per day in early 2018. This was one of the factors responsible for bringing down the price of oil from over $100/barrel in 2014 to below $50/barrel in the subsequent years. This was an enormous relief for India, which imports 1.4 billion barrels of oil annually.
What the U.S. withdrawal means?
Trump's decision will bring petroleum-related transactions with the National Iranian Oil Company (NIOC) and financial transactions with the Central Bank of Iran under U.S. sanctions in 180 days (by November). This once again makes it tougher for buyers such as India to pay for Iranian crude oil – as happened in the past (2010-2015). Iran may be forced to cut down its oil production – as it had to do pre-2015, hurting global oil supply. In an oil market with increasingly tight supply, this is sure to push up prices. The Brent price, a widely used benchmark, crossed $77/barrel on May 10 – up by more than 50% in one year.
How will India be affected?
The increase in oil prices will hurt India considerably. During 2016-17, India imported oil at $47.6/barrel. At current prices, India will have to spend at least $70/barrel — an extra $30 billion headed out of India annually. It will damage the country's s trade balance, and may force the government to bring back subsidies on petroleum products, such as diesel and petrol, as happened from 2004-14. This can throw India's fiscal and trade deficit out of control.
The reimposition of sanctions on Iran is one of the factors pushing up prices and contributing to this unhappy situation. For India, this is the perfect storm. Low global oil prices of the past few years cut investment in developing new oil fields, reducing oil supply. Simultaneously, poor economic policies have pushed major oil exporter Venezuela to the brink, with oil production down by 40%. Adding Iran sanctions to this mix compounds the problem.
India is developing the Chabahar port in Iran to improve connectivity with Afghanistan and Central Asia. With renewed sanctions on financial transactions with Iran, the Chabahar port effort will slow down and impact Afghanistan's stability. Chabahar port is also the hub for the International North South Corridor (INSTC) that India wants to develop for better connectivity with Central Asia and Russia and as a counter to China's Belt and Road Initiative. With Iran under sanctions, INSTC too will be affected.
What can India do?
India cannot walk away from its commitments to an important regional partner on account of U.S. sanctions. This is a re-run of U.S. sanctions on Russia; and a blow to India which relies on Russia for high tech defence hardware and technology.
How can India safeguard its own interests?
In the past, India bypassed the sanctions on Iran partly by moving the oil trade to Indian Rupees. This trade was handled by the government-owned UCO Bank. which has no overseas exposure, and was less vulnerable to U.S. sanctions. Money owed to Iran was held in a Rupee account with UCO Bank, and used by Iran to purchase goods from India. New Delhi can revive this arrangement.
India also must show its resolve by moving ahead with proposed investments in Iran. Iran has the world's largest reserves of natural gas, which cannot reach energy hungry markets such as India because of sanctions and adverse geography. One way to use this natural gas is to convert it into fertiliser, which can be transported easily. India's state-owned Rashtriya Chemicals and Fertilizers (RCF) had proposed earlier to set up a fertiliser plant in Iran. This project can help Iran find markets for its gas and India to address its need for food security. It also must be expedited.
Amit Bhandari is Fellow, Energy and Environment Studies, Gateway House.
Kunal Kulkarni is Senior Researcher at Gateway House.
This blog was exclusively written for Gateway House: Indian Council on Global Relations. You can read more exclusive features here.
For interview requests with the author, or for permission to republish, please contact outreach@gatewayhouse.in or 022 22023371.
© Copyright 2018 Gateway House: Indian Council on Global Relations. All rights reserved. Any unauthorized copying or reproduction is strictly prohibited.