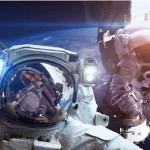 Russia has agreed to assist India with the Gaganyaan, its first human spaceflight programme, by training vyomanauts (Indian astronauts) in preparing for this prestigious debut launch in 2021-2022. The agreement transpired through a series of high-level meetings: it began in 2018 with the one between the two space agencies, the Indian Space Research Organisation (ISRO) and ROSCOSMOS; between National Security Adviser Ajit Doval and Dmitry Rogozin, Director  of ROSCOSMOS and Founder of the Russian Foundation for Advanced Research Projects in the Defense Industry (DARPA) in July and August 2019; and now, this week, between Prime Minister Narendra Modi, who is on a trip to Vladivostok,  and Russian president Vladimir Putin.
Since Gaganyaan is its first human spaceflight attempt, India has sought assistance from its strategic partners, Russia and France, which have decades of experience behind them. Russia has expertise in training space crew for survival in space and making extravehicular forays and France in space medicine and biology: the one in preparedness, the other in maintaining well-being.
Both countries have important roles to play in different aspects of the Gaganyaan programme and there is a history to their being chosen as strategic partners.   Independently of India, France has been Russia's long-standing Western partner in space research, including human spaceflight. The Russian Interkosmos human spaceflight programme (1978-1991) through which the Russians trained two vyomanauts, Ravish Malhotra and Rakesh Sharma, also transported and trained numerous spationauts (European astronauts) for SALYUT, the first space station programme, undertaken by the Soviet Union, in the 1970s and 1980s, and for MIR, the Soviet, and later Russian, space station, which too operated in low orbit between 1986 and 2001. The first French female and male spationaut (to be trained by the Russians) were Claudie Haigneré and Jean Loup Chretian respectively.
The French contribution, in turn, to most MIR- and SALYUT-bound missions in those decades was through experiments in space physiology, space medicine, neuroscience, and fluid physics. Today, the French-Russian partnership contributes important space medicine payloads, such as CardioMed, which monitors the cardiovascular efficiency of crew members on the International Space Station, established in 1998 in low-earth orbit.
France continues to excel independently in space medicine technologies: the recent breakthrough was in the wireless wearable health monitoring devices for space crew. The French will therefore help in the upkeep of the vyomanauts' health through a collaboration between the Toulouse-based Medes Space Clinic and the Indian Air Force's (IAF) Institute of Aerospace Medicine, in Bangalore, India. France and Russia as partners on Gaganyaan is befitting also because the IAF predominantly uses French and Russian aircraft, which have led to greater interactions between the three countries' air forces and aerospace companies. Vyomanauts will be chosen from a pool of IAF pilots, who will then undergo training at the Moscow-based Gagarin Cosmonaut Training Center.
Russia and France will not find it difficult to work on Gaganyaan also because all three partners have worked out the specifics of effective bilateral defence and space synergies.
With such robust Russian and French participation, Gaganyaan has already become India's multilateral megaproject – even prior to its launch. While nurturing friendly relations, India will also have to methodically invest in indigenisation – not only for legitimate reverse engineering of existing technologies but also inventing sophisticated   human spaceflight technologies. Only through innovation will India be able to keep pace with other powers and forge new strategic relations with friendly countries the way it has done with France and Russia.
Chaitanya Giri is Fellow, Space and Ocean Studies, Gateway House.
This blog was exclusively written for Gateway House: Indian Council on Global Relations. You can read more exclusive content here.
For interview requests with the author, or for permission to republish, please contact outreach@gatewayhouse.in
© Copyright 2019 Gateway House: Indian Council on Global Relations. All rights reserved. Any unauthorized copying or reproduction is strictly prohibited.