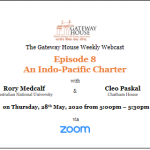 The discussion addressed the possibility of an Indo-Pacific Charter emerging along the lines of the Atlantic Charter, and also discussed the ways in which powers such as India and Australia can contribute to the security and stability of the region.
In Webcast, which was recorded earlier this week (May 28), the speakers make four main points:
1: In the Indo-Pacific COVID-19 has accelerated the need for re-balancing of regional strategies by creating a network of multi-polar partnerships that can dilute China's economic and military presence.
2: To build consensus for this network, the region needs to define a 'common minimum framework' that can help bind countries to act on an inclusive and regionally beneficial, economic and strategic vision.
3: Partnering with China in framing this Charter will encourage inclusiveness and will also help evaluate China's resolve towards an inclusive approach for engagement in the Indo-Pacific.
This video was recorded on Zoom during the seventh episode of the Gateway House Webcast which took place on 28 May 2020.