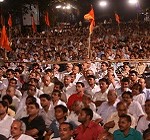 Across Madhya Pradesh and Rajasthan, across Chhattisgarh and Delhi, the winds of change are inescapable.
Evidence is plentiful: first, whether the Bharatiya Janata Party wins or not, there seems to be a growing constituency in India which, prima facie, wants a return to the days of high economic growth.
Second, prosperity in the country also seems to be increasing. Despite the dismal 4.5% GDP growth, a central and state fiscal deficit estimated at 10%, corruption and lack of new jobs, the combined attention of various political parties and civil society on providing basic amenities to rural India, has had an impact.
This is also the result of combined efforts put in by both the centre and the states to push through various entitlement programmes, increase procurement prices and provide a big push to a large swathe of social sector programmes.
Hence, in Madhya Pradesh and Rajasthan, food, clothing, education, a pucca home, power, water and now even roads are taken for granted.
It is time now for India to move up a gear in speed. Two policies will create the needed change: one, the creation of formal jobs – so desperately desired even by women – which will give citizens dignity and lower dependence on government largesse, patronage and the resultant corruption. The push to the economy from a youthful generation eager to work and prosper will lift all boats.
The second is sanitation, which must be any new government's focus. While new roads are being built, the drains on the side of them are not. Filthy sewage flows through them, inevitably clogged by discarded plastic packets – detritus that is so ubiquitous in India that even the Himalayas have not been spared. Toilets in homes are not yet the norm.
Seminal and new research conducted by Dean Spears of Princeton University – now at Delhi University – shows that in terms of weight to height ratios, Indians come at the global bottom. Compared to children in Africa, first-born Indian children are found to be up to 0.7 cm shorter.
The answer is nutrition, of course – and it's nothing that the Food Security Bill will solve. It's sanitation that makes the difference, explains economist Surjit Bhalla. Good sanitation is the sum of drainage plus toilets, prevents diarrhoea and disease that comes from open defecation and open sewage, ensuring that nutrients stay in the body and are not washed away.
It's a natural sell to Indian mothers – who wouldn't agitate for decent drainage through urban planning, to ensure her son adds inches to his height?
These are some of the powerful forces now in play in the election-bound states – and the 2014 elections.
At rallies, politicians across the spectrum – from Narendra Modi to Ashok Gelhot, from the Scindias to Rahul Gandhi – are all now speaking a different language. Caste and its management are still dominant, but the discourse on development is rising in importance. Even Rahul Gandhi, whose speeches so far are loaded with images and representations of a 'garib' India, began his speech in Pushkar on November 25, about the wonders that the Delhi-Mumbai Industrial Corridor, an India-Japan industrial collaboration, has wrought for Rajasthan, and of the many other benefits that the project is yet to bring. Modi talks of tourism as a sustainable service industry for everyone, including for tea boys to whom he is partial.
In all of this, corporate India has taken a back seat in this discourse, too afraid to express an opinion or fight a system that it feels is vindictive.
But it should worry for at least two reasons: one, Indians are preferring foreign brands, even if they happen to be manufactured by an Indian partner. In Rajasthan, farmers prefer to use Massey Ferguson tractors – manufactured through a joint venture with Chennai-based Tractors and Farm Equipment Ltd – over built-at-home Indian brands like Mahindra, Eicher or Sonalika. The Massey, they say, is sturdy and lasts between 20-25 years with a little bit of retuning and refitting. In contrast, Indian tractors last about eight years. In the farmlands of Dausa, a farmer explains their needs lyrically: 'Ghee kha to desi, tractor chalao to Massey.' Translated roughly, that means: "Eat local butter, but drive a Massey tractor."
The second reason is local innovation. The celebrated fusion vehicle 'jugaad' is a farmer's implement as well as a mode of transport in north India – a water pump that runs on diesel, which is attached to a cart for transport, tills fields during the day, and when the engine is detached it once again becomes a water pump at night. It's more mongrel than hybrid, but is a merry and useful creature. It was created in Punjab and is made locally in various hubs in different states. In Rajasthan, it's made in Hanumangarh, near Dausa. Rajasthan has 50,000 jugaads – 3,000 alone in Dausa.
Between jugaad and Massey, corporate India can find itself bypassed in this other emerging India – the one that will add inches to its height in a generation.
Manjeet Kripalani is the Co-founder and Executive Director of Gateway House: Indian Council on Global Relations.
This blog was exclusively written for Gateway House: Indian Council on Global Relations. You can read more exclusive content here.
For interview requests with the author, or for permission to republish, please contact outreach@gatewayhouse.in.
© Copyright 2013 Gateway House: Indian Council on Global Relations. All rights reserved. Any unauthorized copying or reproduction is strictly prohibited