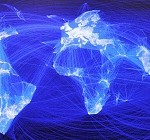 Diplomats and world leaders are going digital. According to the new Twiplomacy study more than 67% of all heads of state and more than 3,500 ambassadors and embassies have accounts on Twitter and are taking to social media with energy.
What exactly does the 'digital' in digital diplomacy really mean?
Digital diplomacy is the use of digital tools of communication (social media) by diplomats to communicate with each other and with the general public.
World leaders and diplomats use social media, and Twitter in particular, to speak and engage directly to the audience they seek to influence. This is most notable here in India where Prime Minister Narendra Modi has bypassed traditional media taking to Twitter to make statements or announcements, be it a statement of gratitude to the public on the election results day or to offer condolences to the families and victims of the Peshawar school attack. Other leaders, such as Rwanda's president Paul Kagame and Ecuadorian president Rafael Correa prolifically reply directly to tweets from general Twitter users.
Many world leaders increasingly follow each other, creating virtual diplomatic networks on Twitter through which they can converse with each other informally and through private direct messages. Rather famously, following his election victory PM Modi received a number of congratulatory tweets and exchanged pleasantries on Twitter with heads of state from the UK, Afghanistan, Sri Lanka, among other from across the world.
This is just the tip of the iceberg.
Leaders are using the digital space to spread awareness of government campaigns through hashtags, and to disseminate information and analyses during crises. The uses of digital diplomacy are multifold and diplomats are continuously finding new ways to achieve their objectives through it.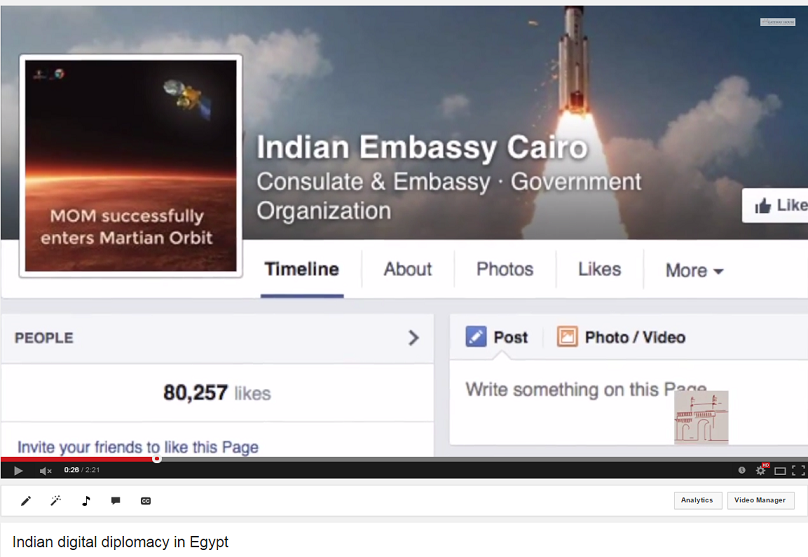 (click image to watch)
Defining digital diplomacy purely within the scope of social media is not sustainable. The definition is already expanding as the capabilities of 'digital' increase with advances in big data, wearable technology devices like smart watches and Glasses enters the mainstream. Tools like crisis mapping—which plots live information gathered from social media and emails, in crisis situations—is being used by humanitarian organizations  to better understand and respond to natural and manmade calamities.
In the near future, diplomats will have an even larger array of digital tools at their disposal, allowing them to use data science to conduct sentient analyses to predict the public mood and create models to predict the future reactions[1] or creating custom-made apps for digital diplomacy – the possibilities are vast.
In order to properly recognise and harness this potential, governments must invest in educating their bureaucrats and employees on using digital tools and a data-driven approach to problem-solving. The U.S. state department is one of the few governments that are leaders in employing digital strategies and employ technology in their approach.
To go one step further, why limit digital diplomacy to just diplomats?
Already non-state actors—individuals, companies, NGOs, terrorists—are using digital tools and growing more powerful and active in shaping international affairs. Governments and diplomats no longer have a monopoly over international relations. As new digital tools increasingly allow people to connect, engage and mobilize we will truly have diplomacy 3.0—an instant, hierarchy and protocol-free, peer-to-peer (P2P) diplomacy[2].
But the road to diplomacy 3.0 is not free of obstacles. For this transition to be completed the important question of global internet governance will have to be answered.
The digital diplomacy discussion is still in its infancy but is starting to become institutionalised.  In Europe, for instance, the Stokholm Initiative for Digital Diplomacy was begun in January 2014, and brought together diplomats and the technology industry to look for digital solutions to problems faced by diplomats. Another forum is Yenidiplomacy, a global digital diplomacy research and training institute, founded by Gökhan Yücel, a public policy consultant and technologist. Gateway House as an early adapter to digital tools is joining the institutional discussion. Earlier this year we convened a discussion on digital diplomacy at Social Media Week in Mumbai, bringing together a panel of digital diplomacy experts across a variety of disciplines.
We also produced a YouTube video mini-series of short clips on digital diplomacy, profiling Indian digital diplomacy, and the future trajectory of digital diplomacy.
(click image to watch)
In keeping with the nature of the topic, all the videos were recorded remotely using Google+ Hangout.
Click here to view this educational mini-series featuring Ambassador Navdeep Suri, Matthias Lüfkens, author, Twiplomacy, Gökhan Yücel, President, Yenidiplomasi, Raheel Kursheed, Head, politics, news and government, Twitter India, and Mohan Pai, chairman, Manipal Group.
[1] Yücel, Gökhan. "Digital Diplomacy and Sentiment Analyses." Yeni Diplomasi. 5 October 2014< http://www.yenidiplomasi.com/2014/10/digital-diplomacy-and-sentiment-analysis.html>
[2] Attias, Shay. "Israel's New Peer-to-Peer Diplomacy" The Hague Journal of Diplomacy 7 (2012) 473-482
Dev Lewis is Digital Media Associate at Gateway House
This blog was exclusively written for Gateway House: Indian Council on Global Relations. You can read more exclusive content here.
For interview requests with the author, or for permission to republish, please contact outreach@gatewayhouse.in.
© Copyright 2014 Gateway House: Indian Council on Global Relations. All rights reserved. Any unauthorized copying or reproduction is strictly prohibited