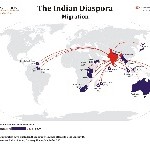 Indians living overseas constitute one of the world's largest, most dynamic and oldest Diaspora communities. They constitute a series of migrations spanning several decades and centuries. With each wave, a new class of Indians has moved abroad in pursuit of academic, trade and professional opportunities.
The history of the Indian Diaspora is closely linked to India's trade links and can be traced back nearly four millennia, when the Indus Valley Civilization traded with ancient Mesopotamia and Egypt. Small merchant communities in these regions were the precursors of the modern Indian Diaspora.
From 500 to 1600AD, trade, again, was the foundation on which sizeable Indian Diasporas developed across the Indian Ocean rim – from Zanzibar and Egypt in the West, to Yemen and Oman in the Arabian Peninsula to the Arakkan and Malacca in the Far East.
The modern Diaspora is 26 million strong with roots enmeshed with the advent of Colonialism in the 19th century when European powers consolidated their claims across Asia. A bright May summer morning in 1879 witnessed the first Indians setting foot in Fiji, destined for work in the sugarcane plantations. Large scale cash-crop plantations in Guyana, Suriname, and Trinidad & Tobago – much like Fiji – became profitable on the backs on indentured Indian labour. People of Indian Origin now constitute 42% of Fiji's population. Similarly, Indian construction workers from the Punjab laid the East African Railway across modern-day Kenya, Uganda and Tanzania.
The 20th century and Indian Independence brought to the fore a new generation of Indians living and working abroad. A large number of Indians moved to Western Europe to fill post-war labour shortages in the 1940s and 50s. The oil rush in the Middle East around the same decade saw thousands of Indians from the southern states moving to take up mid and low level jobs in the petroleum sector.
The 1960s too saw the emigration of a new class of Indians, especially to the United States. Indian engineers and entrepreneurs, finding India's socialist government stifling and with not enough jobs for their qualifications, made their way to the U.S. – which was then welcoming academic talent and offering a better lifestyle. The same decade saw thousands of Punjabis move to Canada to escape rising violence in the Punjab. Then a large number of Goans moved to Portugal after Goa was annexed to the Indian Union in 1961. They were followed by Indians from Mozambique in 1974. The 1970s also saw a further migration of Indians from Uganda to Europe and the U.S., to escape persecution under Idi Amin's regime.
Now in the 21st Century, Indians live in over 140 countries across the globe. While some identify themselves as first-generation Non-Resident Indians (NRIs), others, whose forefathers emigrated, are termed as People of Indian Origin (PIOs). There are 12 countries which host over a million Indians each, with four of them being home to over two million Indians each.
Overseas Indians are renowned for their generosity through remittances, though they prefer to continue living abroad. In 2008 the Indian economy was buoyed by remittances of $52 billion. Yet this decade is recording a new trend. As the Indian economy registers strong growth, more employment and investment opportunities are making India an attractive destination. Thus, more NRIs and PIOs are moving back and settling down in India, largely for the enhanced opportunity in the country of origin – perhaps constituting the largest ever wave of 'return' migration experienced in India.
Yet there is significant room for improvement. Indian Diasporas abroad must seek to coalesce into comprehensive groups with a clear political focus, as did the Jewish Diaspora. They created the successful Israeli Political Action Committees in the 1970s in the U.S., which has led to a committed U.S. support for the protection of Israel.
At home, the government must do its bit to cast off the dismissive attitude of the Nehruvian era – that Indian émigrés should remain loyal to their adopted nations – and move to effectively engage those seeking to return. The creation of the Ministry of Overseas Indian Affairs (MOIA) and the series of Pravasi Bharati Divas meetings are steps in the right direction. The Overseas Indian Citizenship Card launched in January 2006 allows certain sections of PIOs living abroad life-long visa-free entry into India, without police registration.
The government can take this further by establishing a single platform, perhaps through the MOIA, for returning Indians to deal with issues ranging from business development to social philanthropy and professional career advice. Returning Indians are often intimidated by their new surroundings and turn to each other for support over basic necessities. For this, a government sponsored hotline which addresses their concerns – from where to apply for a new telephone connection to how to apply for a driving license – is an urgent need. A few private companies are already addressing this need, and New Delhi – and even individual state governments – can support these initiatives by promoting them at fairs such as the Pravasi Bharati Divas, or including their contact details in the membership flyer handed out with the Overseas Citizenship of India (OCI) card.
At present, most returning Indians are professionals from the USA and the UK. The Indian government would do well to capitalize on their skills by engaging with them at a more personal level – public healthcare and the developmental sectors could reap benefits. A single body and an interactive-website, which matches the skill sets of an individual with the corresponding area of contribution, would help in synergizing this sector – this too could be channeled under the MOIA. A suitable model to draw on is the African Foundation for Development (AFFORD), which connects Africans abroad directly with non-profits in Africa working toward the same developmental goals.
The Indian Diaspora is also gaining in political influence in their adopted lands: the U.S.-India nuclear deal was backed by the Indian Diaspora in the U.S., who banded together and persuaded senators and congressmen to sign the deal, proving that the Indian Diaspora can be pivotal in influencing policies that benefit India. The Diaspora has a major impact at home too: India's new venture capital laws were virtually written by the Indians in Silicon Valley, who were keen to build the bridges to Bangalore in the 1990s. Furthermore, NRIs have been a key resource for the creation of the Unique Identification Card; they were also a professional volunteer base that contributed to Nitish Kumar's election as Chief Minister of Bihar, a state now seen as a rare example of successful governance in India.
Making it easy for the Indian Diaspora to return to India is the first step; making them feel at home is the next. With thousands of Indians now returning annually, addressing concerns specific to this community is an urgent requirement. As author Salman Rushdie said about his Diaspora status, '"Sometimes we feel we straddle two cultures; at other times, that we fall between two stools." It is high time these two stools were brought right next to each other to make a comfortable seat on which returning Indians can sit and contribute to India's future.
Aakash Brahmachari is a summer associate at Gateway House
This article was exclusively written for Gateway House: Indian Council on Global Relations. You can read more exclusive content here.
For interview requests with the author, or for permission to republish, please contact outreach@gatewayhouse.in.
© Copyright 2011 Gateway House: Indian Council on Global Relations. All rights reserved. Any unauthorized copying or reproduction is strictly prohibited.