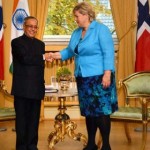 In prosperous Scandinavia, Norway has the smallest population and the highest per capita income, a low rate of unemployment and a welfare system that offers all citizens virtually free education and medical facilities.  It has a well-managed mixed economy that combines a capitalist system with state ownership of strategic areas, ensuring a high level of productivity through wise management. It uses its enormous oil wealth prudently, utilizing only 4% of the income from its sovereign wealth fund to support the government budget.
Though not a member of the European Union (EU), Norway is part of the European Free Trade Association (EFTA), with access to the EU's single market and other benefits, like non-voting participation in the EU's Common Security and Defence Policy, Schengen Agreement, and the European Defence Agency. Besides, it is a member of the North Atlantic Treaty Organization (NATO).
India's democracy, diversity, development model, size, and economic growth are among the key features attractive to Norway. "We, Norwegians, have always felt a close connection with India," His Majesty King Harald shared with the visiting Indian president, Pranab Mukherjee, in 2014. "To us," he added, "the Indian people have always been pioneers of exploration, adventure, and globalisation." Norway's own global efforts for peace and development are widely appreciated in India. The cordial and cooperative relationship at the government level has facilitated the development of multifaceted economic linkages.
Bilateral trade used to be quite low a decade back, but it rose from $974 million in 2013–14 to $1,265 million in 2014–15. India's imports from Norway far exceed its exports to the Scandinavian nation, but experts believe the potential for further expansion can be exploited through more active promotion and regular interaction at business level.
A major promotion event—the Norway-Asia Business Summit—was held in New Delhi in April 2015. At the last meeting of the governmental joint commission meeting held in November 2015, it was agreed to launch a new "Dialogue on Trade and Investment" (DTI) to expand economic linkages and exchanges between India and Norway.
The investment pillar of the economic relationship is strong. Norway's portfolio investment in India has witnessed significant growth: from $2.85 billion in end 2009 to $11.35 billion by end 2015. This is inclusive of investment by the Norwegian Government Pension Fund Global to the tune of $9.24 billion.
On the other hand, foreign direct investment (FDI) inflows from Norway for the period 2000–15 are valued at $182 million, representing 0.07% of the cumulative equity inflows received by India. Norwegian diplomatic sources in New Delhi suggest the value may actually be higher as many investments get routed through Singapore or other countries. Much of Norway's investments flow into three sectors in India: chemicals (other than fertilisers), book printing, and trading.
The Norwegian corporate presence in India is substantial: about 90 companies are operational, either as joint ventures or wholly-owned subsidiaries. What is even more noteworthy is that a 100 other Norwegian companies are, with varying degrees of interest pursuing future business possibilities in India, in such diverse sectors as shipbuilding, drilling equipment, clean energy, and information technology (IT) services. Indian majors like the Oil & Natural Gas Corporation (ONGC) and Reliance Industries have active business collaboration arrangements with Norwegian corporates. Likewise, major Norwegian companies like mobile operator Telenor, the banking giant, DNB Nor, and the clean energy company SN Power are all present in India.
Several Indian companies have invested heavily in Norwegian drilling operations, the shipping industry, and hi-tech batteries for electric vehicles (EV). (Oslo is known as "the world's EV capital".) An encouraging feature is the success of Indian IT majors in the Norwegian market: ranging from Tata Consultancy Services and Infosys, to Cognizant and Tech Mahindra, they have succeeded in expanding their operations in Norway in the past five years. Norwegian companies are also comfortable offshoring IT services to Indian corporates: HCL Technologies won a $400 million deal from Norway's largest bank to manage its domestic IT and infrastructure services and operations. Indo-Norwegian cooperation in research and innovation has also been developing quite well
Meanwhile, there is pressing need for early conclusion of negotiations for the Trade and Investment Agreement between India and European Free Trade association (EFTA). Sources in the Indian embassy, Oslo, suggest that there is considerable potential for collaboration in seven specific areas: hydrocarbons, shipping, hydropower, fisheries, the knowledge-based economy, polar research, and space research. President Pranab Mukherjee's aforementioned visit to Norway in October 2014 was a real high point as the first-ever state visit from India. Oslo conveyed serious interest in the Modi government's agenda of rapid economic and social transformation and Mukherjee expressed confidence that "the dedicated efforts of all stakeholders" would "redefine and reinvigorate" bilateral trade and economic relations.
The next meeting of the joint commission is due to be held in Oslo, and could help prepare the ground for the probable visit of Norway's prime minister to India before the end of this year. The contribution of a small, but "strong and vibrant" Indian community is widely appreciated in Norway. The opening of the Norwegian consulate in Mumbai in November 2015 is a clear sign of Norway's interest in expanding its relationship with India Inc.
Immense scope exists between the world's second wealthiest nation (Norway) and the fastest growing major economy (India), for deepening cooperation that promotes mutual benefit.
Rajiv Bhatia is Distinguished Fellow, Foreign Policy Studies Programme, Gateway House, a former high commissioner to South Africa, and a regular commentator on international affairs. He visited Oslo recently at the invitation of IFS/Norwegian Institute for Defence Studies, a prestigious think tank.
This article was exclusively written for Gateway House: Indian Council on Global Relations. You can read more exclusive content here.
For interview requests with the author, or for permission to republish, please contact outreach@gatewayhouse.in.
© Copyright 2016 Gateway House: Indian Council on Global Relations. All rights reserved. Any unauthorized copying or reproduction is strictly prohibited